Stony Plain Digs Deep To Restore Course's Lustre
Details

Category: Inside Golf
Published: 2018-12-03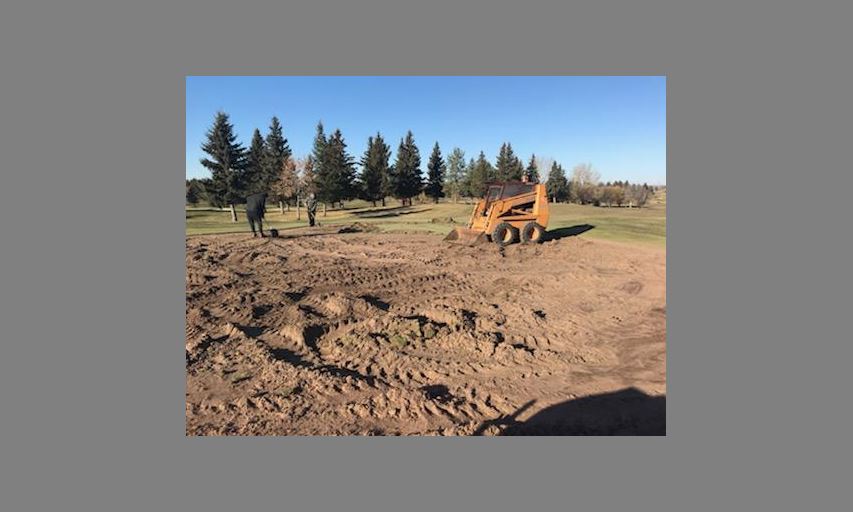 By GORD MONTGOMERY, Inside Golf
STONY PLAIN, Alberta — Everything in life requires upkeep. Whether it's your car needing an oil change to keep running smoothly, your hair needing a trim to stay looking stylish, or a golf course needing a lift and replace to its turf to retain its image, everything at some point and time requires maintenance.
That being the case, the Stony Plain Golf Course has begun a massive undertaking in replacing some of their famed putting surfaces after two years of being below par — and in this case that wasn't a good thing.
Executive professional Jeff Cuthbertson said that this project isn't something out of the ordinary for a golf course. After all, Stony's municipal 18-hole track has been in operation for 35 years now and like anything else, wear begins to take its toll after a while, no matter whether you're talking cars, style, or recreational facilities.
"After the last two seasons, and two years ago having some real serious chemical damage and then this year having severe ice damage, we decided as we were going into the fall that enough was enough and it was time to reinvest back into the golf course," Cuthbertson explained. "In doing so, once we got the course closed for the season, we ripped out the first six greens."
While that may sound like a simple thing to do, it's anything but a cut-and-paste type of approach that needs to be taken.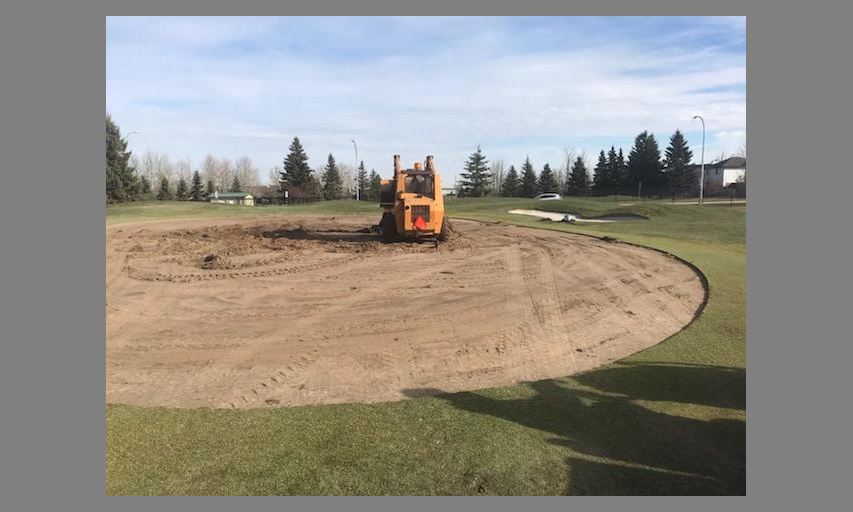 It Was Decided Early On That Rather Than Seeding New Greens That Sod Would Be Used To Enable Players To Get Back Onto The Putting Surfaces Quicker In The Spring. (Photo/Stony Plain Golf Course)
"We've taken all the old turf off the greens. We've removed all of the thatch build-up that was causing a lot of our problems. We've amended them with new sand and new soil and reshaped them and are getting them prepared to have new sod put on as early as possible this coming Spring," the pro said in simple explanation.
To hasten the return to what the greens at Stony Plain are best known for — speed, smoothness and dramatic contours — the putting surfaces will be sodded rather than seeded. That scenario will benefit everyone involved in this process, from those doing the work to those playing on these surfaces when they swing back into action.
"The nice thing with sod, if it goes in good, if we get good growing conditions and the right weather, it's possible to play on it within 15 to 20 days," after it's laid down, said Cuthbertson. "That depends on weather and how everything goes into the ground, but sodding is just so much faster than growing them in."
While the main issues with the greens at Stony have come to the forefront in the past two seasons in particular, this isn't something that's totally unexpected. Putting greens, like any sort of grass be it on a golf course or in your backyard, do have a life expectancy.
"Some of it is unexpected for sure but part of it is the age of the golf course. We just celebrated the 35th anniversary of the course in this location and over time, turf does take a beating. Golf course turf, and greens turf in particular, won't last forever. At some point every golf course will have to amend soil, rip them out and re-sod them or re-grow them, depending on what route they choose to go.
"USGA standards tell you that every 15 to 25 years, you should be looking at a turf replacement program. So, part of it was definitely the chemical, part of it was the bad ice damage and part of it is also the age of the facility. Plain and simple. At this point, we have some issues, we know what they are, we know what the correction is to bring it back to what everybody remembers and likes to play on. We are on the path of correction. It's very positive."
For now, Cuthbertson continued, just the first six greens are being replaced but more work looms on the horizon.
"My guess is we will probably be doing 7, 8 and 9 this Spring as well. So we'd have nine greens completed. We started on the front nine simply due to the fact that was the weakest of that two nines. The front nine just didn't seem to recover as well as the back nine did this year. Now, we're hopeful the back nine will get through the winter and be in nice shape to start the season and we'll open on that nine holes right at the start of the season … and hopefully 15 to 30 days later we'll have all 18 holes up and running and the front nine (greens) will all be on brand new turf."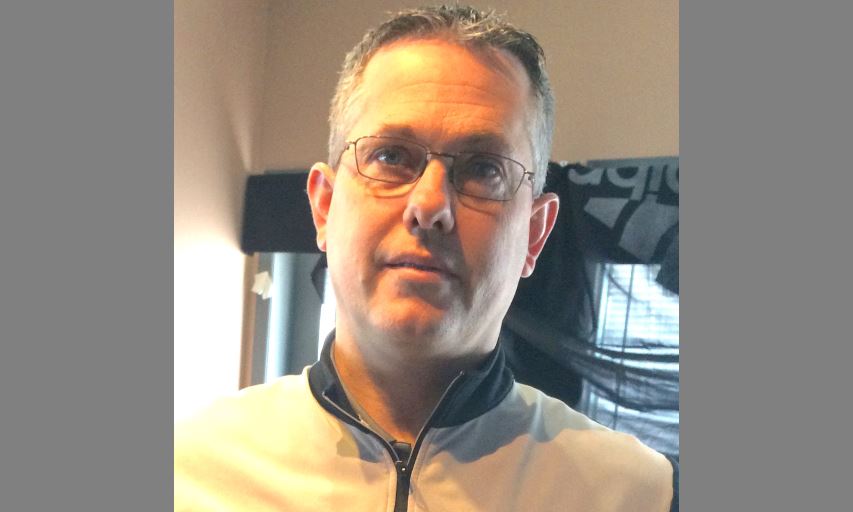 Stony Plain's Executive Professional Jeff Cuthbertson Pointed Out That Like Anything In Life, Grass Has A Life Expectancy And Does Eventually Need To Be Maintained And Replaced. (Photo/Stony Plain Golf Course)
The grass mixture at present is a combination of poa anna and bent while the turf it's being replaced with is T1 bent. That's a newer variety of bent grass turf that was designed to withstand cooler temperatures, grow in less heat and provide a heartier surface in general.
The timeline given by Cuthbertson is a guesstimate, but work on the solution to this problem is already well under way.
"They've gotten the greens to the point where in the Spring, when the surfaces thaw, we'll have to do a bit of touch-up from winter runoff, and once that's done, we'll be able to put turf on the ground. We can put turf on the ground even though the golf course may not be open yet."
Down The Drain
Another issue that has long plagued the Stony course has been drainage issues. Since this area is smack dab in the middle of now of the community's runoff areas, the driving range and some fairways can be soggy during the Spring and when the weather is wet. That matter is also being handled during the off-season.
"The drainage project started, probably six or seven years ago, and it had a larger scope versus water flow off the property. We've redone the drainage ditch on the driving range," which was in horrid condition but which has now been corrected. "Fairways 1, 10 and 18 had additional drainage built into them," and now includes ways to move water from those into the holding pond that divides the first and last holes. "From there, we've also redone the drainage ditch that runs out of the back of that pond and runs across 17, 16 and 15. That ditch has been widened and beautification done," Cuthbertson said in relation to that long-standing problem.
While this is all good news to regular turf-turners at the municipally owned course, there's even a better announcements: Green fees next year are expected to be unaffected, although that's not a definite 'for sure', even with all the work that's taking/taken place.
"At this point we're planning on moving forward into 2019 with the exact same rate schedule we had in 2018. At this point, we're not planning on any increases to our memberships. The golf course has been in mediocre condition the last couple of years," which led to steeply discounted rates. "But to be honest," Cuthbertson said in closing, "we're hoping to just move back to our standard, regular rates and people will feel comfortable and confident in coming back to the facility knowing they're going to get the conditions and the experience that they used to get when they came to Stony Plain. People can come in the Spring and have good conditions again," and find this course, where the greens were the talk of the town, back in the condition for which it became best known.
---
About the Writer
Gord Montgomery is a member in good standing of the Golf Journalists Association of Canada. He is now in his 10th year of writing for Inside Golf. He can be reached at This email address is being protected from spambots. You need JavaScript enabled to view it.. He's also on Twitter at @gordinsidegolf and on Instagram at gordinsidegolf2.
Website: kananaskisgolf.com
Twitter: @KananaskisGolf
Instagram: kananaskisgolf
Facebook: Kananaskis Country Golf Course