Canada's PGA TOUR Players Criticize Rule Changes
Details

Category: Inside Golf
Published: 2019-01-07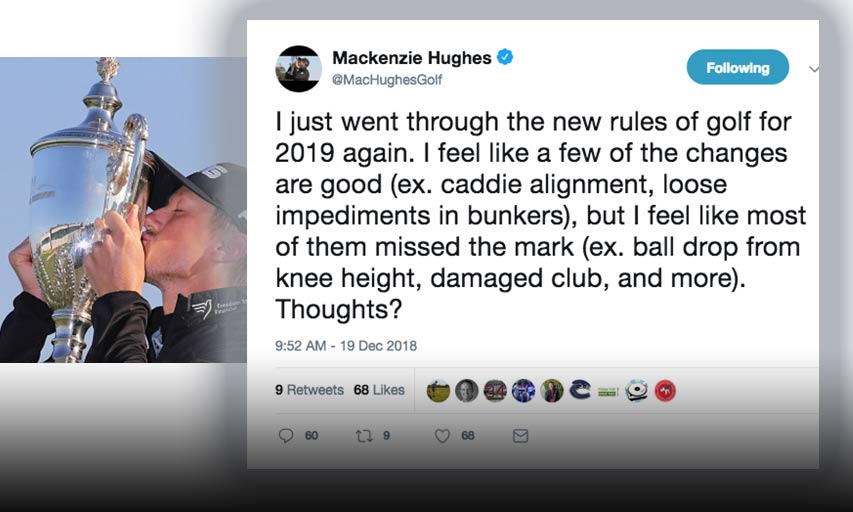 By JEFF SUTHERLAND, Inside Golf
PGA Tour player Mackenzie Hughes posted some criticism of the rule changes to Twitter and it prompted comment from Bob Weeks to Graham DeLaet...
It all started when Hughes (@MacHughesGolf) put this up on December 19th.
"I just went through the new rules of golf for 2019 again. I feel like a few of the changes are good (ex. caddie alignment, loose impediments in bunkers), but I feel like most of them missed the mark (ex. ball drop from knee height, damaged club, and more)... 2019 seemed like it was time to simplify some of them. And my feeling is that they didn't really do a great job of that?" Bob Weeks (@BobWeeksTSN) immediately came back with a quality zinger replying, "I think it's just impressive that a PGA Tour pro read the Rule Book!"
Graham DeLaet (@GrahamDeLaet) chimed in about something that is close to his chest, "How they didn't address the anchoring definition is absurd. It's the only thing that ACTUALLY matters."
Things went on tangents from there in the usual way that these things do but there were some quality points raised.
National Team Coach Derek Ingram (@dingramgolf) talked about not allowing replacing clubs during a round, "It's happened once in my life and very rare for tour players but it does happen on tour. A face caves in on a club, etc. So why not let them replace the club?"
Look for more comments as competitors from all Tours (and you) start getting used to playing by the new rules.
Click below to the entire tweet and comments:

https://twitter.com/MacHughesGolf/status/1075433713880707072