PGA Tour and LPGA Tour Players in Same Event? Whan is Working on It
Details

Category: Inside Golf
Published: 2015-12-24
(Doug Ferguson/AP) — LPGA Tour Commissioner Mike Whan believes there's a place for men and women to share the same stage in golf.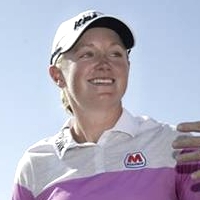 He's just not sure when.
Among the ideas that have been kicked around over the years is for the PGA Tour and LPGA Tour to compete on the same course at the same time, perhaps at a winners-only event or in a match play format. They could play their own set of tees and compete separately, different from the Mixed Team event from nearly two decades ago.
Image Caption : Stacy Lewis and Her Fellow LPGA Tour Stars Could Tee It Up in an Event with PGA Tour Players Somewhere Down the Road if the Two Tours Can Find a Format That Works for Both of Them. (AP Photo/LM Otero, File)
The U.S. Open and Women's Open was a big hit in consecutive weeks at Pinehurst No. 2 last year. And the Olympics will feature men and women on the same course is successive weeks next year in Rio.
But playing the same course at the same time? Whan says PGA Tour Commissioner Tim Finchem "shares that interest."
"I work on next year's schedule, Tim works on 2019, so we have a slightly different sense of urgency in getting there," Whan said. "I've brought a few specific suggestions of tournaments where I thought we could do something together. It's not tomorrow. But I feel comfortable we'll get there."