Spring Seminars Sees Great Range of Speakers
Details

Category: Inside Golf
Published: 2019-02-05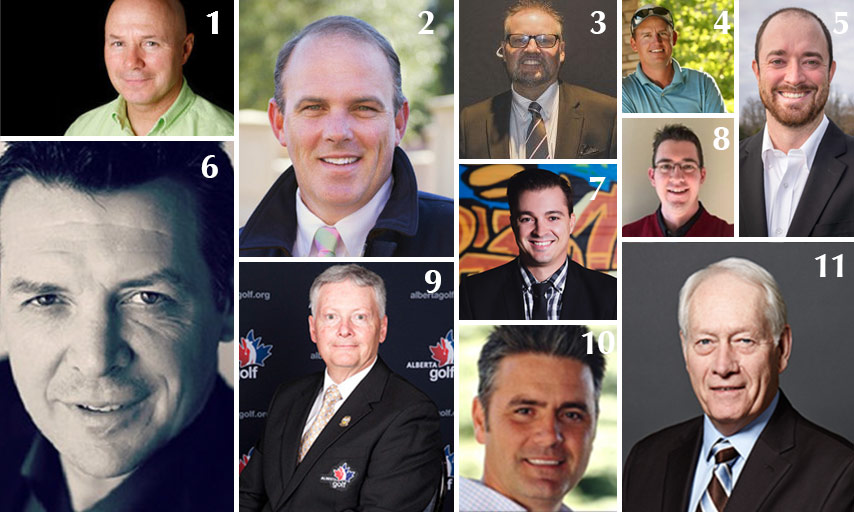 The 2019 spring seminars presented by Superspeed Golf and EZGO go March 4/5 in Calgary and features some amazing speakers covering a wide range of topics...
#1 - Dr. Stephen Norris
Dr. Stephen Norris is a leading performance consultant and sport scientist currently working with a select group of international performance organizations engaged in sport, business and military endeavors.
Within Canada, Stephen has worked with Canada's Winter Olympic Sports for the past 4 Olympic cycles.
He focuses ultimately on the implementation of "sports science" into practical settings, primarily to do with the planning, sequencing, and monitoring of training. 
TOPIC: Dr. Norris will be challenging us in both our personal and professional lives. Focusing on the understanding and creation of sustainable systems and cultures aimed at performance and excellence, He will inspire us all to take our business to the next level.
#2 -David Orr
A world-renowned putting specialist and PGA Tour Coach - David has worked with more than 50 touring pros worldwide.
The 2011 Carolinas PGA Teacher of the Year and Director of Instruction at Campbell University's PGA Golf Management Program, Orr has been coaching golf for nearly 25 years, specializing in putting for the last decade.
Among his PGA Tour clients are Justin Rose, Hunter Mahan, Daniel Berger, Jason Gore, and DA Points - plus dozens more from the PGA, Web.com, LPGA, Canadian and other professional tours.
TOPIC: David will be touching on many topics pertaining to coaching and business - including Excellence VS Perfectionism, the business and marketing side of being a coach in the real world, and much more.
#3 -Kevin Thistle
Kevin is the CEO of the PGA of Canada, has been an accomplished PGA member since 1984 and is a recognized leader in the Canadian golf industry.
He transformed Angus Glen from its beginnings of 2 staff to over 400 staff, overseeing a 15,000 Sq. Ft clubhouse plus a 50,000 Sq. Ft. addition, to eventually a 36 hole facility hosting events like the RBC Canadian Open, CP Womens' Open and the Telus Skins Game.
He then went on to triple membership and double revenues through innovation at his next endeavor, Coppinwood Golf Course, in only 4 years.
A no brainer for the Windmill Group to later bring him in as President of Golf Operations and Vice President of Business Development - overseeing 8 different clubs. 
TOPIC: Kevin will be giving a PGA of Canada update, along with some important information on future directions of the association. 
#4 - Will Robins
Will Robins, a certified PGA Professional, is helping to revolutionize golf instruction worldwide by helping golf professionals guarantee results with their players.
Through his companies, WRGolf and Robins Golf Logistix, Will trains over 80 coaches worldwide on how to implement programs that accelerate and guarantee results for students while doubling their teaching and coaching revenue.
He is an engaging speaker with a mission to motivate.
With an incredible story - his journey from surviving the 2004 Tsunami to his passion for coaching the game of golf - Will is committed to changing lives.
TOPIC: Will is an innovator and is revolutionizing golf instruction worldwide - He will be talking about transforming your teaching business. 
#5 - Matt Allen 
Matt is the Chief Innovation Officer with the PGA of Canada, overseeing special projects out of the PGA including coach and player development, events, branding and marketing, employment and the launch of the PGA's new Training Academy.
He is the Head Coach for the Laurier University Women's Softball team in Waterloo ON, Assistant Coach with the Dominican Republic Men's National Softball Program and an Assistant Coach for the Toronto Batmen who compete in a semi-professional international circuit for men's softball.
TOPIC: Matt will be highlighting the new PGA of Canada Training Academy and future direction of education for the PGA.
#6 -Theoren Fleury
Stanley Cup Winner. Olympic Gold Medallist. Country Musician. Best Selling Author.
For some people, that's enough, but Theoren Fleury is passionate about helping people overcome obstacles by igniting leadership, action, and resilience from within.
Fleury is a dynamic speaker and not only entertains but empowers everyone to tackle issues from a fresh perspective. Motivating to confront obstacles head on and truly understanding that change is possible and quitting is never an option - is just one thing Theo will be diving into.
TOPIC: Theo will be motivating everyone to confront obstacles head on and from a fresh perspective, showing that change is possible and quitting is never an option. 
#7 - Kevin Labbé
As the Owner of Pixel Army, Kevin is a 'growth hacker' that helps people grow and accelerate their business online.
From his humble beginnings in 2004, he now has a portfolio of 500+ websites including Rabbit Hill Snow Resort, The Ranch Golf Academy, Hockey Alberta, PGA of Alberta etc.
Kevin will be going over various techniques and tips on how to improve your business through new age marketing and social media channels.
TOPIC: Kevin will be discussing how to improve your business through new age marketing and social media channels. This will be an interesting topic to anyone looking to have more of an online presence and widen their customer base. 
#8 - Ryan Robillard
Ryan is the Canadian Sales Manager for SuperSpeed Golf, and currently the Head Golf Professional at the Ambassador Golf Club in Windsor ON.
He is a professional development junkie who is constantly looking to learn and improve to be able to provide students with the best information possible. While already wearing multiple hats, Ryan is a TPI Certified Professional and coach to numerous high-level junior players and collegiate golfers - including the University of Windsor's Men's and Women's teams. 
TOPIC: Ryan will be talking about coaching speed in the modern golf swing - and various techniques to eliminate players' physical limitations, allowing them to generate the maximum amount of power and efficiency. 
#9 -Tom Zariski
As one of the country's top Level 4 rules officials, Tom's passion and commitment to grow the game across the province of Alberta is unmatched.
A past President of Alberta Golf, Golf Canada's 2017 Volunteer of the year, and still an active member on Alberta Golf's Board of Directors - He is also a member of Golf Canada's Rules Committee and the founder of the Alberta Volunteer Engagement Committee.
He plays a leading role in conducting most provincial championships and works to foster a strong dialogue amongst rules officials across Alberta.
TOPIC: Tom will be giving a rules of golf update and talking about how changes could influence your guests, memberships, and competitions.
#10 -James Beebe
As the Superintendent at Priddis Greens G&CC, James has 30 years' experience in golf course management, maintenance, construction, renovation, and major golf championship preparation.
He currently serves on the CGSA Board of Directors and is Chair of the CGSA Environment Committee.
He has been a past Chair of the Alberta Golf Industry Association from 2007-2010.
He has also been CGSAA/Golf Digest Environmental Leader in Golf Awardee in 2005 and was awarded the CGSA Environmental Achievement Award from the CGSA in 2006.
TOPIC: This discussion will focus on the importance of communication and an effective relationship between Superintendents and Golf Professionals. Participants will learn essential information on how to give and get mutual support that will pave the way for ultimate success.
#11 -George Pinches
Currently, the Director for Global Golf Advisors, George was a private club GM/COO for 33 years.
He has managed five clubs in three provinces – including Hamilton G&CC, Point Grey G&CC, Royal Mayfair GC, and the Royal Glenora Club.
He was also involved with both the Canadian Society of Club Managers and the Club Managers Association of America and received the Score Golf Manager of the Year Award in 2007.
George has previously taught in the Golf Management Program at Grant McEwen University in Edmonton and currently instructs Golf Club Governance in the Business of Golf and Resort Management Program at McMaster University. 
TOPIC: Being an expert on the business side of the industry, George will be talking about how to get, keep and leave a club industry job - and repeating that process.