Pitchfix Launches Greenkeeper Pro Ball Mark Repair Tool
Details

Category: Inside Golf
Published: 2019-02-27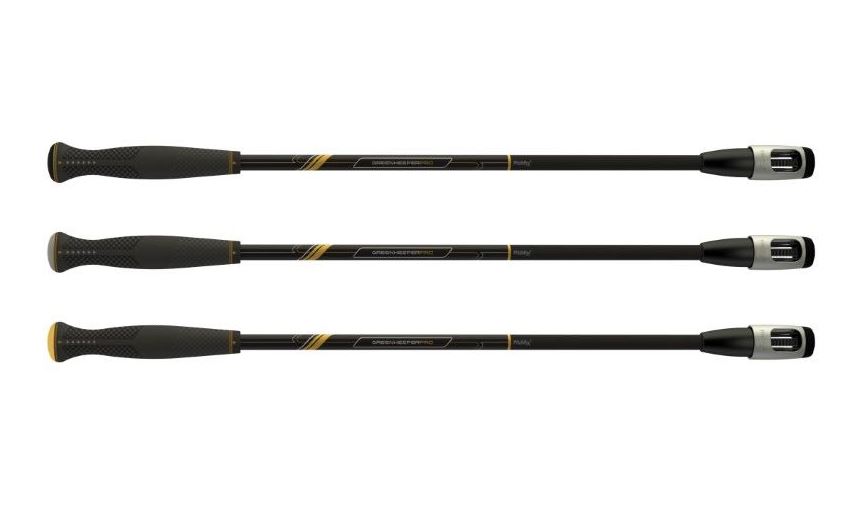 Pitchfix USA introduced its latest divot repair tool — The Greenkeeper Pro — at the 2019 Golf Industry Show (GIS) in San Diego. Pitchfix spokesperson "Mr. 59" Chip Beck was on hand to demonstrate the new tool to Superintendents, club managers, golf course owners, buyers and others in the golf industry.
The GreenkeeperPro is a 33" tool designed to easily repair ball marks with just one injection into the green without bending down. Featuring Pitchfix' proprietary RepairTec pin technology, the tool is constructed of a rubberized handle, carbon fiber shaft and a spring loaded steel cast head with stainless steel 'teardrop' pins. With one push down on the handle into the ballmark, the stainless steel prongs in the head pull up, creating a level finish and a perfectly fixed ball mark.
"Unrepaired ball marks is an ongoing issue for golf courses and the Greenkeeper Pro will revolutionize the way they are repaired," said Bart Fokke, CEO of Pitchfix. "The response to the Greenkeeper Pro was amazing at the GIS. Superintendents truly love the product. And we expect it to have a major impact on golf courses and their ability to efficiently maintain greens. "
In addition to Superintendents and their teams, Pitchfix is pleased to report that it is receiving orders for the Greenkeeper Pro from:
Golf clubs that will use them in their divot fixing parties
Golf Clubs that will put them green side, like a rake at the bunker
Event organizers that send their team out before play making sure the greens are perfect
European Tour directors for the same reason as event organizers
Club Cart accessories companies that want to make the tool part of the carts
Golf Shops that will sell it to avid golfers
Older players that do not want to bend over to repair a ball mark
"We have been pleasantly surprised by the almost universal appeal this Greenkeeper Pro tool has received. It now appears that it will enjoy strong golfer support in addition to its appeal with golf course superintendents and their staffs," added Fokke.
"I like to fix multiple ball marks when I walk up to a green," said Beck, Pitchfix Ambassador, three-time U.S. Ryder Cup Team member, former Vardon Trophy winner and the second player to shoot a 59 in a PGA Tour event. "The Greenkeeper Pro is an outstanding tool that makes it easy to repair multiple ball marks quickly and make it look as if the marks were never there."
---
About Pitchfix
Founded in 2005, Pitchfix is the market leader for switchblade divot tools and other golf green related products in Europe and Asia and is renowned for its high standards in design and product quality. It aims to be the market leader in divot tools and other golf related products in the United States by designing, manufacturing and distributing an ever-growing line of high quality and innovative European designed products through selected distribution partners.
Pitchfix currently offers an array of diverse and innovative products for golfers worldwide: Twister 2.0 Divot Tool; Classic Divot Tool; Hybrid 2.0 Divot Tool; XL 3.0 Divot Tool; Alignmee Marker Alignment Tool, Hatclip Ball Marker, The Tour Edition and Tour Edition 2.5 Divot Tool, the Multi Marker Chip and the new GreenkeeperPro.
The Pitchfix Fusion 2.5 was named "Best Divot Repair Tool" by Golf Digest in its 2018 Editors' Choice Awards for the second consecutive year.
Pitchfix currently has operational and manufacturing facilities in Hong Kong, China, the Netherlands and the U.S.In the U.S. the company recently opened three fulfillment centers with five customer facing/support employees to facilitate custom order processing and fulfillment. Custom orders are fulfilled within two to eight days of receipt. For further information go to www.pitchfixusa.com.