Lee Does What Her Heart Tells Her and Enters World of LPGA Play
Details

Category: Inside Golf
Published: 2019-03-06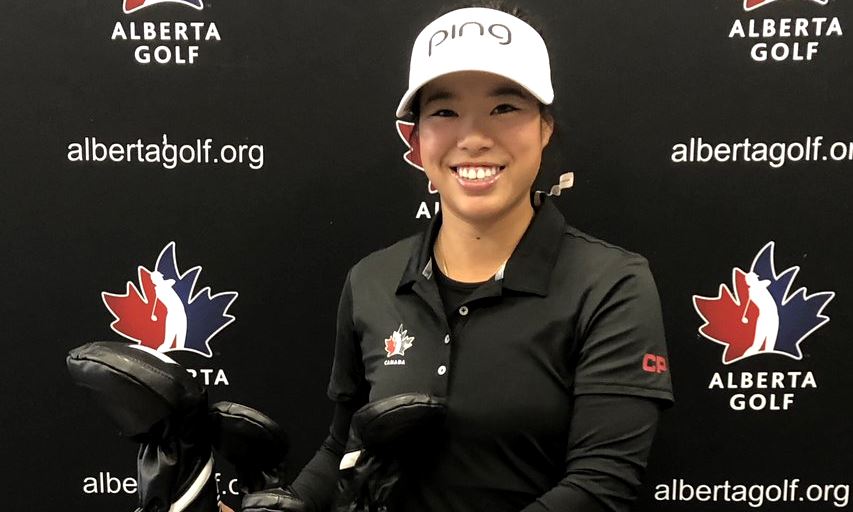 By GORD MONTGOMERY, Inside Golf
CALGARY, Alberta — The heart knows what the heart wants. For that reason, Jaclyn Lee decided to forego her final semester of NCAA golf at Ohio State and turn her full attention to the LPGA Tour.
Lee, from Calgary and a graduate of the upper echelon teachings of both Alberta Golf and Golf Canada, gained full status on the tour for the 2019 season after finishing sixth overall after six rounds of play at the latest edition of the LPGA's Q-School. That left her with a tough decision in regard to turning pro or staying an amateur to finish her college career. Essentially though, that choice was made for her.
"It did take about five weeks to decide, and six weeks to kind of finalize the decision," she began of how this all played out. "I had conversations going on about compliance with the NC Double A, the USGA, the LPGA, about regulations when and what constitutes turning professional.
"I was gonna try and see if I could play one more (college) event for my team (the Buckeyes) in the Spring before turning professional for my first event. It ended up not working out but within the first few days of finishing the Q-Series I kind of realized my heart was with turning professional."
The overriding factor in her decision to start chasing professional pay cheques on the world's highest stage for female golf had to do with what she's always aimed for, Lee said.
"This is where my heart was at. I had a long conversation with my coach from Ohio State," in regard to her staying focused on playing for the school, and team, and not contemplating about what lay ahead in the pro ranks.
"He said, 'If you're heart's not here and you're focused on the LPGA, then going pro is the right decision because that's not going to help anyone.' If I turned professional, and my heart was back at Ohio State, then that wasn't going to do me any good either. So, it really was about following what I wanted to do and taking into consideration that I'd worked so hard to get my LPGA status."
That climb to the top of the ladder wasn't an easy one for Lee, who turns 22 this May. She fought her way through all the Q-School stages as she didn't have any exemptions to vault her up into the next stage.
"I took advantage of the opportunity that I'd created for myself," she noted of a fine showing through all the stages.
As for the differences in the pro game and college, it's quite infinitesimal, Lee noted.
"Honestly, it's not too different. I think sometimes there's the misconception that the competition isn't as good in college but really, the world's best amateurs are playing college golf and are ready to turn professional as well in the future. So, I think the difference is that (in pro golf) you have just the top college players and you times that by however many LPGA players that are. It's full of top-level, elite, college players. In terms of game and all that stuff, it's the same. It's just there's more of it."
Even though she missed the cut in her first professional event as a pro after having played as an amateur on that stage in the past, at the ISPS Handa Vic Open in Australia, she did pick up over $2,000. As to what she expects from her rookie season on the tour, Lee had this to say: "I'm a kind of take things as they come person. I do have some goals but I'm more about the process and I'll take what comes out of that."
Lee plans on playing as many tournaments as possible this season and hopes to play her way into the major championships to add to what promises to be an exciting rookie season among the world's best golfers.
In looking back to the help she received from Alberta Golf and Golf Canada's coaches and mentors in reaching this stage of her development, Lee said their help was instrumental in her success.
"I really do believe that both have programs that definitely helped me in my career. With Alberta Golf, I was on the provincial team and we had training camps and there were opportunities," to play in many different national and international events. "With Golf Canada, they've definitely been a huge part of my journey. This is now my sixth year with them and I'm now on the Young Pro Squad," and the continued coaching she receives adds to her ability on an ongoing basis.
Lee's first event in North America will take place in Phoenix, at the Bank of Hope Founder's Cup, which tees off on March 21 with the young Alberta pro included, who is glad she followed  her heart to this place in her life.
---
About the Writer
Gord Montgomery is a member in good standing of the Golf Journalists Association of Canada. He is now in his 10th year of writing for Inside Golf. He can be reached at This email address is being protected from spambots. You need JavaScript enabled to view it.. He's also on Twitter at @gordinsidegolf and on Instagram at gordinsidegolf2.