5 Great Canadian Golf Companies At The PGA Show You May Never Have Heard Of
Details

Category: Inside Golf
Published: 2019-03-23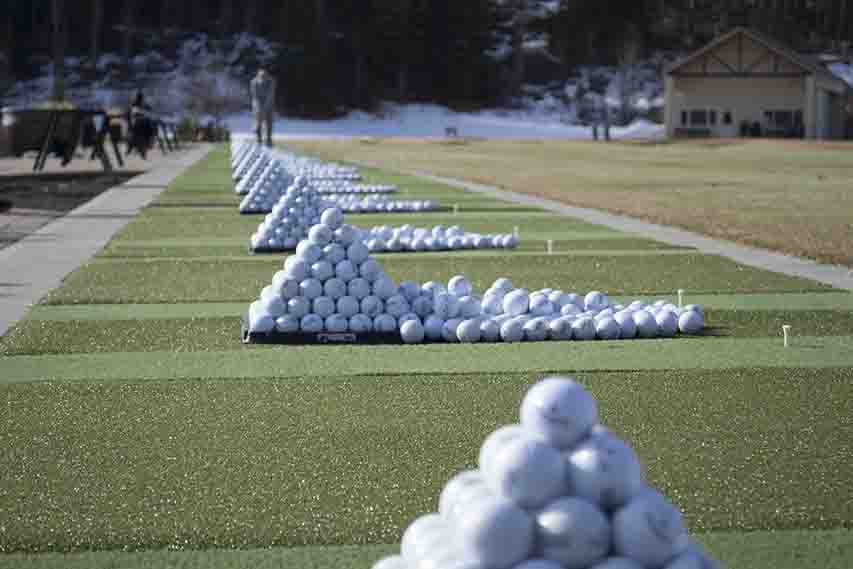 Fiberbuilt Is One Of The Top Golf Mats Produced In The World And Is Available In Over 40 Countries And At Over 5,000 Facilities - Image Courtesy Fiberbuilt
by Lisa Vlooswyk
Eight-time Canadian Women's Long Drive Champion, Lisa 'Longball' Vlooswyk, recently attended the internationally acclaimed PGA Golf Show in Orlando, Florida and found there were some very intriguing products being shown by Canadian companies. And quite possibly companies you may not have even heard about. Find out what Lisa discovered about these five Canadian exhibitors.
1. Fiber Built
Fiberbuilt is a Calgary, Alberta based manufacturing company that is celebrating its 60th Anniversary this year. Fiberbuilt is one of the top golf mats produced in the world and is available in over 40 countries and at over 5,000 facilities. Their products include everything you need for driving ranges, practice facilities and teaching studios such as Tee lines, mat systems, putting greens and accessories. It started off as a floor broom company until they turned the broom around and started hitting off the bottom of the bristles. It is extremely durable, it performs like real grass and prevents injury. http://fiberbuiltgolf.com/
2. BirTee Golf
Mario Caya, founder and CEO of BirTee Golf, empathized with the struggles of both his father-in-law trying to tee it up, waiting for his second hip replacement, and his 3-year old son trying to balance the ball on the tee, so he invented the BirTee Pro golf tee. The tee is shaped in a triangle design which allows for golfers with reduced mobility and dexterity to easily tee a ball up and enjoy the game of golf. There are 8 different tee heights available varying from ¼ inch to 2 inches, allowing players to use it with every club they tee a ball up with. The number one advantage to this tee is that it allows the golfer to tee it up at a consistent tee height. BirTee Pro tees are reusable, durable and recyclable. A typical tee lasts 750-1,000 drives. The tee is manufactured in Perth, Ontario, near Ottawa and available at https://birteegolf.com.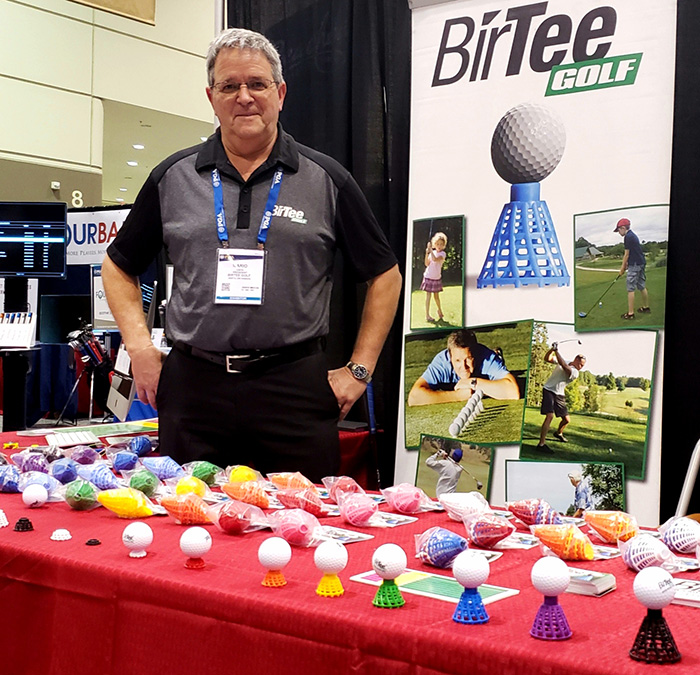 image credit Lisa Vlooswyk
3. Dryrainge
Dryrainge is a Saskatoon, Saskatchewan success story. It provides innovative golf shelters for golf driving ranges and facilities that are waterproof and shields 95% of UV light. With golf being an outdoor sport it is impacted dramatically by the weather, which can lead to lost revenue. Dryrainge offers 4 types of shelters to allow the driving range space to continue to be utilized regardless of the weather conditions. The Teacher's Edition, which is ideal for private lessons and has a minimal footprint, the Members' Edition, which will cover 3 tee positions, the Entertainment Lounge for courses looking for a larger space with various revenue streams, and the Platform, Dryrainge's newest offering which is an upscale shelter that is modular, portable and can be installed with solar energy solutions to resolve power supply challenges. www.dryrainge.com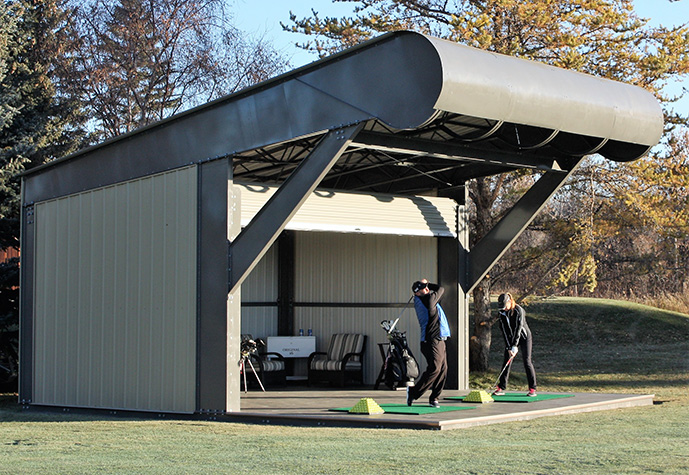 image courtesy Dryrainge
4. Kaddy-Lac
Kaddy-Lac was founded by Hugh G. Watson in 1946. He developed the first one-motion folding golf pull-cart. Since then Kaddy-Lac has grown their business to include 2 & 3 wheel Carts, Reconditioned Carts, Cart Storage Stations, Divot Bottles and Storage Containers and Cart Accessories such as Drink, Umbrella and Divot Bottle holders. All parts are made and assembled in Burlington, Ontario. The company has stayed in the family and is now a 4th generation family-run company with Hugh's grandson Robert Watson now at the helm and his daughter Emily by his side. Kaddy-Lac is a high-end quality cart system and is extremely popular with private golf courses. http://www.kaddy-lac.com/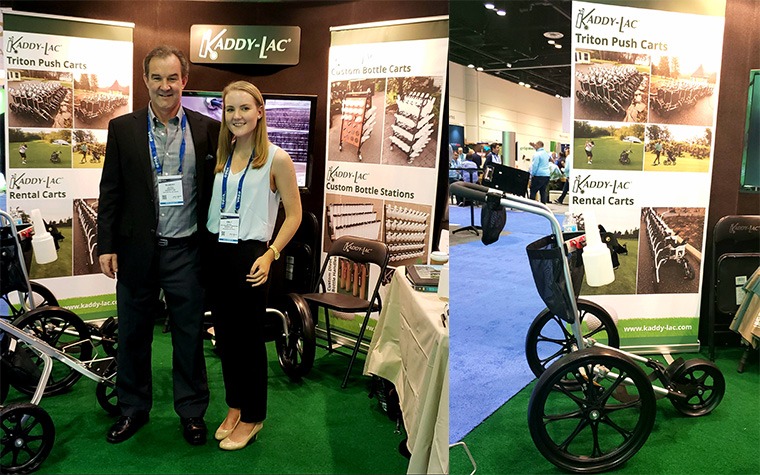 image credit Lisa Vlooswyk
5. Creative Covers for Golf
Creative Covers for Golf started as a plush toy company founded by Lorne Kotzer & Barbara Kotzer and is headquartered in Surrey, British Columbia. In 2009 they added a golf division. They are distributed in every country that golf is played. Creative Covers for Golf produces licensed products from major brands including Batman, Superman, Wonder Woman, Star Trek, Scooby-Doo, Looney Tunes and The Flintstones. They also produced highly customizable head covers popular with companies for promotional products. Major businesses such as Tim Hortons, Remax, Molson Canadian and PokerStars.com have custom designed unique head covers for their customers and clients. New for 2019 are the Power Performance Head cover, which charges your cell phone, and Putter Pals which are putter covers adorned with a cuddly creature on top. https://creativecoversforgolf.com/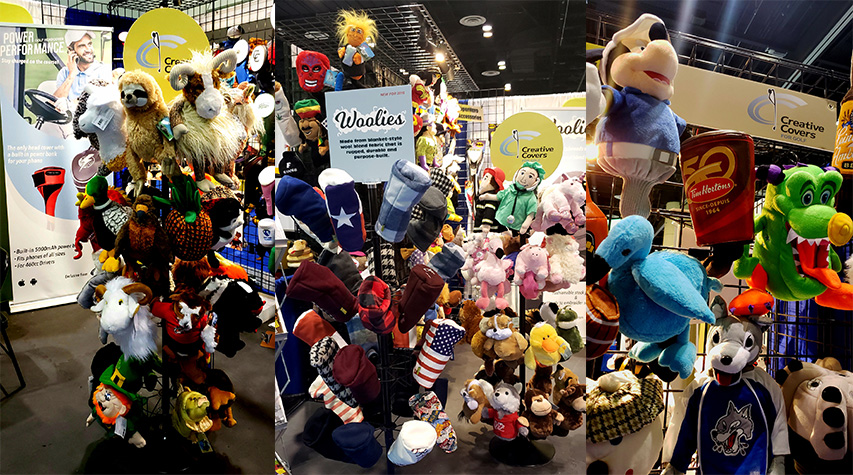 image credit Lisa Vlooswyk
It is wonderful to see so many Canadian companies thriving in a competitive golf industry. Be sure to support one near you.
Lisa "Longball" Vlooswyk is an 8-time Canadian Long Drive Champion for Women. She is a Keynote Speaker, Golf Journalist and Golf Entertainer. She runs Golf Schools for Women in Canada and the USA and has her own Instructional Video. Lisa can be reached through her website www.lisalongball.com or through Twitter @LisaLongball