Trestle Creek to Host Alberta Open
Details

Category: Inside Golf
Published: 2019-04-12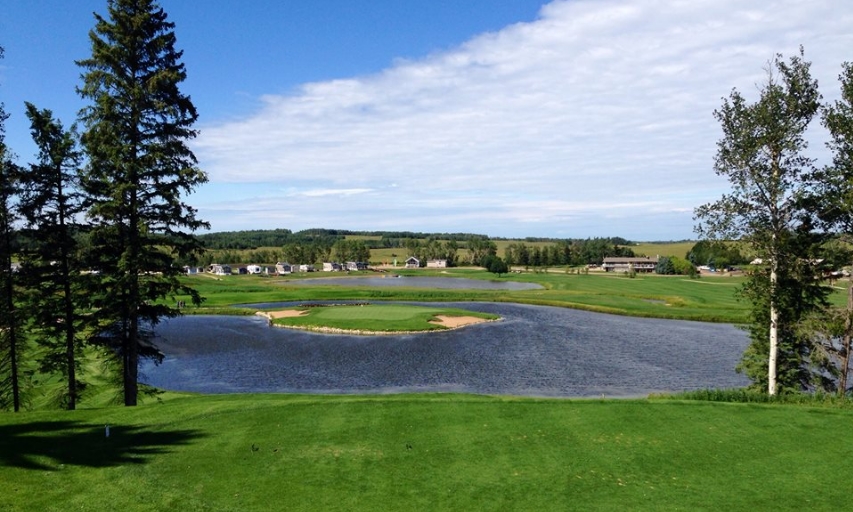 By GORD MONTGOMERY, Inside Golf
EDMONTON, Alberta — While most golf courses ease their way into hosting a major golf tournament by staging several smaller events first, that's not the case with the Trestle Creek Golf Resort. You see, this layout in rural Alberta is jumping into the deep end of the pool right off the bat.
To that end, the 2019 Alberta Open Championship presented by SV Lawyers, will take place at a course that's never hosted this sort of tournament in the past. But, says head golf pro Jamie Driscoll, that really doesn't matter. He promises they'll put on a great show for the best professional and amateur golfers from Alberta, and elsewhere, over three days, from June 11 to 14.
About climbing out on a limb to host a major competition, Driscoll said public golf courses, like Trestle Creek, need to step up and take the bull by the horns.
"My feelings are, with big major tournaments like this, I feel it's important that golf courses do this, especially public golf courses. You want to get your name out there. It's a great promotion. It's good exposure for the golf course to people that haven't played it and a lot of media coverage can help with that. There's a million people in the Edmonton area and you've got to hit them somehow."
Going deeper into the background of stepping up and taking on this challenge, Driscoll continued: "I've never been afraid to host a major event, whether it be the Alberta Junior (when he was at Coal Creek GR) or when we did the Alberta championships in Calgary at one of my old courses. When I was an assistant pro it was good to do those kinds of tournaments at least once every few years. You can't be afraid of it. I love having a good, big event at my course."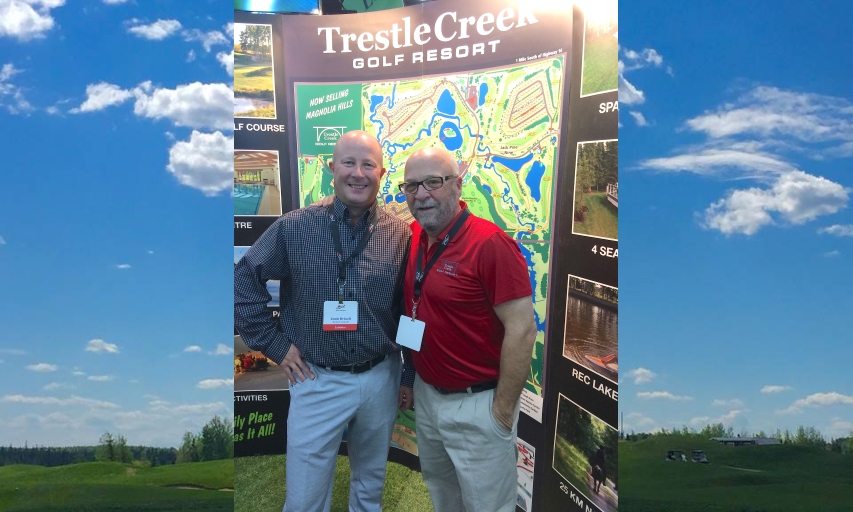 The Alberta Open Will Tee Off At Trestle Creek Golf Resort This June, And Host Pro Jamie Driscoll (Left) Along With Resort Owner Alvin Clark Are More Than Happy To Have Their Course Challenged By The Best Pros And Amateurs. (Photo/Gord Montgomery)
Trestle Creek Golf Resort, designed by Brad Dupuis, is a great layout that features a number of risk/reward tests along with some straight-up play-it-smart challenges for the average player. But, says Driscoll, the high-end guys teeing it up in this tourney will find the same sort of tests, be it on a larger scale.
"The back tees make it actually one of the more challenging courses around," he said of the two nines that can play as deep as 7,267 yards off the back blocks. "The difference in yardage is noticeable from the average players' tee to the championship tee. But, they all bomb it anyway so I think they'll still have the same risk/reward on some of the holes," including the par-4 9th hole, a 358-yarder where a tee shot over a large water hazard and a green-fronting bunker can leave one in good shape for an eagle. Of course, there is also OB behind the green, and the water runs right up to that sand trap in front, so good luck in trying to card a '2.'
"That will make for some excitement on the front nine," the host pro commented.
As well, there's also the testy par-3 16th, a downhill 176-yard shot to an island green, where the prevailing westerly wind can provide all kinds of additional thrills.
"That's good for everybody. It's kind of like PGA West and their 17th hole, so that'll be a lot of fun," agreed Driscoll.
Along with those two holes there are a number of other challenges that can provide many trials and tribulations for players, including the putting surfaces at Trestle Creek GR.
"The neat part of our golf course is that the greens are quite undulating; maybe not all of them but about a third of them. I like that. I want the hot-shots to be able to challenge themselves that way. I've always said that just because your golf course is undulating, it doesn't mean it's bad or goofy. Augusta National seems to do pretty good and they seem to have the most undulating greens in the world out there. Everyone calls that the best golf course in the world. It's about putting the pins in the proper spot," said Driscoll.
Located on Highway 16 (Yellowhead) west of Edmonton, Driscoll notes where they sit isn't that much of a drive for what's on tap come tournament time.
"We're about 40 minutes west of Edmonton and we're going to make it fun for spectators," with a variety of activities taking place while the tournament is underway, including a clinic for junior players and other things for adults to partake of. It's also suggested that a spectator should take a tour of the RV park, a wildly successful endeavour by owner Alvin Clark, that now features a water park and other great amenities.
"It's out in the country and it's a beautiful setting," the pro ended, and who is certainly looking forward to having his course jump into the deep end of the pool by staging the 2019 Alberta Open Championship.
Extra Holes
There are three regional qualifying tournaments set for the Alberta Open: Whitetail Crossing Golf Course in Mundare on Thursday, May 30; Carstairs Community Golf Club in Carstairs on Friday, June 3 and the Last Chance Monday Qualifier at Trestle Creek Golf Resort near Entwistle on Monday, June 10. For more information on how to register, go to www.albertagolf.org.
---
About the Writer
Gord Montgomery is a member in good standing of the Golf Journalists Association of Canada. He is now in his 10th year of writing for Inside Golf. He can be reached at This email address is being protected from spambots. You need JavaScript enabled to view it.. He's also on Twitter at @gordinsidegolf and on Instagram at gordinsidegolf2.