Pultz Prevails In Playoff Over Horwood To Win Elusive B.C. Senior Women's Championship
Details

Category: Inside Golf
Published: 2017-06-28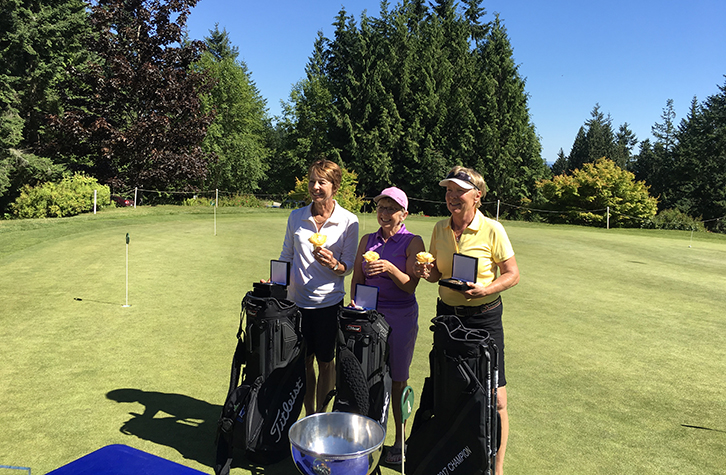 The 2017 BC Women's Senior and Super-Senior Champion Karen Pulz (R) Poses With Team BC Teammates Holly Horwood (L) And Jackie Little (C). (Photo/British Columbia Golf)
ROBERTS CREEK, British Columbia (Brad Ziemer/British Columbia Golf) — It's not like she needed a reminder, but Karen Pultz got one the night before the final round of the B.C. Senior Women's Championship at Sunshine Coast Golf & Country Club.
At Wednesday night's tournament banquet, Pultz was looking at the long list of past Senior Women's champions when her good friend and a past champion of the event, Phyllis Laschuk, gave her some words of encouragement.
"Phyllis said it's time you put your name on this," Pultz recalled Thursday. "I'm 60 years old and I was probably known as one of the best players never to have won the B.C. Senior. And now I am a little bit in shock to say the least because I've done it!"
Pultz, a Surrey resident and longtime member of Peace Portal Golf Club, got that elusive B.C. Senior Women's title when she defeated defending champion Holly Horwood of Vancouver on the first hole of a sudden-death playoff on a Sunshine Coast course that played exceedingly difficult.
Pultz rode something of an emotional roller-coaster en route to the win. After beginning the day tied for the lead with five-time champion Jackie Little, Pultz found herself three down to Little at the turn.
But when Little stumbled on the back nine, Pultz grabbed a two-shot lead late in her round. However, a double-bogey on 18 dropped her into a tie with Horwood, who came from well back when she matched the day's best score with a six-over 78.
Pultz won it on the first playoff hole when she got it up and down for par and Horwood three-putted for bogey. Both players finished the 54-hole event at 25-over par. That was 13 strokes higher than Horwood's winning score last year at Kelowna Golf & Country Club.
Pultz said Sunshine Coast presented as stiff a test as she has encountered in her competitive career. "It was demanding off the tee, on top of that it is a second-shot golf course, and when you do get to the green you have to negotiate the slopes and where the ocean is and the influences that has," Pultz said.
"Patience was a virtue. I have never experienced the challenges of tees and into the greens and onto the greens. Usually you will get one of those three, but every single hole was demanding in every aspect of it. So when I took a couple of bogeys I was like, you know what, other people are going to get them, too. Keep your head down and golf your ball."
Pultz not only won the Senior Women's title, she also captured the Super-Senior Championship for golfers 60 and over. Pultz credited a new book called Be A Player, by Pia Nilsson and Lynn Marriott, with helping her earn the biggest win of her career. "I got it as soon as I could and I have been practising some of the mental suggestions in that and it really helped me a lot this week," she said.
Pultz was quick to credit Horwood for what she called an outstanding round of golf on Thursday. Horwood, who plays out of Shaughnessy Golf & Country Club, began the day five shots behind Pultz and Little.
"Anything under the 8-0 mark at this golf course is an accomplishment without a doubt," Pultz said.
Little, one of British Columbia's most decorated amateur golfers, closed with an 84. A 44 on the back nine proved to be her undoing. She finished alone in third place, one shot behind Pultz and Horwood. Those three players will represent British Columbia at the Canadian Senior Women's Championship, which goes Aug. 22-24 at Humber Valley Resort in Little Rapids, Nfld.
The B.C. Senior Women's Championship also included a Stableford competition that was contested over three flights based on handicaps. Lake Cowichan's Karen Kloske of March Meadows Golf Course won the A flight with 97 points. Nanaimo's Georgina Hermans of Cottonwood Golf Club won the B flight with 102 points. Ladysmith's Darleen Michell of Mount Breton Golf Course topped the C flight with 108 points.
Hermans and Michell combined to win the two-woman best-ball competition with a score of 22-under. That was nine shots better than the second-place team of Horwood and Tracey Evans of West Vancouver.
Zone 5 (Southern Vancouver Island, including Pender and Saltspring Islands) won the 36-hole zone competition by one shot over Zone 4 (Delta, Greater Vancouver, Squamish, Sunshine Coast).
For final scoring, CLICK HERE.