Stony Plain Golf Course "Back on Track"
Details

Category: Inside Golf
Published: 2019-05-06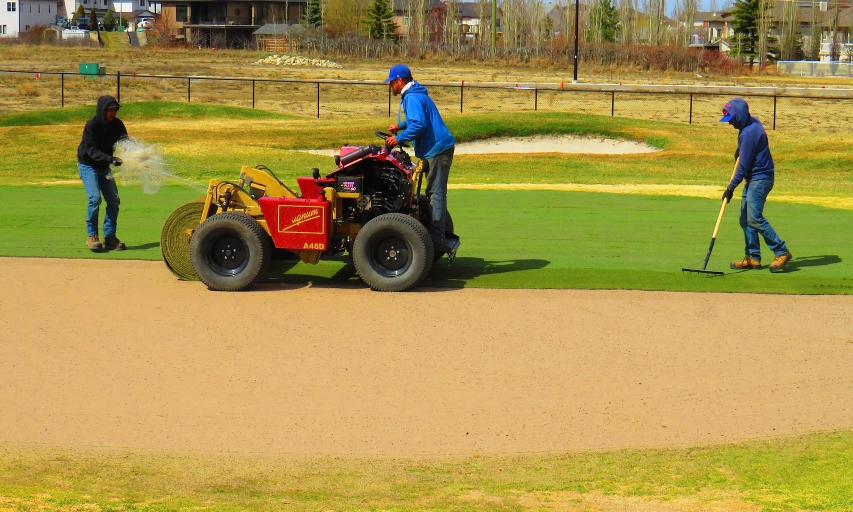 By GORD MONTGOMERY, Inside Golf
STONY PLAIN, Alberta — After two years of having play derailed somewhat by temperamental winter weather and finicky putting surfaces, the Stony Plain Golf Course is about to get things back on track ... and in a big way.
The municipally-owned 18-hole golf course has undergone some major changes in the past few months, both outside and in. The major one involved installing brand new turf, T1 Bentgrass, on all its greens. In addition to that, a brand new executive chef has been put in place to oversee the restaurant operation.
Explained the course's Executive Professional Jeff Cuthbertson of the updates, "The big thing is that the golf course used to be recognized as one of the premier green fee facilities, not just in the Stony Plain and Spruce Grove area, but in the Edmonton market. We need to get back to that.
"The renovation on the golf course is designed to bring the greens back to some of the best first-class greens, not just in our area but in Edmonton. And with the food and beverage operation, the idea is to bring it in-house (rather than sub-contracting) so we have full control over what we're trying to create, and that's an atmosphere that's just not for golfers, it's for our community. It's a spot hopefully people will feel comfortable coming to after work, to have a bite to eat, enjoy the view and the setting.
"You don't have to be a golfer. I think for too long people thought golf courses were for golfers only. We want to be a community clubhouse. We want everybody in our area to feel comfortable coming over at any time, whether it's to eat, have a birthday celebration, just to spend the night on the patio and hopefully listen to some live music this summer. That's what we're trying to get to with the golf course and the clubhouse in general."
Regarding the newly sodded 18 greens, Cuthbertson noted they were at least 36 years old and time takes a toll on everything, grass included.
"This is a new page, the next step for a golf course that's had a long history. Just like us, it ages, it wears out, so we're getting back to being young again. That's not to take anything away from any of the great people that have been here before, they did a great job. The golf course is still in the community because of those great people. We want to be the next evolution of what's good and what has already happened here."
The original plan called for only six greens to be replaced after some damage to them in late 2016 from which they never truly recovered. That number was later bumped to all nine greens on the front side, and eventually, after another bad winter in 2018-19, it was decided to replace all 18 putting surfaces. It is expected the front will open for play in mid-May; the back nine on June 1, with hopes of a great golf season after that.
Head Golf Professional Robb James chimed in here, saying the upgrades to the course are great adding that a modernization has also been done in the pro shop.
"With the state of the game the greens have to be the most memorable thing members and guests experience. After a couple of difficult years I think people will start to realize we're back."
The course is staffed by three professionals and the pro shop has become a brand shop for adidas Golf, "A great tie-in for the multiple demographics we have here. The shop looks fantastic! It has a wonderful look and it's probably one of the nicest public pro shops I've walked into, thanks to the improvements we've made."
The one thing that is being emphasized is that the restaurant at the golf course isn't in competition with other local eating establishments, Cuthbertson pointed out. Rather, it enhances the entire dining community in Stony Plain. "The community has a lot of great restaurants. We're just hoping to add to what they're already doing."
What the course has done is bring in a top-end executive chef, Sijo Sauru, whose background is as varied as the holes as the holes at the course he now calls home. He's trained in India, spent time in Dubai, has worked for Hilton Resorts, Princess Cruise Lines as well as creating menu choices and helping open new locations for OJ's. Most recently, Sauru was the highly-respected Executive Chef at the Edmonton Petroleum Golf & Country Club.
"He's very well rounded and is capable of doing so many great things — brunches, buffets, weddings, Christmas parties" Cuthbertson noted. "And on top of that he understands the restaurant business to be able to provide daily fare for golfers or people looking for a new spot (to eat) to come and enjoy and have a great meal. Sijo was a huge find for us, to find somebody with that type of background."
"There is something here for everybody," ended Cuthbertson in regard to the revamped greens, the outstanding new restaurant offerings and all of the course's other amenities.
Enthused, James added, "I'm very excited for 2019 and beyond. We are back on track!"
---
About the Writer
Gord Montgomery is a member in good standing of the Golf Journalists Association of Canada. He is now in his 10th year of writing for Inside Golf. He can be reached at This email address is being protected from spambots. You need JavaScript enabled to view it.. He's also on Twitter at @gordinsidegolf and on Instagram at gordinsidegolf2.