The Ranch G&CC Rakes Sand Out of Old Bunkers; Makes Changes for the Better
Details

Category: Inside Golf
Published: 2019-05-10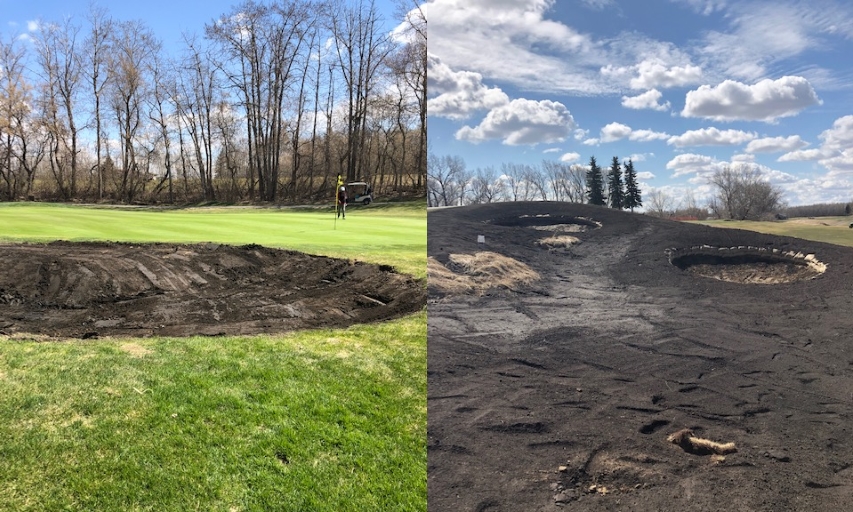 By GORD MONTGOMERY, Inside Golf
EDMONTON, Alberta — Finally, someone is making the game of golf a bit easier for those just starting out or high handicap players. At the same time though, the Ranch Golf & Country Club isn't making their layout any easier for elite stream birdie hunters. In fact, it may even begin to play a little bit harder for them.
After 30 years, the original bunkering done on the property just minutes west of Edmonton, had served its purpose and it was time to update the landscape. As a result, a large percentage of the traps scattered about on the popular public track have been removed and/or renovated, said executive pro Murray McCourt.
"We're right around halfway done right now," he said on May 7, noting that work had been slightly delayed by the lingering winter weather that plagued this part of Alberta. "It should be close to totally done by the end of May or the first week of June.
"Every single bunker on the golf course has either been removed or renovated … and we had a lot of bunkers out here! We probably got rid of about 60 per cent of the square footage of bunkers on the golf course. The strategy, for starters, was that The Ranch has been well known for years and years as one of the best public golf courses in Alberta. The knock on it though, if you will, is that the bunkers weren't the best. Now we're going from not having the greatest bunkers to right up there having the best bunkers that you'll play."
McCourt noted that by simply looking at the new sand being put in place players won't notice much difference from what was there previously. When they step in and take a swing though, that's when the metamorphosis becomes apparent.
"It's still going to be a brown sand, but a very high quality brown sand," as the sand being put in place will be a major upgrade McCourt continued, simply for the consistency it will have throughout the 18 hole playpen.
"As well, the issue was that none of our bunkers had drainage when the course was built years ago. The bunkers we've kept and renovated, and many have a new shape to them, now they all have drainage. That's a huge key in this project."
That new soil also lends to easier, and thus better, upkeep by maintenance staff. A big part of the changeover, he continued, is that the bunkers being taken out of place, or play, won't leave any apparent scars as grass takes over in those spots, thus making the game for many a bit easier.
"The bunkers that have disappeared, for the most part, were ones that affected newer players or higher handicap players. With some fairway bunkers for example, we've made those so they're a bit farther out so the longer hitter can still reach them (off the tee) but the shorter hitter can't. So when this project's done, it's going to be the same, very difficult Ranch golf club for the better players but newer golfers and higher handicappers are going to find it more user friendly."
For those familiar with The Ranch, McCourt explained that on hole seven, where three bunkers came into play along the right-hand side of the fairway off the tee on the par-5 hole, now only one trap remains. "Where the shorter hitter could reach the first bunker but not the second or third, now that player will be on grass," instead of sand. "But that bunker that's there, it's cut four or five yards more into the fairway making the hole narrower," meaning big hitters have more chance of landing in the problem area. "It's not a pot bunker, per se, but it will have a fairly big lip on it," meaning a player must lay up out of there rather than trying to hit a hybrid or long iron into the green.
McCourt said the changes being put on place didn't target one particular area of the course in particular. The subtractions won't add up to easier play though, simply because of the thought behind which bunkers are staying in place and were renovated. That point out by another major change, this one on the fourth hole, a par-4 that was littered with traps.
"There were eight bunkers and it now has four. It had three on the left side but now there's two, and they are smaller. There was one in no-man's land about 80 yards short of the green that I don't think anyone every hit into," that is now gone. "There was a bunker on the right side of the green that still exists, that got renovated, and two at the back that aren't there anymore," explained McCourt.
Interestingly enough, even though The Ranch is hosting a major Alberta Golf tournament this summer, the Ladies Amateur, McCourt said these renos have nothing to do with that. These are being done simply to help keep his course in the upper echelon of places to play, not only in the greater-Edmonton market but across Alberta.
"We were well aware that our golf course is amazing but the bunkers didn't live up to what we've got here at The Ranch, so we just made the decision it was time to move forward with this project," he ended about the bunker restoration program.
As a side note, all the tee boxes on the par-3 holes are also being renovated as years of wear and tear had affected them. They will all be levelled giving players a better stance for tee shots.
"It's not as big an improvement and change as the bunkers, but it's still a very needed and significant change," said McCourt about The Ranch upping its game for the playing public.
---
About the Writer
Gord Montgomery is a member in good standing of the Golf Journalists Association of Canada. He is now in his 10th year of writing for Inside Golf. He can be reached at This email address is being protected from spambots. You need JavaScript enabled to view it.. He's also on Twitter at @gordinsidegolf and on Instagram at gordinsidegolf2.