Nagy Nails Win with 11 Birdies at MJT Re/Max Blue Chip Realty Classic in Estevan
Details

Category: Inside Golf
Published: 2019-05-10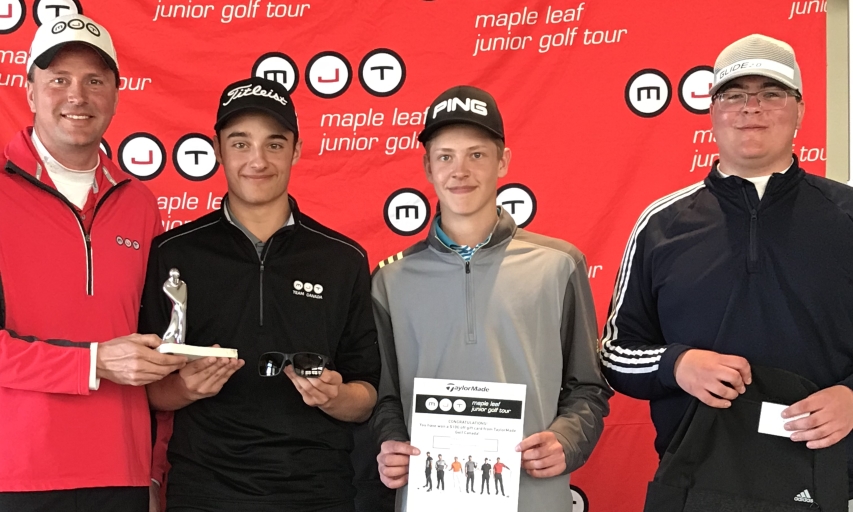 By MAPLE LEAF JUNIOR GOLF TOUR
ESTEVAN, Saskatchewan — Competitive young golfers from across the Canadian Prairies arrived in chilly Estevan over the weekend to compete in the first of six events on the Boston Pizza-presented Maple Leaf Junior Golf Tour in Saskatchewan this season. The juniors were vying for titles in six divisions in the MJT Re/Max Blue Chip Realty Classic at Estevan Woodlawn Golf Club on May 4 and 5. Qualifying chances for the 2019 Future Champions Golf  International Junior Championship and the IMG Academy Junior World Championship, both in San Diego, CA, were also up for grabs.
Great scoring highlighted the MJT Junior Boys Division where MJT veteran Josh Nagy, 17, of Saskatoon, SK, claimed the Hoselton Trophy and the Low Overall Boys score with rounds of 75 and 69 (144). Making an impressive 11 birdies in total, Nagy commented, "It felt great to win. I had a lot of confidence out there, especially with my putter." Finishing in second was local player Chase Gedak of Estevan, who fired rounds of 76 and 75 (151).
Another Estevan resident and MJT veteran, Jayden Dudas, 16, took home first place in the MJT Juvenile Boys division by six strokes over 15-year old, Kindersley, SK, native Cort Tunall (79-76=155). Dudas was tied with Drayjon Sparvier,15, of with Regina, SK, after the first round, but then surged to the top after firing a 73 in round two, winning the Hoselton Trophy (76-73=149). "I birdied holes three and 18 so I seemed to like those," commented Dudas, who made eight birdies during the tournament.
A nail-biting contest took place among two Saskatoon, SK, players in the MJT Bantam Boys Division where 14-year old, Alex Swinnerton (81, 75=156) won the Hoselton Trophy by a single stroke over 13-year old Max Reiger (79, 78=157). Sitting in fifth place after the first day with an opening round of 81, Swinnerton bounced back with a 75 in round two. "There are some great golfers in the Bantam Division," Swinnerton said afterwards. "I feel great winning my division considering the competitors and the conditions. Max played unbelievable and all the players put up a great fight." The greatest comeback in this division was made by another Saskatoon-native, Thomas Danielson, who had a 14-shot improvement between his two rounds (86, 72=158). Danielson went on to win the Booster Juice MJT Comeback Award where he went four-under on his front nine on the second day, including five birdies.
The MJT Peewee Boys title was also won by a single shot by 11-year old Dane Giesbrecht (81, 86=167) of Warman, SK, over 12-year old Cashton Yaremko (84, 84=168) of Orkney, SK. Giesbrecht made a clutch par save on his final hole to secure the one-shot victory and win his first MJT Peewee Boys Hoselton Trophy. "It felt amazing to win," remarked Giesbrecht. "I decided to play as the course was in great shape and (this stop) sounded like a good one. And I was right."
Ella Kozak, 13, of Yorktown SK, claimed the Low Overall Girls score and the MJT U15 Girls title with rounds of 78 and 86 (164). Attributing her success to her positive attitude, Kozak commented, "When I had a bad shot, I just kept going and that's how I made it through."
In the MJT Girls 15-18 Division, Autumn Neiszner, 15, of Regina, won in suspenseful fashion by one shot over Carey McLean(88, 87=175) of Deer Valley. Neisner mentioned after the tournament, "I had a fun time playing and winning of course. I'm looking forward to this year's golf season." Neiszner finished with rounds of 86 and 88 (174). 
For PLYR Long Drive, PLYR Closest-to-the-Pin and the MJT Booster Juice Comeback Award winners, please visit the highlights page for the tournament here. Winners of the international exemptions will be announced once qualifying has completed across the country.
The next Maple Leaf Junior Golf Tour stop in Saskatchewan is in Swift Current on May 19 and 20 - the MJT Golf Saskatchewan Oorder of Merit Series presented by Ilta Grain at Elmwood Golf and Country Club. For more information or to register, please visit www.maplejt.com or call 1-877-859-4653.
---
About Re/Max
We are a dedicated team of Real Estate Specialists who understand real estate and are here to serve the needs of our buyers and sellers of Saskatchewan Real Estate. In believing that our clients needs come first, we are dedicated to providing the highest level of quality service to our sellers and buyers. Through our commitment to continued education, and promotion of a strong team atmosphere, we strive to obtain positive results for our clients, staff and company.  Click these links for the Estevan and Yorkton offices. 
About the MJT
The non-profit Maple Leaf Junior Golf Tour presented by Boston Pizza is Canada's number one-played Junior Golf Tour as well as the only national junior tour run exclusively by PGA of Canada Professionals and the 'Road to College Golf' in Canada. The organization is presented nationally by Boston Pizza and supported by valued Premier, Tournament and Product Partners. The MJT hosts close to 80 events across Canada, including free Ford Go Golf Junior Clinics, the MJT Mini Tour for 7 to 12 year olds, the Collegiate Tour for 19 to 23 year olds, and multi-day events for competitive players aged 11 to 18 which are also qualifiers for international competitions. The program offers annual awards, scholarships, and frequent player incentives to help reward player's performance and participation throughout each season. MJT alumni include many Professional Tour players and PGA of Canada Professionals, as well as Canadian Amateur, National and Provincial Junior Champions. The MJT aims to develop champions, in golf and in life, promoting the game from grassroots through to provincial, national, university and professional level. For more information, see www.maplejt.com.