Support Blind Golf Championships in British Columbia with a Tax Deductible Donation
Details

Category: Inside Golf
Published: 2019-06-03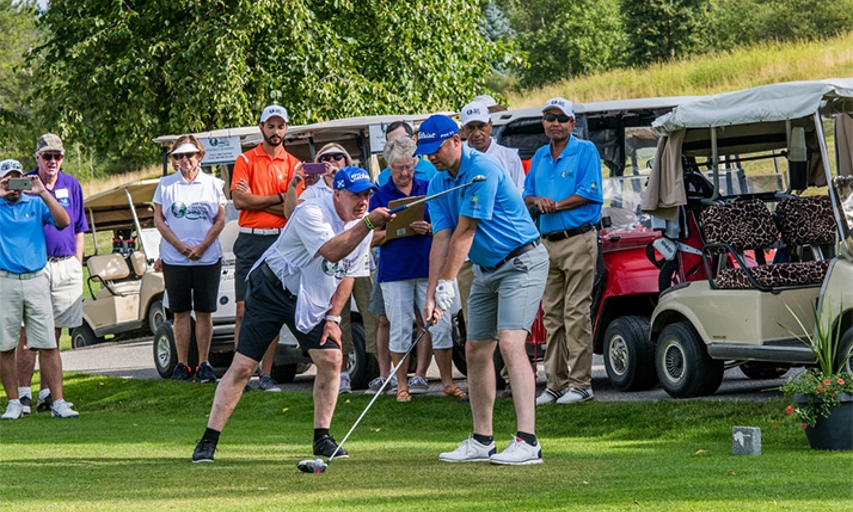 The 2019 Western Canada Blind Golf Championship and the 2019 ISPS Handa Canadian Blind Golf Championship are being held back-to-back at St. Eugene Mission Golf Club in Cranbrook and Kimberley Golf Club in Kimberley, BC. 
These two competitions bring together highly skilled blind and partially sighted golfers along with their coaches, providing an opportunity to earn world ranking points.
Athletes will come from across Canada and the United States as well as Internationally. Some competitors will compete in both championships and some will only compete in one. Each championship field will consist of 50 athletes and 50 coaches. Local clubs will assist with officials and volunteers to act as spotters for the competitors.
The mission of the organizers is to promote and grow blind golf across Canada. They promote the concept that despite a loss of vision "You can still play." They believe in the "Power of Sport."
One million people in Canada are diagnosed annually with vision impairment. This event will help inspire Canadians with vision impairment to try a new sport and to become involved in amateur golf. New participants will benefit from increased physical activity coupled with the social benefits inherent in the game.
To All Corporate Sponsors and Donors:
The Western Canadian Blind Golf Association and Blind Golf Canada will be hosting two major international blind golf championships this coming July. With these events, it's our goal to bring awareness of blind golf and the promotion of sport in our Province and throughout Canada:
- The 2019 Western Canadian Blind Golf Championships (July 9th -July 10th) 
Kimberley, BC (Bootleg Gap G.C)
- The 2019 ISPS Handa Canadian Blind Golf Championships (July12th-July 13th) 
Cranbrook, BC (St. Eugene Golf Resort)
Project Name: 2019 Western Canada Blind Golf Championship / 2019 ISPS Handa Canadian Blind Golf Championship July 7 - 13th, 2019.
Projected Funds $30,000
The proceeds from this fundraiser will be used for the following cause(s):
Golf course utilization fees
Athlete accommodation
Coach accommodation
Meals
Transportation
Facility fees
Please visit this page fill in appropriate information and from the drop down menu in the middle of the page select 'Golf' then from the next dropdown menu you can select 2019 Western Canada Blind Golf / ISPS Handa Canadian Blind Golf Championships as your preferred choice for the donation. (See below)
An official receipt for tax purposes will be issued in respect of this gift.
These blind golf competitions are sanctioned by the International Blind Golf Association (IBGA) and will bring together 90-100 participants for these high- performance competitions in British Columbia. In fact, 14 of these participants will just be returning from Ireland after competing in the 2019 ISPS Handa Vision Cup and representing Team North America.
This is "Ryder Cup" for the blind and partially-sighted and brings the best-of-the best together to compete. These players will join another 70-80 participants from all over Canada, the USA, England, Scotland, South Korea, Israel, and Northern Ireland.
Each athlete will be accompanied by a coach. Blind golfers require a coach to guide them around the course providing advice as to distance, topography, lie and other pertinent information. The field is not limited to highly skilled golfers as divisions for more recreational golfers are also included.
All competitors, coaches, officials are included in all social activities attached to these two events. It is expected that each championship will qualify for points in the World Amateur Golf Rankings for golfers with a disability (WR4GD).
Within a week of competition, we need to ensure we cover event costs such as accommodations, golf fees, transportation, meals, prizes, etc. In order to ensure we cover all event costs and ensure the success of these events in B.C., we really need additional sponsorship and donor support. Each championship has an entry fee of $250.00. We are hoping to reach out today to ask for your consideration of support for these great, worthwhile events. Thank you in advance for your consideration of support. 
Golf supports a policy of "Equity and Inclusion" for all golfers, regardless of physical limitations, gender or skill level. Events such as these support these policies and become celebrations within the host communities. British Columbia Golf will support the championship with media coverage both pre and post event. Results will be posted on the website.
Competitors will be organized into divisions representing Bl, B2, and B3 classification.
B1
This category encompasses no light perception in either eye up to light perception, but inability to recognize shapes at any distance or in any direction.
B2 and B3
Both of these categories involve a low level of usable partial vision, those in the B3 category will be able to see more than those graded as B2. B3 is the highest category used for international & Paralympic sport.
For more information contact:
Darren Douma 
2019 Event Chairman & Host President
WCBGA Vice-President
Blind Golf Canada Director
BC Blind Sports & Recreation
This email address is being protected from spambots. You need JavaScript enabled to view it. or by phone (250-428-8715)