White Hangs On, Kapadia Completes Comeback at MJT's Mystic Stop
Details

Category: Inside Golf
Published: 2019-06-04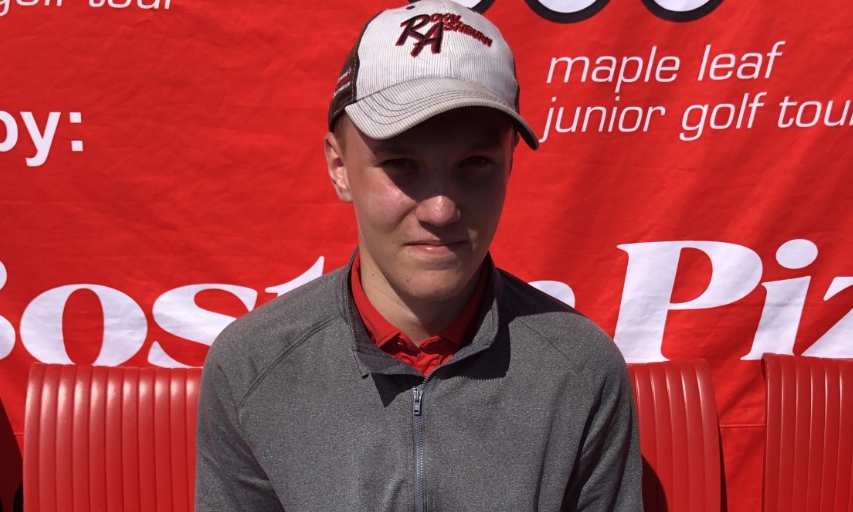 By THE MAPLE LEAF JUNIOR GOLF TOUR
ANCASTER, Ontario — The Boston Pizza-presented Maple Leaf Junior Golf Tour completed the first of four Ontario-based tournaments for the month of June in Ancaster last weekend with the MJT Ontario Series at Mystic Golf Club. With stormy conditions brewing on the first day of the event, some players had to come back on day two to safely finish their rounds.
Players were competing over 36 holes of competition for titles in seven divisions as well as age-specific shortlisted spots into the US Kids Golf World and Teen Championships in Pinehurst, NC, later this summer.
We begin in the MJT Juvenile Boys Division where Kitchener, ON-resident, Kayden White, 16, hung on to a two-shot lead to win the Hoselton trophy. White, who fired rounds of 78 and 81 (159), secured his win with a birdie on the 17th hole on the second day. "I made a 30-foot putt on 17 for birdie and I knew I was going to win after that putt dropped," said White who earned his first MJT tournament title. Making a charge on day two and finishing in second place was Carlisle, ON-player, Tyler Schaap, 16. Schaap, who carded rounds of 85 and 76 (161), went two-under par in his last five holes, but fell just shy of completing the comeback.
With a sterling day two comeback was 18-year old Yashin Kapadia of Brampton, ON. Kapadia shot rounds of 78 and 84 (162), good enough to win by two shots over 17-year old Justin Nelligan, of Hamilton, ON. Nelligan (74, 90=164), went two-under par in his back nine on the first day to take a four-shot lead, but struggled in his opening nine holes on the second day.Kapadia, who attributed his come-back win to a moment on the 15th hole, said, "I found my first ball on 15 after hitting a few off the tee and that kept the momentum going."
Andreas Diogenous captured the MJT Bantam Boys Division with rounds of 80 and 78 (158). The 13-year old player from Cambridge, ON, made three birdies in the span of 1o holes in the middle of his second round cruising to victory. Diogenous attributed his win to his work off the tee, saying, "My favorite part of the tournament was the feeling of teeing off the first hole." Second place went to 13-year old, Dougie Basadur, of Burlington, ON, who fired rounds of 88 and 89 (177).
Winning the MJT Peewee Boys Division was 12-year old Aiden Pavey with scores of 83 and 89 (172). The Burlington, ON-native, built a substantial lead after his first round and glided to a 10-shot win. "I had a lot of fun at the tournament," mentioned Pavey after his round. "I play on the MJT because of the great prizes and the pizza is always good!" Finishing second in the division was 11-year old, Ekveer Minhas, of Pierrefonds, QC, who carded rounds of 100 and 82 and took home the MJT Booster Juice Comeback Award for his division.
Winning the Hoselton trophy in the MJT U15 Girls Division was 14-year old, Isabel Noot with rounds of 98 and 89 (187). The Oakville, ON-player took home both the division title and the MJT Booster Juice Comeback Award for the division improving by nine shots between the two rounds. "I feel great winning my first tournament of 2019," remarked Noot. "There were a lot of ups and downs, but the overall experience was awesome."
Playing up a division was Myranda Quinton, 14, of Burlington, ON, who shot scores of 94 and 93 (187) to win the MJT Girls 15-18 Division. Quinton, who had a rough start on her first hole of the tournament, finished day one strong playing the last six holes at one-over par. "I really enjoyed grinding through the tough holes and the wind," said Quinton. "I got some great experience and really improved my course management."
The MJT Collegiate Division was claimed by 19-year old, Tess Scaman, of Chatham, ON, who carded rounds of 87 and 81. "I play on the MJT because of the courses and the people I get to compete with," she said.
For PLYR Long Drive, PLYR Closest-to-the-Pin and the other MJT Booster Juice Comeback Award winners, please visit the highlights page here. Winners of the international exemptions will be announced once qualifying is complete across the country.
The next Maple Leaf Junior Golf Tour stop in the province is June 15 and 16 in Petersburg for the 2019 MJT Ontario Series presented by PLYR Golf at Rebel Creek Golf Club. Players can register online at www.maplejt.com or call 1-877-859-4653.
---
About the MJT
The non-profit Maple Leaf Junior Golf Tour presented by Boston Pizza is Canada's number one-played Junior Golf Tour as well as the only national junior tour run exclusively by PGA of Canada Professionals and the 'Road to College Golf' in Canada. The organization is presented nationally by Boston Pizza and supported by valued Premier, Tournament and Product Partners. The MJT hosts close to 80 events across Canada, including free Ford Go Golf Junior Clinics, the MJT Mini Tour for 7 to 12 year olds, the Collegiate Tour for 19 to 23 year olds, and multi-day events for competitive players aged 11 to 18 which are also qualifiers for international competitions. The program offers annual awards, scholarships, and frequent player incentives to help reward player's performance and participation throughout each season. MJT alumni include many Professional Tour players and PGA of Canada Professionals, as well as Canadian Amateur, National and Provincial Junior Champions. The MJT aims to develop champions, in golf and in life, promoting the game from grassroots through to provincial, national, university and professional level. For more information, see www.maplejt.com.