Seymour G&CC Set to Host Assistants' and Seniors' Championships
Details

Category: Inside Golf
Published: 2019-06-07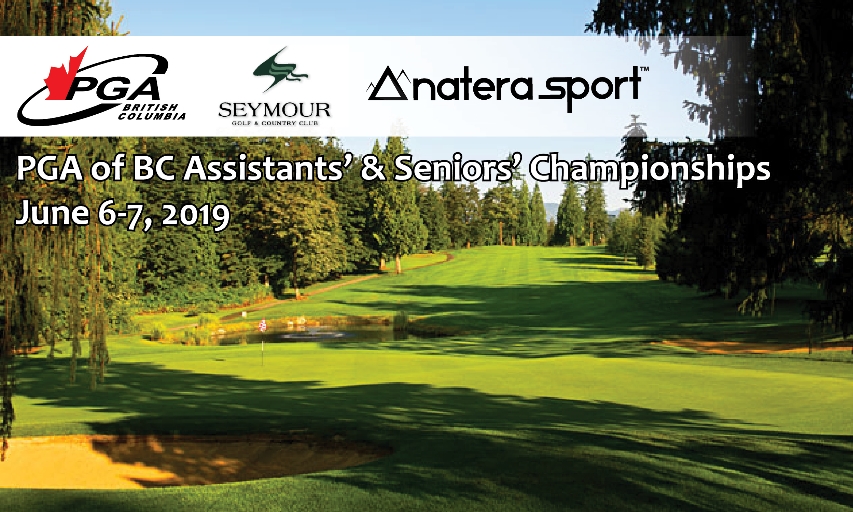 By THE PGA OF BC
RICHMOND, British Columbia — The PGA of BC Assistants' & Seniors' Championships presented by Natera™ Sport is headed to Seymour Golf & Country Club, bringing things full circle for Head Professional Dale Schienbein.
After all, it was Schienbein himself who captured the Assistants' Championship title the last time it was held at the North Vancouver facility, back in 1991.
"It was a nice victory and there weren't too many in my career, so that's one I'll remember," said Schienbein, who at the time was on the Professional staff at Shaughnessy Golf & Country Club. He survived a three-hole playoff that included Scott Minni and then-Seymour assistant Glenn Butler, closing out the win with a par on Seymour's third hole. 
"I remember standing on the green looking back up the hole, thinking: 'It's pretty nice here,'" he recalled. "Little did I know that I'd be spending 28 years working here."
Indeed, Schienbein assumed the role of Head Professional at Seymour the following year, a post he's proudly held ever since. But while Schienbein has been a constant, the facility has undergone a number of recent changes that will be brand-new to many competitors.
Nearly 100 players will be vying for one of the two championships being held concurrently June 6-7 on Seymour's gorgeous layout, which received an extensive facelift on the back nine that was completed less than 24 months ago. With the exception of No. 18, each of the holes on the closing side were changed significantly, with redesigned greens, bunkering, fairway shaping and more, under the guidance of architect Ted Locke. The club's practice range also underwent renovations, with an impressive new structure protecting players from the elements.  
Though the projects to improve the facility created challenges for the club's operations in recent seasons, Schienbein said feedback on the alterations has been fantastic and he's excited to showcase Seymour to his peers.
"We're very proud to be able to show off the changes that we've made over the years," he said. "The club has made all the right decisions over the years with long-term work on the golf course, drainage, building up sand caps – all the stuff that maybe isn't super sexy, fun and exciting, but it all adds up to long-term improvements. That's kind of where we're at right now; enjoying the work and foresight of a lot of people that came before."
Accuracy will be Key to Success at Seymour
The Assistants' & Seniors' Championships will be among the most notable competitions to take place at Seymour in recent memory. Prior to the course renovations, the BC Men's Amateur Championship was held at Seymour in 2014 and proved to be a challenge, with even-par standing up as the winning score over 72 holes.
"For the BC Amateur, all we did for setup was grow out an extra inch of rough, and otherwise the golf course played exactly the same way as the regular membership would play it," said Schienbein. "So it was a good test for some of the best amateur players in the province, and we're excited to see how the Professionals do with it as well, because there's certainly lots of talent within our association."
The PGA of BC hosted its Club Professional Championship at Seymour in 2014 as well, with winner Doug Morgan (Richmond Country Club) being the lone player to break par that week.
With the course topping out at fewer than 6,500 yards for the male competitors in the Assistants' Championship, there will be a premium on accuracy over length this week. Shot-making and putting will be key, particularly if pins are tucked in tough spots on Seymour's difficult greens.
"If there's a secret to playing the golf course, it's patience," advised Schienbein. "Hit greens, putt for birdies; don't try to make birdies off the tee, because you'll beat yourself up in no time. Take the birdies when they come and avoid the bigger numbers, because they're certainly lurking out there if you're greedy."
Talented Fields Set for Both Tournaments
The Assistants' Championship will feature 72 men and women competing for the title, while 24 players will fill out the Seniors' Championship field, including a number of newly senior-eligible Professionals.
A perennial favourite in the Assistants' Championship, Bryn Parry (Seymour Creek Golf Centre) is likely to be a factor in this year's tournament once again. Parry's five titles are the most all-time in this event, the most recent coming at Salmon Arm Golf Club in 2017. Keep an eye on his playing partners in Thursday's 11 a.m. group as well: Reigning PGA of BC Champion Kevin Stinson (Cheam Mountain Golf Course) has two top-three finishes in two Assistants' Championship starts, while Conner Kozak (The Okanagan Golf Club) earned a T3 result in last year's tournament at Bear Mountain Resort Community.
Plenty more players have shown strong form in the early months of 2019 and could be in the mix for the Assistants' title. Clark MacPherson (Point Grey Golf & Country Club) turned a sponsor's exemption into a made cut at the Mackenzie Tour's Canada Life Open last month, while Luke Bogdan (Ledgeview Golf & Country Club) has notched first-place finishes in the past two events on the Lower Mainland's G&G Tour. John Shin (The Tour LAB @ Northview), the 2017 PGA of BC Champion, and Seymour's own Lenny Cyr can't be overlooked, either.
In the Seniors' Championship, Philip Jonas (Philip Jonas Golf Academy) is a good bet to be near the top of the leaderboard come Friday. Jonas won back-to-back titles in 2015 and 2016, but the tournament has eluded him the past couple of years. He's had an outstanding season to date, leading the G&G Tour Order of Merit, but will have to emerge from a deep field of competitors.
Defending champion Norm Jarvis (Sunshine Woods Golf Course) and 2017 winner Morgan will also have their eye on the Ben Colk Trophy, as will last year's first-round leader, Cordova Bay Golf Course's Jim Goddard. But a few newcomers to the Seniors' Championship could shake things up as well. Vancouver Golf Tour commissioner Fraser Mulholland, winner of the 2004 PGA of BC Championship, and 2003 Assistants' Championship victor Scott Rodgers (Morgan Creek Golf Course) are among those making their Seniors' Championship debuts. Schienbein, James Legault (Seymour Creek Golf Centre), Doug Hastie (British Columbia Golf), Andrew Jeffers (Eaglequest Golf Centre at Coquitlam) and Dean Kuntz (The Vancouver Golf Club) are also making their first appearances in the event. 
The host club will be well represented over the two days, with six members of Seymour's Professional staff participating: Connor Rosenlund, Colin Lavers and Trevor McLean joining Cyr in the Assistants' Championship field, and Roy Abbenbroek taking on the Seniors' tournament alongside Schienbein.
"Everyone's out practicing and grinding and I think we're all excited to showcase the facility," said Schienbein.
CLICK HERE to view Thursday's Round 1 tee times for both tournaments.
Live scoring will be available for the duration of the tournament; CLICK HERE for Assistants' Championship results or CLICK HERE for Seniors' Championship scores.
Assistants' & Seniors' Championship Fast Facts
The winning assistant will take home $3,000 from a purse exceeding $17,000, while the top senior will pocket $1,400 out of a purse greater than $6,000. A $150 Super Senior Bonus will also be awarded to the top player aged 60-plus in the Seniors' Championship.
Based on available PGA of BC records, Brad Clapp (Cultus Lake Golf Club) holds the Assistants' Championship scoring record with his 17-under total of 127 in the 2012 tournament at Vernon Golf & Country Club. The lowest known score to win the Seniors' Championship is 8-under, achieved by Jonas in 2016 and Chuck Milne in 2003.   
Beyond Parry, just one other past champion is currently in the Assistants' Championship field: 2002 winner Jeff Buder (McCleery Golf Course). The Seniors' Championship, however, features a number of players with Assistants' titles on their résumés: Schienbein (1991), Morgan (1995), Rodgers (2003) and Jonas (2004 & 2005).
Abbenbroek is a past Seniors' Champion himself, capturing the 2013 crown at Chilliwack Golf Club. He, Jarvis, Jonas and Morgan own a combined six titles in this event since 2010. Greg Pidlaski's four Seniors' Championship wins are the most all-time.
---
About Natera™ Sport
Natera™ Sport is a division of Naturally Splendid Enterprises Ltd. and producers of Natera™ Sport Bites. Naturally Splendid Enterprises Ltd. is a health-based consumer products company that is developing, producing, commercializing, and licensing an entirely new generation of plant-derived, bioactive ingredients, nutrient-dense foods, snacks and related products. Additionally, Naturally Splendid's biotechnology division is building an expanding portfolio of patents (issued and pending) and proprietary intellectual property focused on the commercial uses of industrial hemp cannabinoid compounds, focusing on cammabidiol, in a broad spectrum of applications. Natera™ Sport Bites were developed under the supervision of Victoria's Dr. Stuart Love, who travels with the PGA Tour as a healthcare practitioner for several of the world's top players, including multiple major champions. Visit www.naturallysplendid.com to learn more.