Fort McMurray Not So Much Out of the Way Anymore
Details

Category: Inside Golf
Published: 2019-06-07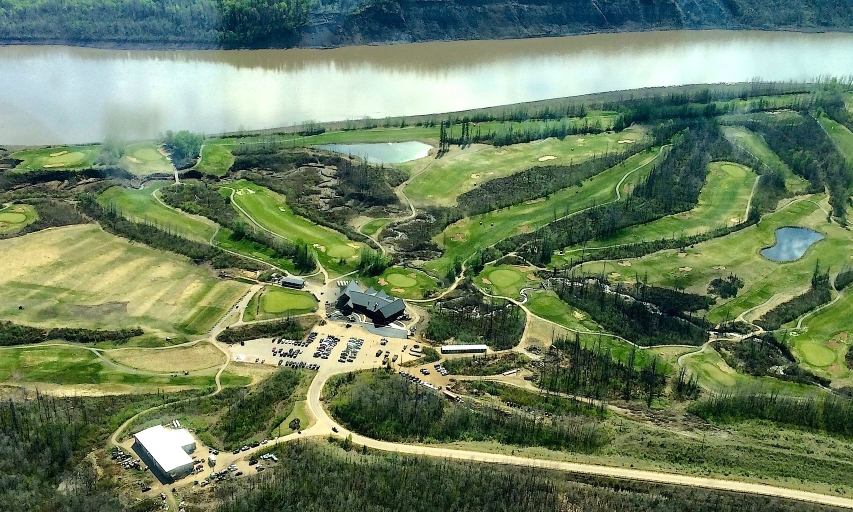 By GORD MONTGOMERY, Inside Golf
Fort McMurray isn't really all that far away anymore and what you find when you arrive in this northern Alberta community is enough to make the journey well worth your while.
Once seen as remote, this community of 65,000 plus another 40,000 or so in the surrounding area, is easily accessible by land or air. Now well on the road to recovery after the devastating fires of 2016 that forced the evacuation of nearly 90,000 people from Fort McMurray proper, there is lots to see, and do, for visitors to this friendly, clean community.
Topping the list, of course, are three golf courses with 54 holes in total that are distinctly different from one another. The oldest of the group is the Fort McMurray Golf & Country Club, a tight, tree-lined layout featuring 27 holes. It's followed off the tee by the Miskanaw GC, which sits on MacDonald Island Park in the heart of the city and features player-friendly fairways. The baby of the trio, Rotary Links, came on-stream just after the fire and features a unique, and fun, links style of play.
As for the granddaddy, Fort McMurray Golf Club, new General Manager Dave Callum said the club has rebounded well after the 2016 blaze destroyed their maintenance shed, clubhouse, and many of the old growth trees that made this layout so intimidating. In fact, this course was a strong enough layout to host the PGA TOUR Canada/Mackenzie Tour's Boreal Open for several years.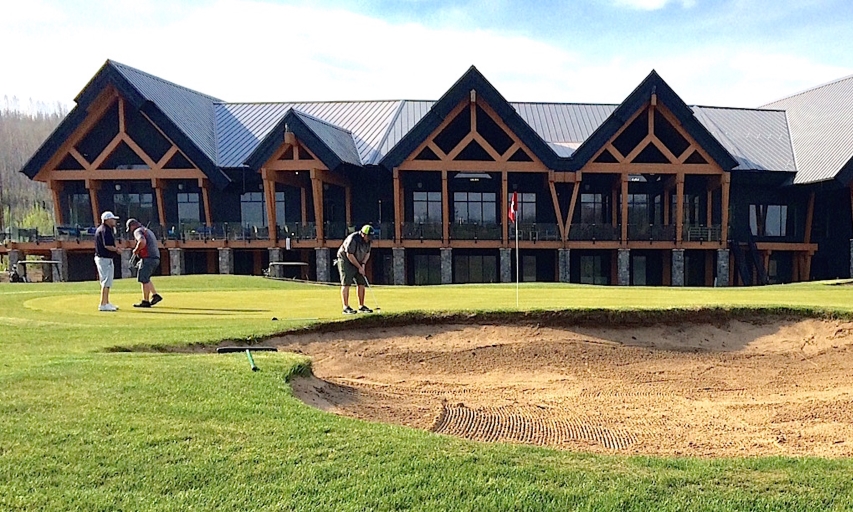 The New Multi-Million Dollar Clubhouse At The Fort McMurray Golf & Country Club Fits Seamlessly Into The Landscape Offering Great Views Of The Closing Hole On The Bear Nine. (Photo/Gord Montgomery)
Asked how the club has rebounded from those terrible times, Callum said, "The best answer is that we are back to the business of golf. It was tough on the people here not having these amenities, so we want to get back to the customer service we had," and with the launch of their new multi-million dollar clubhouse this year, they're well on their way toward that end. "We are back."
Interestingly enough, plans were already on the books to expand the old clubhouse in the beautiful Athabasca River valley when the firestorm struck. Those renovation plans were scrapped and new ones drawn up to build the amazing facility that now blends in nicely with the landscape. In fact, the boreal forest area is filling back in quickly where it was burned as the undergrowth is thick and healthy, and returning the once-charred areas back to their vibrant shades of green.
"We wanted to make sure we did it right," Callum noted of the rebuilds. "We wanted to make sure we could accommodate more community events," to show the Country Club is not a private entity but open to the public who can come and enjoy what's now there. "With all the amenities we have, this property is a pretty spectacular place."
As for the course itself, their 27-holes are challenging but fun. Known as Big River (3,400 yards); Black Bear (3,500 yards); and the new nine, Foxtail (3,300 yards; all off the back tee) this is a course that can handle upper-end competition and that's what the GM hopes is on tap. He has a solid bid in to hopefully host the 2021 Canadian Mid-Am, and feels his new home is ideal for such an event.
"This is a spectacular place. I have no doubt we could crack the Top-100 in Canada once everything is back up and running properly. Golf is good here. It's a magical place!"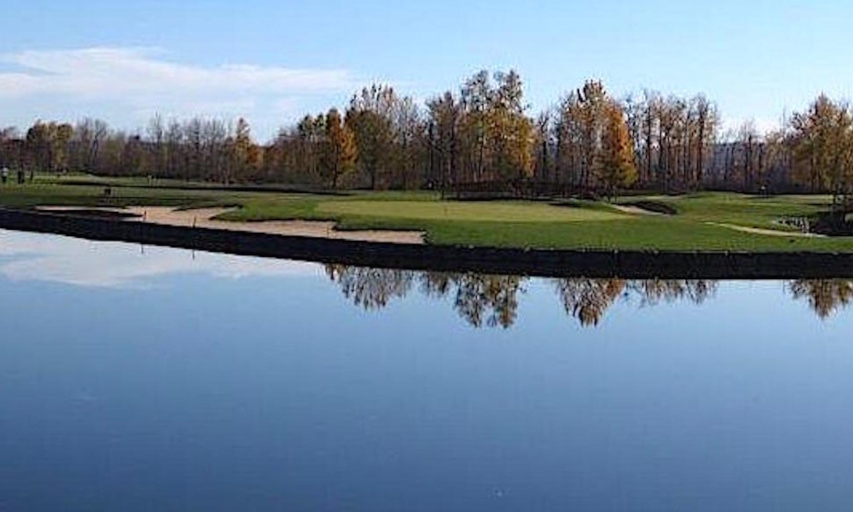 This Is Just One Of Many Outstanding Holes On The Miskinaw Golf Club, Located Alongside The Athabasca And Clearwater Rivers. (Submitted Photo)
Sitting alongside both the Athabasca and Clearwater Rivers, the Miskanaw GC is designed to accommodate any level of player but still throw some stiff challenges at those who dare to take it on from its furthest depths.
Speaking about his public-play facility, Jason Vaughan, the Director of Golf at Miskanaw said it's a place everyone can come and truly enjoy their outing.
"We offer a very top-end, first-class facility. We focus on great conditions but also we focus on community, family, friends, a place everyone can be comfortable. The golf course has a little bit of everything and it's all out in front of you. It's very fair to the beginner, or intermediate golfer, but it also stretches out to almost 7,200 yards so for the competitive golfer we offer a great test as well," Vaughan noted.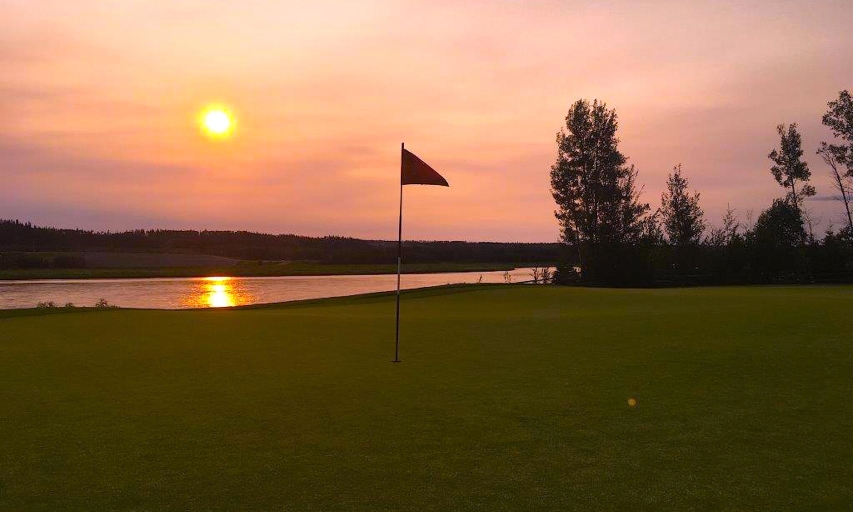 With Long Summer Days And Some Gorgeous Sunsets, Miskinaw GC In Fort McMurray Offers Some Great Evening Visuals. (Submitted Photo)
Where Miskanaw sits is a huge conglomerate of recreational facilities including a massive field house/arena/pool/curling rink complex as well as an artificial turf football and baseball field. The entire area ties in well together, with customer service topping the list everywhere.
"Being a part of a massive facility is fantastic!" said the pro. "We have so many resources that we pull from," in order to make everyone's visit to this unique area live up to expectations. "There are so many resources that we have that so many golf courses don't have access to, so we have a huge team of people working toward one good goal."
The course, where construction began in 1966 and was updated in 2015 was a cooperative effort between the town and Keyano College, features five tees and those wide fairways allowing players to hunt birdies to their heart's content.
The area's third course that sits near the airport, the new 9-hole Rotary Links, is coming on strong to provide residents and visitors, the chance to experience a different sort of golf game. General Manager Brent MacKay noted the Les Furber design is drawing praise from all who tee off there.
"Obviously there have been some unique challenges we've faced but the course, for the most part, has been very well received. The schedule of construction has slowed compared to what was originally planned, but our goal is still to have 18 (holes) as soon as possible, likely within three to four years," he explained.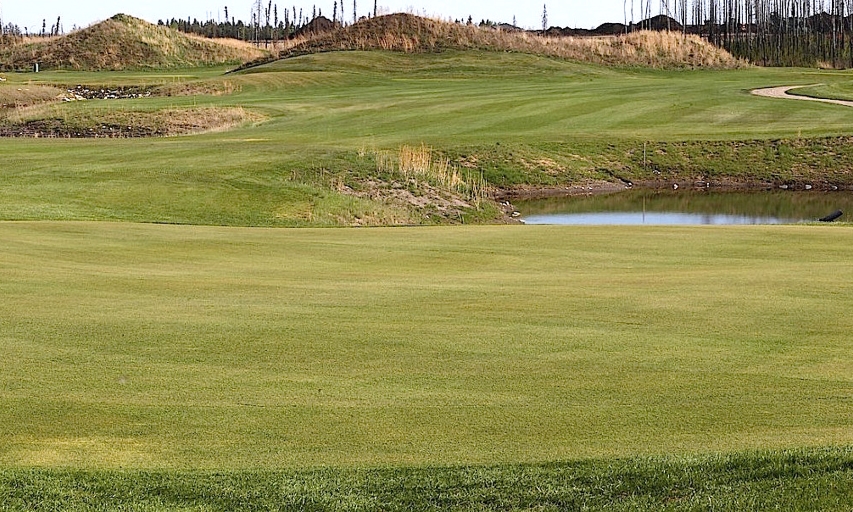 Even Though Some Scars From The Fierce Fire That Swept Around, And Through, Fort McMurray In 2016 Are Still Visible The Recovery Has Been Great And Is Highlighted By The Emergence Of A Third Golf Course In The Area, The Rotary Links. (Submitted Photo)
As to the layout, it's character is totally different than the other two courses located here. "I think the existing courses are mature and both are fantastic tracks. They're tree-lined courses where we're more of a links style, which the name suggests. So, we appear a lot more open to the eye. We do have a lot of water, and overall length of the course can make it challenging but we pair that with tee placements playable for the average golfer."
What it also offers is the ability to putt onto the greens from well off the shortest grass on the course, making approach shots somewhat easier. The challenges here come when you stray off the fairway and into the snarly rough, where simply chipping out is often the only solution to your  wayward shot problem(s).
The fact Rotary Links is only nine holes right now isn't a barrier, Mackay explained, for a couple of simple reasons:
"We've made ourselves available and affordable. We want the course to be accessible to the weekend golfer, someone who doesn't play enough golf to need a membership. Our course conditions definitely stand alone in the area. We're building an environment people enjoy and want to come back to."
So in reality, Fort McMurray isn't really all that far away, or hard to get to anymore and is truly well worth the little bit of time you spend getting here in order to take in this wonderful northern community where you'll find more than expected both on the golf courses and throughout the area.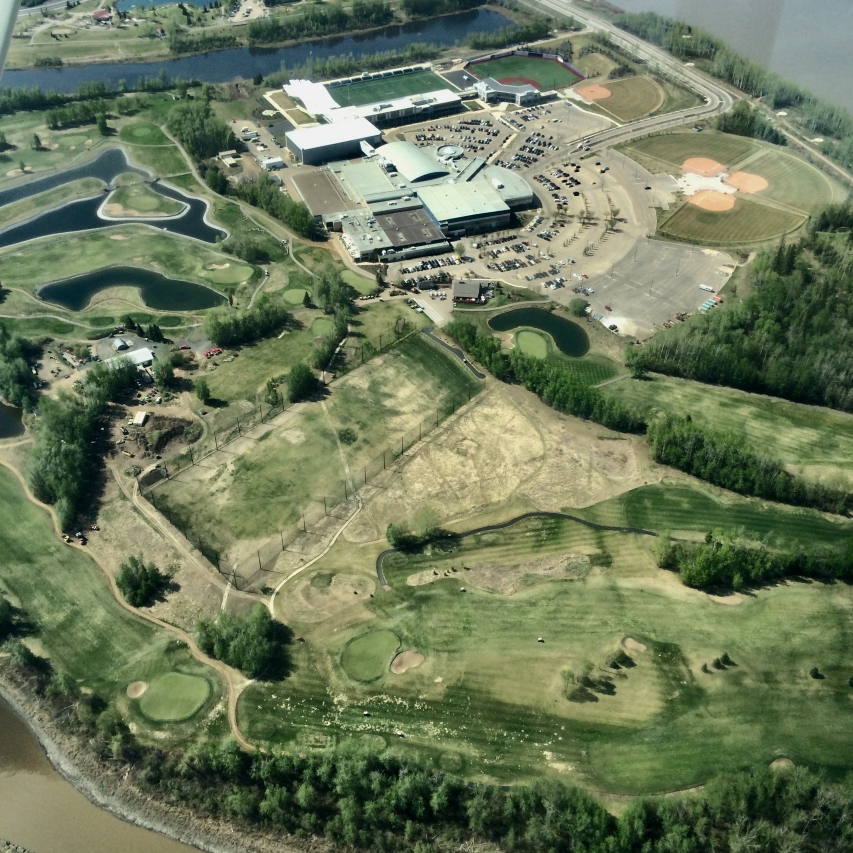 An Aerial Shot Of The Miskinaw GC In Fort McMurray Shows Not Only The Great Layout But Also The Other Recreational Amenities Available On MacDonald Island Park, Including A Massive Recreation Centre Along With The Artificial Turf Football and Baseball Fields (Top). (Photo/Gord Montgomery)
---
Lots to See, and Do, in Fort McMurray
Okay, I'll admit it, not even I can golf all day, every day. So, when in Rome, do as the Romans do. Or in this case, when in Fort McMurray, do what the McMurrayites do ... visit their amazing community in its entirety.
From understanding what the Athabasca Oil Sands are really all about at the Oil Sands Discovery Centre; to the history of early transportation displayed at the Heritage Shipyard; to the Shell Place recreation complex on MacDonald Island Park; or perhaps hiking or quadding around the amazing Athabasca Sand Dunes, there is something for everyone here to see, and do, after you put the sticks down for the day.
Oh, did we mention water sports? No? With five rivers flowing through the Wood Buffalo area, there are monsters waiting to be pulled out of the northern waters with hook and line. Or, you can kayak or boat up and down these wide-ranging, fast moving tributaries that flow northward toward the Arctic.
This northern area also has the highest rate of volunteers — almost 50 per cent of the population — of anywhere in the country. As such, they love to host major sporting events, with over 8,000 visitors over the past three years taking in sports tourism events including the Baseball Canada 18U National Championships, the 2018 Alberta Winter Games, two CFL pre-season and regular season games, numerous provincial championships and many awaiting the upcoming 2022 Arctic Winter Games.
And of course, there are those amazing Northern Lights, easily visible from just outside the urban area and a sight to behold if you've never had the chance to see them up close and personal.
So while I love to golf, I also love the opportunity to taste what a community has to offer, and Fort McMurray and the Wood Buffalo Region, provide you with more than you can consume at one sitting.
For more on the area, check out FortMcMurrayTourism.com, follow them on Instagram @FortMcMurrayTourism, or search for Fort McMurray Tourism on Facebook.
---
About the Writer
Gord Montgomery is a member in good standing of the Golf Journalists Association of Canada. He is now in his 10th year of writing for Inside Golf. He can be reached at This email address is being protected from spambots. You need JavaScript enabled to view it.. He's also on Twitter at @gordinsidegolf and on Instagram at gordinsidegolf2.