Fleming Doubles Down as Alberta Open Champ, First as Amateur, Now as Pro
Details

Category: Inside Golf
Published: 2019-06-18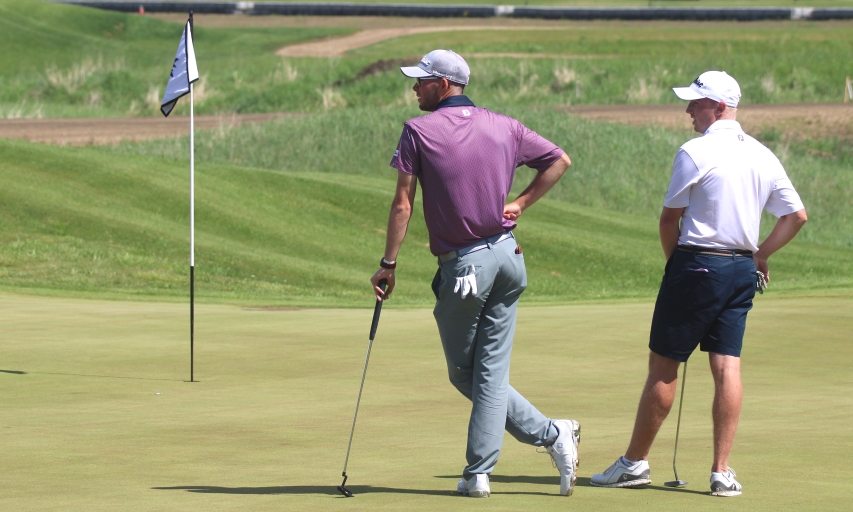 By GORD MONTGOMERY, Inside Golf
ENTWISTLE, Alberta — Call it a busman's holiday, or a working man's vacation if you will, as Riley Fleming stepped away from his day job to work on winning a major golf championship sponsored by Alberta Golf and SVR Lawyers.
Playing in the 2019 Alberta Open, Fleming, a golf instructor in Calgary, had to put in a bit of overtime on the last day of this job, needing one extra hole to claim the win, with a birdie, over Red Deer's Matthew Codd. Fleming either led, or was tied for the lead throughout the three-day, 54-hole tournament, played at the lush, and challenging par-72 Trestle Creek Golf Resort west of Edmonton.
The winner said afterwards that being a pro is all about taking on unknown challenges part of which he, and others, faced at this rural course. He did get a taste of it the day before things kicked off.
"That's what a practice round is for. You hit a bunch of extra shots. It is tough, but that's what pro golf is all about."
Tied going into the final round, Fleming was tied for the lead with Patrick Murphy, whom he was paired with on the final day and who he was keeping an eye on. But, Codd came out of nowhere with a course record round of 64 to finish at 8-under and tie Fleming who just missed a birdie putt to win outright on the last official hole of the tourney.
"I was just trying to stay ahead of Patrick," Fleming noted after taking a late lead over Murphy, not knowing that Codd had finished with a flourish to tie for the lead.
The playoff was a short event, as a light rain started to fall, after both players hit the fairway, then the green with their approach shots.
"I hit it pretty decent on the playoff hole," the winner understated. After striping his tee shot on the par-4 ninth, he put his second shot to within six feet. Codd, not to be outdone, put his approach to about four feet from the cup. Fleming rolled his putt in first, putting pressure on his opponent to stay tied, who missed.
Asked if he had any nervousness on that short shot, Fleming said, "No. You just gotta hit your spot," which he did. "Matt had a closer putt than I did, so I had to make it."
So despite having to work while away from work, don't feel bad for Fleming. He got in a bit of fishing at Wabamun Lake when his work at the golf course was done and while he didn't land anything there, he did pull in a cheque for $5,000 for winning the pro side of the tournament.
The overall title was won by amateur Andrew Harrison, who set a course record the first day with a 5-under 67 and then matched that the second day. He finished with a 68, for a 14-under total, six clear of Fleming and Mott. Mott though set the new course record on the final day, carding a 64, including an ace on the third hole.
---
About the Writer
Gord Montgomery is a member in good standing of the Golf Journalists Association of Canada. He is now in his 10th year of writing for Inside Golf. He can be reached at This email address is being protected from spambots. You need JavaScript enabled to view it.. He's also on Twitter at @gordinsidegolf and on Instagram at gordinsidegolf2.