Blake Goes Under with Five Birdies at MJT's Weather-Shortened Ilta Grain Series at Chinook
Details

Category: Inside Golf
Published: 2019-06-26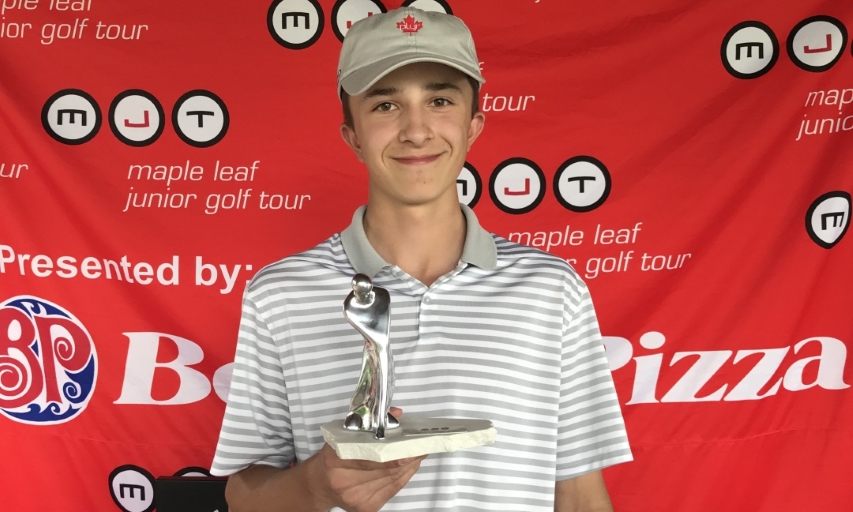 By THE MAPLE LEAF JUNIOR GOLF TOUR
SWIFT CURRENT, Saskatchewan — Mother nature had its own plans over the June 22 and 23 weekend in Swift Current, shortening the two-day Maple Leaf Junior Golf Tour's Golf Saskatchewan Order of Merit Series presented by Ilta Grain at Chinook Golf Club to just one day. A talented field of young golfers from the Canadian prairies were competing for titles in five divisions as well as the chance to qualify for MJT Team Canada to Sweden for the Nordic Matches later this summer.
We begin with incredible scoring in the MJT Juvenile Boys Division where 15-year old Will Blake fired a two-under 70 to take the Hoselton trophy in convincing fashion. The Regina, SK, resident made five birdies, four of which came on the par fives. "The highlight of the tournament was making back-to-back birdies," said Blake after his round. "And they were both almost eagles!" Blake obtains his first MJT win of the year and fourth of his career. Finishing the division in second place was 15-year old, Hudson Malinoski, of Saskatoon, SK, who shot a 78.
Saskatoon-native, Steven Duchscher, 18, carded a 73 on Sunday to capture the MJT Junior Boys title over Kindersley, SK-player, Kyler Cote, (75). Cote, 18, carried a four-shot lead over Duchscher through the first nine holes after birdieing both par fives on the front nine. However, it was the one-under back nine from Duchscher that propelled him up to the top of the leaderboard. When asked what the difference was between the two nines, Duchscher commented, "I drained a 15-foot putt on 10 and that woke up my game." Duchscher, a seven-year MJT veteran, picks up his first win of 2019 at the Chinook event.
Alex Swinnerton, 14, made an eagle and three birdies on his way to shooting a 74 and winning the MJT Bantam Boys Division by five shots. The Saskatoon player commented on his performance after the round saying, "The highlight of the tournament was going eagle-birdie in the front nine." Swinnerton picks up his second MJT win of 2019. Weyburn, SK-resident, Darien Herlick, 13, placed second with a 79.
Dade Bernatchez, 12, of LaRonge, SK, fired an 87 to capture the MJT Peewee Boys title over 10-year old, Jayden Chernoff (92), of Estevan, SK. Bernatchez, playing his second year on the MJT, picks up his first career win at Chinook Golf Course. "I love the MJT tournaments because of the organization and prizes," he said. "It also feels awesome to win my first event!"
Autumn Neiszner , 15, of Regina, SK, came out to shoot a solid score of 82 for her second trophy for 2019 in the MJT Girls 15-18 Division, remarking, "I made a lot of long putts which felt really good."
For PLYR Long Drive, PLYR Closest-to-the-Pin winners, please visit the highlights page for the tournament here. Finalists for the team to Sweden will be announced once qualifying has completed across the country.
The next Maple Leaf Junior Golf Tour stop in Saskatchewan is one week away at Moon Lake Golf and Country Club in Saskatoon for the MJT Golf Saskatchewan OOM Series presented by PLYR Golf, June 29 and 30. For more information or to register, please visit www.maplejt.com or call 1-877-859-4653.
---
About Ilta Grain
Ilta Grain is a leading exporter of quality grains throughout the world.   We specialize in pulses (lentils, peas, beans and chickpeas), grains/oilseeds and other special crops. We have extensive experience in procuring and trading various grains, and our experienced team understands global trade and logistics. We proudly support North American farmers – all of our products are grown in Western Canada. With six locations in Saskatchewan - Swift Current, Cutknife, North Battleford (two plants), Saskatoon and Belle Plaine, ILTA handles all types and varieties of pulses and oilseeds. Click here for more information.
About the MJT
The non-profit Maple Leaf Junior Golf Tour presented by Boston Pizza is Canada's number one-played Junior Golf Tour as well as the only national junior tour run exclusively by PGA of Canada Professionals and the 'Road to College Golf' in Canada. The organization is presented nationally by Boston Pizza and supported by valued Premier, Tournament and Product Partners. The MJT hosts close to 80 events across Canada, including free Ford Go Golf Junior Clinics, the MJT Mini Tour for 7 to 12 year olds, the Collegiate Tour for 19 to 23 year olds, and multi-day events for competitive players aged 11 to 18 which are also qualifiers for international competitions. The program offers annual awards, scholarships, and frequent player incentives to help reward player's performance and participation throughout each season. MJT alumni include many Professional Tour players and PGA of Canada Professionals, as well as Canadian Amateur, National and Provincial Junior Champions. The MJT aims to develop champions, in golf and in life, promoting the game from grassroots through to provincial, national, university and professional level. For more information, see www.maplejt.com.