Five Titles Won at Inaugural MJT Mini Tour at Chinook
Details

Category: Inside Golf
Published: 2019-06-26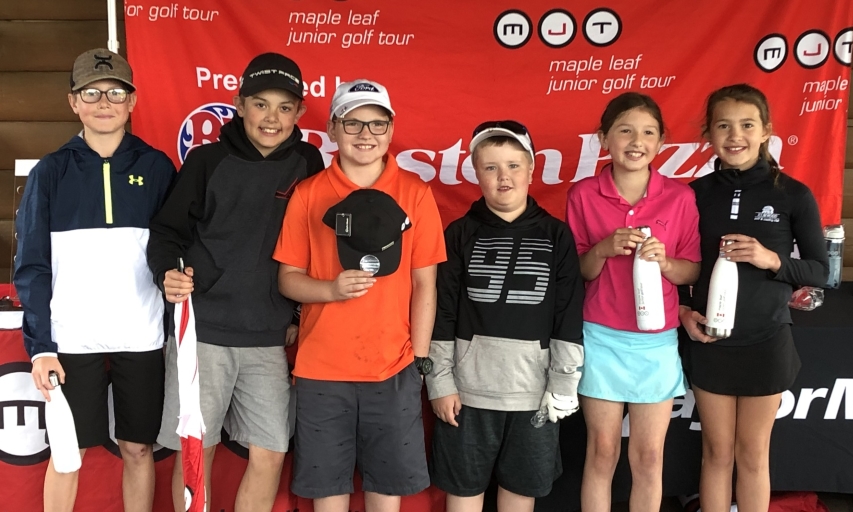 By THE MAPLE LEAF JUNIOR GOLF TOUR
SWIFT CURRENT, Saskatchewan — The Boston Pizza-presented Maple Leaf Junior Golf Tour launched a 2019 Mini Tour circuit for boys and girls ages 12 and under in Saskatchewan at Chinook Golf Course in Swift Current last Sunday, where young golfers aged six to 12 competed in five divisions plus for the chance to qualify for the MJT Mini Tour National Championship presented by Ford Canada at Tsawwassen Springs Golf Course in British Columbia this August.
11-year old, Coben Taylor, of Saskatoon, SK, shot an 82 to win the MJT Boys 11-12 Division by six shots. "I got off to a great start by hitting my drive on the green on the first hole," said Taylor who cruised the rest of the way. "I feel great to win because it was my first tournament."
10-year old, Jack Maharaj, claimed the title in the MJT Boys 9-10 Division with a score of 90. Maharaj commented, "It was a really cool experience to play my first MJT event and I will most likely play many more."
Winning the MJT Boys U8 title was Austin Nesbitt, of Pilot Butte, SK. The eight-year old carded a round of 94 to win the division by 14 strokes. "I feel really excited to win," commented Nesbitt. "I had a lot of fun and I made some new friends."
Capturing the MJT Girls 11-12 Division title was 11-year old Chloe Wills with a score of 105. The Kyle, SK-resident stated afterwards, "I like playing on the MJT and I want to meet more competitors my age."
Nine-year old, Grace Odnokon, of Saskatoon, SK, carded a 111 to win the MJT Girls 9-10 Division. Odnokon talked about her experience, saying, "I feel happy and proud to win my first event." Grace and her younger brother Andrew Odnokon, who played in the Boys U8 Division, are beginning their golf careers on the MJT Mini Tour and have indicated that they will be playing more upcoming events.
Full results including PLYR Closest-to-the-Pin competition winners are posted on the MJT website here.
The next Maple Leaf Junior Golf Mini Tour stop in Saskatchewan is at Moon Lake Golf and Country Club in Saskatoon on June 29. For more information or to register, please visit www.maplejt.com or call 1-877-859-4653.
---
About the MJT
The non-profit Maple Leaf Junior Golf Tour presented by Boston Pizza is Canada's number one-played Junior Golf Tour as well as the only national junior tour run exclusively by PGA of Canada Professionals and the 'Road to College Golf' in Canada. The organization is presented nationally by Boston Pizza and supported by valued Premier, Tournament and Product Partners. The MJT hosts close to 80 events across Canada, including free Ford Go Golf Junior Clinics, the MJT Mini Tour for 12 and under, the Collegiate Tour for 19-23 year olds, and multi-day events for competitive players aged 11 to 18 which are also qualifiers for international competitions. The program offers annual awards, scholarships, and frequent player incentives to help reward player's performance and participation throughout each season. MJT alumni include many Professional Tour players and PGA of Canada Professionals, as well as Canadian Amateur, National and Provincial Junior Champions. The MJT aims to develop champions, in golf and in life, promoting the game from grassroots through to provincial, national, university and professional level. See www.maplejt.com.