Playoff, Hole-in-One Highlight MJT GTA Series at Spring Lakes
Details

Category: Inside Golf
Published: 2019-06-26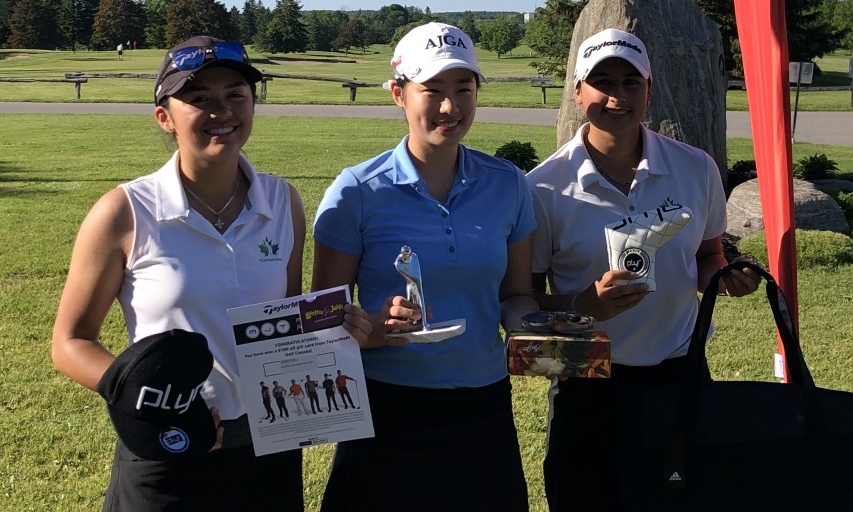 By THE MAPLE LEAF JUNIOR GOLF TOUR
STOUFFVILLE, Ontario — A talented field of Ontario's young golfers competed on the Boston Pizza-presented Maple Leaf Junior Golf Tour last weekend, in the MJT Ontario GTA Series at Spring Lakes Golf in Stouffville, where players were vying for various division titles as well as spots on MJT Team Canada in the Nordic Team Matches in Sweden later this summer.
It took more than 36 holes to crown a champion in the MJT Girls 15-18 Division, where a sudden death playoff took place between Markham, ON's Hailey McLaughlin, 17, and Toronto, ON's Catherine Zhang, 17. Zhang (75, 74 - 149) held a five-shot lead after the opening round and a seven-shot lead over McLaughlin (82, 67 - 149), but a huge surge from McLaughlin in her second round, which included eight birdies, five of which came in a row, forced the extra holes. In the end, a par on the first playoff hole was enough for Zhang to hold on for the win and the Hoselton Trophy. "What a great experience that was to win in a playoff," said Zhang. "Hailey played so well on the second day. I'm happy I stuck with my game and got the win."
Strong scoring from Kiefer Bulau, 16, in the MJT Juvenile Boys Division, handed him Low Overall and his division title (70-71=141). The King City, ON player, who made two eagles, four birdies on his way to a four-shot victory, picked up his first career MJT win. "It feels great to win," remarked Bulau. "I played great and making those two eagles was definitely the highlight of the tournament." Second place went to 15-year old Andrew Gwilliams of Bradford, ON, with scores of 71 and 74 (145), who made five birdies in the tournament including one on his last hole. A notable highlight in the tournament came from Mississauga, ON-player, Zachary Taus, 16. Taus, playing in his second career MJT event, recorded his first career hole-in-one on the sixth hole at Spring Lakes.
Yashin Kapadia, 18, of Brampton, ON, shot a pair of 76's (152) to win the MJT Junior Boys Division. Kapadia, who's no stranger to the MJT leaderboards, won three weeks ago at Mystic Golf Club. After making two birdies and an eagle on his way to victory at Spring Lakes, Kapadia mentioned, "I played pretty consistently and that goes for both my physical and mental games."
13-year old Ryan Zhao of Toronto, claimed the MJT Bantam Boys title with scores of 74 and 79 (153). Zhao, who is playing his third year on the MJT, picked up his first 2019 MJT win and second of his career. "I had a solid start to the tournament," commented Zhao who made two birdies in his opening nine holes on the first day. "I struggled a little bit on the second day, but it was nice to birdie the final hole." Gupreet Minhas, 13, of Pierrefonds, QC, fired rounds of 82 and 73 (160) to finish second.
Following in his brother's footsteps, 11-year old Eric Zhao of Toronto shot scores of 78 and 71 (149) to win the Hoselton trophy in convincing fashion in the MJT Peewee Boys Division. After having a one shot lead over the second place finisher, Jager Pain (79, 79 - 158), 11, of Woodbridge, ON, Zhao elevated his game by making four birdies on his way to a one under par second round. "I was happy with the second round because I played well and won and also got pizza!"
North York, ON's Kelly Zhao, 13, carded rounds of 74 and 77 (151) to capture the MJT Girls U15 title by eight shots. Zhao, who has been successfully winning on the MJT since joining the Mini Tour some years ago, claimed her sixth MJT tournament win of her career. "I'm happy to have won the tournament," said Zhao after her second round. "But I know I have a lot to work on." Second place went to 14-year old, Sonya Weerasinghe, of Richmond Hill, ON, who finished with scores of 81 and 78 (159).
A tight contest took place in the MJT Collegiate Division between three-time 2019 MJT champion Matthew Medhurst, 19, of North York, and 20-year old, Ben Weaver, of Kingston, ON. Medhurst (75, 80 - 155), who took a five-shot lead after the first round, nearly gave up that up mid-way through the second round, but held on for the win. Weaver finished with rounds of 80 and 78 (158), three shots back of Medhurst.
For PLYR Long Drive, PLYR Closest-to-the-Pin and the Booster Juice Comeback Award winners, please visit the highlights page here.
Coming up next in the province is the MJT Ontario Series Canada Day Classic at Tarandowah Golfer's Club in Springfield, June 29 and 30. Players can register online at www.maplejt.com or call 1-877-859-4653.
---
About the MJT
The non-profit Maple Leaf Junior Golf Tour presented by Boston Pizza is Canada's number one-played Junior Golf Tour as well as the only national junior tour run exclusively by PGA of Canada Professionals and the 'Road to College Golf' in Canada. The organization is presented nationally by Boston Pizza and supported by valued Premier, Tournament and Product Partners. The MJT hosts close to 80 events across Canada, including free Ford Go Golf Junior Clinics, the MJT Mini Tour for 7 to 12 year olds, the Collegiate Tour for 19 to 23 year olds, and multi-day events for competitive players aged 11 to 18 which are also qualifiers for international competitions. The program offers annual awards, scholarships, and frequent player incentives to help reward player's performance and participation throughout each season. MJT alumni include many Professional Tour players and PGA of Canada Professionals, as well as Canadian Amateur, National and Provincial Junior Champions. The MJT aims to develop champions, in golf and in life, promoting the game from grassroots through to provincial, national, university and professional level. For more information, see www.maplejt.com.