Six Winners Crowned at MJT Mini Tour at Victoria Park Valley Golf Club
Details

Category: Inside Golf
Published: 2019-06-27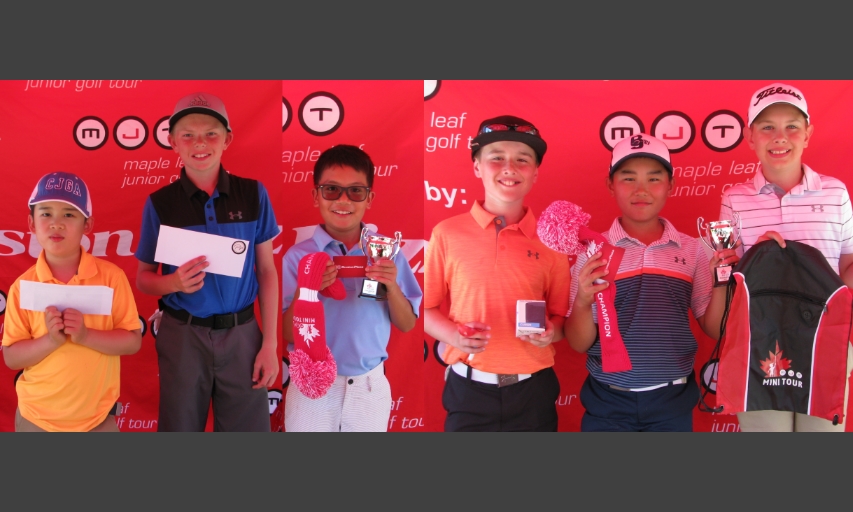 By THE MAPLE LEAF JUNIOR GOLF TOUR
PUSLINCH, Ontario — The Boston Pizza-presented Maple Leaf Junior Golf Tour held its second 2019 Mini Tour event in Ontario at Victoria Park Valley Golf Club in Puslinch, ON, last Sunday June 23, where young golfers aged 7 to 12 competed for titles in six divisions as well as for spots in the MJT Mini Tour National Championship presented by Ford Canada in British Columbia this August.
12-year old, Jameson Staab, of Kitchener, ON, claimed the MJT Boys 11-12 title with a score of 81. Staab, who is playing his third year on the MJT Mini Tour, picked up his second career win, which he attributed to his play around the greens. "I got up and down on holes 10 and 11 and I was really happy about that." Finishing second with a score of 97 was 11-year old, Riley Bauer, of Waterloo, ON.
The MJT Boys 9-10 Division had an exciting finish between Markham, ON's Harrison Zhang, 10, and Brantford, ON's Ty Tischler, 10. Only one stroke separated Zhang (71) and Tischler (72) with Zhang capturing the division title. Zhang talked about what winning his first ever MJT Mini Tour event meant to him, saying, "I feel really good about winning the tournament and making the birdie was the highlight."
Liam Ampil, of Brampton, ON, won the MJT Boys U8 title, shooting a score of 82. The eight-year old player was thrilled about his win, saying, "I'm really happy I won and I want to play more on the Mini Tour!" Dustin Zhao, of Maple, ON, shot an 89 to finish second in the division.
In the MJT Girls 11-12 Division, Bridget Wilkie shot a spectacular 75 which included a birdie on the 14th hole to win. The 12-year old player out of Toronto, ON, picked up her second career MJT Mini Tour win. "I want to thank MJT for a great tournament and my coaches for all their help and support," said Wilkie after accepting her trophy. "I really enjoyed the tournament and playing with my group." Mariana Vivas, 11, shot an 83 to finish second. The Waterdown, ON native has been playing on the MJT Mini Tour for three years and ties her career best finish at this tournament with second place.
Joining her sibling as a title winner was Francesca Ampil, of Brampton, who won the MJT Girls 9-10 Division with a score of 75. The 10-year old player matched her brother Liam who won the Boys U8 Division in this tournament. Ampil attributed her win to her excellent play around the greens, saying, "The highlight of the tournament was my two chips that hit the pin and almost went in." Coming second was Oakville, ON's Kaprice Park. The nine-year old player shot an 84 on her way to a runner-up finish in her second career MJT Mini Tour event.
In the MJT Girls U8 Division, Alexis Card, of Cambridge, ON, won with a score of 77. The eight-year old player mentioned after her round, "I played well and I feel very good about winning my age division." At just eight years old, Card has been playing on the MJT Mini Tour for three years. "I love the MJT tournaments just the way they are and I can't wait to play in more."
Full results including PLYR Closest-to-the-Pin competition winners are posted on the MJT website here. The next MJT Mini Tour stop in Ontario is on July 6 in Orangeville at Orangeville Golf Club. Registration is online at www.maplejt.com.
---
About the MJT
The non-profit Maple Leaf Junior Golf Tour presented by Boston Pizza is Canada's number one-played Junior Golf Tour as well as the only national junior tour run exclusively by PGA of Canada Professionals and the 'Road to College Golf' in Canada. The organization is presented nationally by Boston Pizza and supported by valued Premier, Tournament and Product Partners. The MJT hosts close to 80 events across Canada, including free Ford Go Golf Junior Clinics, the MJT Mini Tour for 7-12 year olds, the Collegiate Tour for 19-23 year olds, and multi-day events for competitive players aged 11 to 18 which are also qualifiers for international competitions. The program offers annual awards, scholarships, and frequent player incentives to help reward player's performance and participation throughout each season. MJT alumni include many Professional Tour players and PGA of Canada Professionals, as well as Canadian Amateur, National and Provincial Junior Champions. The MJT aims to develop champions, in golf and in life, promoting the game from grassroots through to provincial, national, university and professional level. See www.maplejt.com.