Tour Players Showcase The Incredible Versatility Of Flat Cat® By Lamkin Putter Grips
Details

Category: Inside Golf
Published: 2017-07-04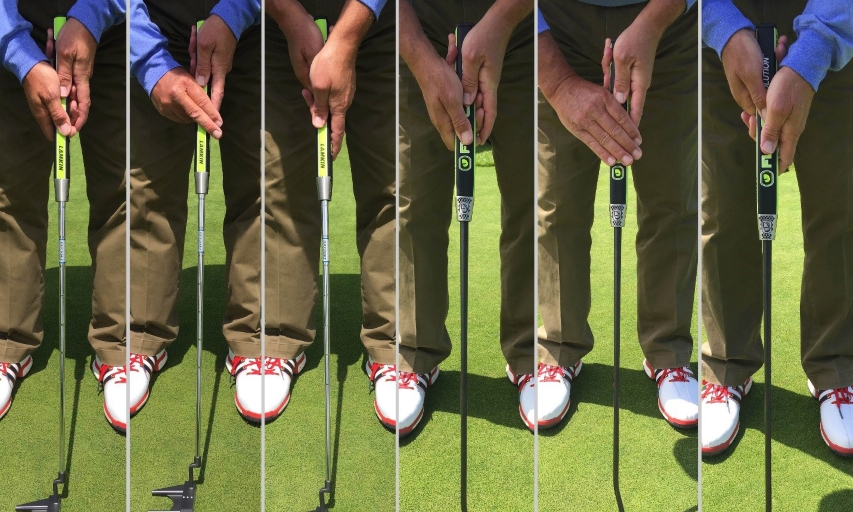 SAN DIEGO, California — Lamkin Corporation is thrilled that PGA Tour players are leading the way in demonstrating the broad versatility offered in their line of FLAT CAT putter grips.
"When Justin Rose was spotted playing the FLAT CAT by Lamkin putter grip earlier this year, we heard a few whispers that it was installed the 'wrong' way," said Bob Lamkin, President and CEO of Lamkin. "We're happy to respond to those reports with an emphatic declaration that there is no 'wrong' way to grip a FLAT CAT."
The FLAT CAT and FLAT CAT Solution are designed with FLAT CAT's patented FLAT 1™ grip technology that squares the hands and arms to the putter face to ensure a square face at impact. The design of the FLAT CAT allows every golfer to establish a personal feel with the face of their putter no matter what their putting style.
The company reports that there are 40 different ways you can grip a FLAT CAT and they are all considered correct. With five different sizes, two angle options for installation and four grip techniques from saw and claw to left hand low and traditional, the versatility of this grip is unparalleled.
"Take another look at Justin Rose, whose credentials as one of the world's best golfers speak for themselves," added Lamkin. "He switched to the FLAT CAT Svelte earlier this year and opted to install the grip in an alternate orientation. How you grip the two flat sides purely depends on preferred feel, and with FLAT CAT, you're able to test techniques and find what truly works best for you."
According to Rose, "When I tried the grip installed with the flat sides positioned perpendicular to the club face, I loved the feel and was excited about making the grip change. The FLAT CAT is well-suited to my grip style."
The FLAT CAT is available in the original style and the weighted FLAT CAT Solution. The FLAT CAT Solution features a unique shape and weighted stainless steel cone technology positioned optimally below the hands to help eliminate the "yips" and smooth out the stroke, allowing golfers at any skill level to improve their putting. This technology creates a smoother, more consistent, pendulum-like stroke and allows the putter to feel heavier and more stable without sacrificing feel.
"I have seen hundreds of so-called 'revolutionary innovations' in golf and I know better than most what works and what doesn't," continued Lamkin. "This grip is incredible. It allows me to have much better distance control on long putts and the confidence on short putts because my stroke is so much more consistent. I'm making more 10-foot and in putts, and my 3-putts are nearly eliminated."
The FLAT CAT technology was developed in consultation with PGA Professional Mike Heisterkamp and longtime Whistling Straits and Pinehurst professional caddy Charlie Spain. FLAT CAT GOLF is owned by Make'em All, LLC, a division of Winston Products LLC. For more information visit FLATCATSolution.com.
Lamkin offers a variety of performance-inspired grips including the Z5, UTx, Crossline, Wrap-Tech and R.E.L. ACE. The company's trusted products are played by PGA Tour superstars Justin Rose, Brandt Snedeker and many others. Lamkin products are unrivaled in quality thanks to world-class engineering, premium materials and handcrafted, repeatable production techniques.
---
About Lamkin Grips
The Lamkin Corporation golf heritage dates back to 1925 when founder Elver B. Lamkin began manufacturing golf's first leather grips. Today, the family-owned business delivers the industry's widest assortment of performance-enhancing golf grips that continue to earn loyal customers worldwide. Through their ongoing dedication to unequaled product quality and service support, Lamkin Grips is passionately committed to connecting golfers to a more confident, consistent and enjoyable game. For more information about Lamkin, please visit lamkingrips.com.
FLAT CAT is a registered trademark of Make 'em All, LLC used under license by Lamkin Corporation.