MJT's Canada Day Classic at Tarandowah Crowns Seven Winners
Details

Category: Inside Golf
Published: 2019-07-03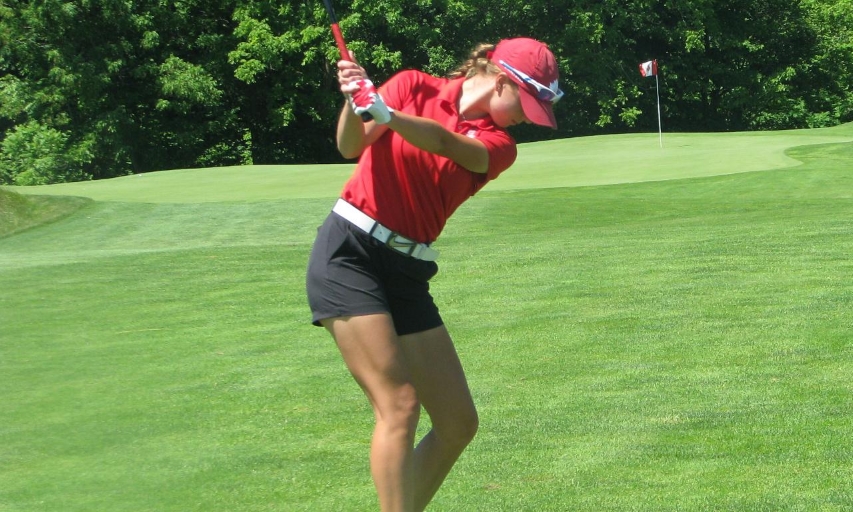 By THE MAPLE LEAF JUNIOR GOLF TOUR
SPRINGFIELD, Ontario — On June 29 and 30, the Boston Pizza-presented Maple Leaf Junior Golf Tour held the MJT Ontario Series Canada Day Classic at Tarandowah Golfers Club in Springfield, where young golfers were competing for titles in seven divisions as well as shortlisted spots on MJT Team Canada to Australia's JNJG International Junior Classic.
Toronto, ON-resident, Alessandra Christine Nagayo, 15, playing in her first ever MJT tournament, shot scores of 84 and 79 (163) to claim both the MJT Girls 15-18  title and the Low Overall Girls score for the tournament. Nagayo, who held on to a one-stroke lead, stated afterwards, "I feel great to win my first MJT tournament. I really enjoyed the tournament and playing with my fellow competitors." Finishing in second place with a pair of 82's (164) was London, ON-resident, Jillian Friyia, 14.
MJT veteran player, Peyton Costabile, won the MJT Girls U15 Division with scores of 84 and 85 (169). The 14-year old out of Ayr, ON, playing in her 25th MJT tournament, said, "I've really enjoyed every MJT event I've entered in. It feels special to win my division in this tournament and I can't wait to continue playing on the MJT." Finishing four shots behind in second place was 13-year old, Kaitlyn Ellis, of Oakville, ON, who fired rounds of 86 and 87 (173).
The MJT Juvenile Boys Division was captured by Charlie Cooper of Caledonia, ON. The 16-year old carded scores of 75 and 81 (156) to win by six shots over Springfield-local player, John Orlebar (83, 79 - 162), 15. Cooper got off to a hot start making three birdies in his first five holes leading to a one-under par front nine. From there, Cooper cruised to his first ever Hoselton trophy. "I feel great to win my first MJT tournament," remarked Cooper who has played on the MJT since 2017. "I had a really good start with the three birdies and I just kept it going from there."
Richmond Hill, ON-player, Eric Tae Kyoung Yun, 18, secured the Hoselton trophy in the MJT Junior Boys Division with consistent scores of 76 and 75 (151). Yun was the only player in his division to improve his score on the second day which earned him a MJT Booster Juice Comeback Award. "I had a bit of a tough start," said Yun who made bogey on the first three holes of the tournament. "I managed to keep it together and stick to my game." Zachary Hart, 17, of New Hamburg, ON, fired two rounds of 79 (158) for his second runner-up finish in the month of June.
Andreas Diogenous, of Cambridge, ON, won the title in the MJT Bantam Boys Division with scores of 76 and 73 (149). The 13-year old earned his third consecutive MJT win of 2019 at Tarandowah after also earning MJT titles at Mystic and Rebel Creek. Attributing his win to his work on the greens, Diogenous commented, "My putting was good for most of the tournament, especially during the periods of bad weather." Coming second was Sai Kaja, 14, of Mississauga, ON, with scores of 79 and 84 (163).
The MJT Peewee Boys title was a runaway victory for Toronto's Matthew Javier, with scores of 74 and 80 (154). The 12-year old player said he was 'really happy and excited' to win his first MJT tournament. Second place went to Ekveer Minhas, 11, of Pierrefonds, QC (91-93=184).
And finally, in the MJT Collegiate Division,  Ryan Sherwood, 19, of Burlington, ON, carded rounds of 77 and 90 (167) to win over runner-up Waterloo, ON-resident, Lucas Patton, 19, (83 and 93=176).  "I played well on the first day," said Sherwood, who had a six-shot lead after the first round. "I definitely could have played better on the second day, but I'm happy to get the win."
Winners of the PLYR Long Drive, PLYR Closest-to-the-Pin and Booster Juice Comeback Awards are posted on the website here.  Finalists for the Team to Australia will be announced once qualifying has completed across the country.
The next MJT Ontario event runs July 13 and 14 – the major-ranked MJT TaylorMade Junior Championship at Lionhead Golf Club in Brampton. Registration is online at www.maplejt.com.
---
About the MJT
The non-profit Maple Leaf Junior Golf Tour presented by Boston Pizza is Canada's number one-played Junior Golf Tour as well as the only national junior tour run exclusively by PGA of Canada Professionals and the 'Road to College Golf' in Canada. The organization is presented nationally by Boston Pizza and supported by valued Premier, Tournament and Product Partners. The MJT hosts close to 80 events across Canada, including free Ford Go Golf Junior Clinics, the MJT Mini Tour for 7 to 12 year olds, the Collegiate Tour for 19 to 23 year olds, and multi-day events for competitive players aged 11 to 18 which are also qualifiers for international competitions. The program offers annual awards, scholarships, and frequent player incentives to help reward player's performance and participation throughout each season. MJT alumni include many Professional Tour players and PGA of Canada Professionals, as well as Canadian Amateur, National and Provincial Junior Champions. The MJT aims to develop champions, in golf and in life, promoting the game from grassroots through to provincial, national, university and professional level. For more information, see www.maplejt.com.