Angela Zhang Rides a Suddenly Hot Putter to B.C. Junior Girls Championship
Details

Category: Inside Golf
Published: 2019-07-08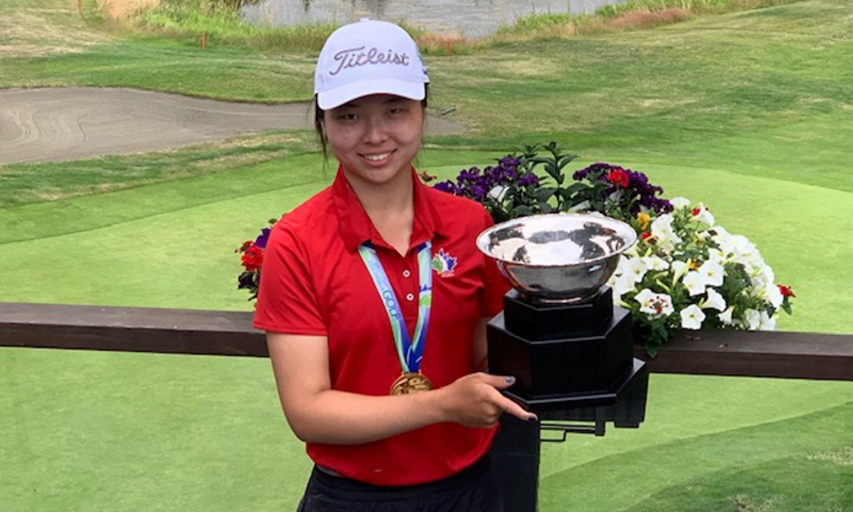 By BRAD ZIEMER, British Columbia Golf
NANOOSE BAY, British Columbia — When her putter finally came to life, Angela Zhang had an inkling she was about to fulfill one of her big golfing goals. The B.C. Junior Girls Championship was high on Zhang's to-do list this summer and she won it in impressive fashion Friday at Fairwinds Golf Club.
The 17-year-old Zhang, who plays out of Shaughnessy Golf & Country Club, rolled in big birdie putts on the 11th and 14th holes to take control of the tournament. "What happened pretty much all week was that I was fighting with the yips," Zhang said after her round.
"I could putt everything from 30, 40, or 50 feet within a yard or two, but once it got to within six feet I just yipped everything. So for me drain that five-foot downhill slider meant a lot. That really gave me the confidence to get it going."
That five-foot slider came on the par 4 11th hole when Zhang hit a pinpoint iron shot from just inside 150 yards. She drained the putt and then watched Cindy Koira of Victoria make bogey. 
Suddenly, a one shot lead was three and Zhang was on her way to the biggest win of her life. "It feels great to be B.C. Junior champion," said the York House School graduate, who is on her way to Dartmouth College in New Hampshire to play her collegiate golf.
"It has been fun seeing constant improvement throughout my game year after year. I remember two or three years ago when I first played in this championship, I barely made the cut. I was happy at that point, but to see the progress I have made just makes me really happy."
Zhang closed with a rock-solid even-par 71 Friday and finished the event at 14-over par at a Fairwinds course that gave most of the field fits all week. That was four shots better than the 16-year-old Koira, who shot a 75 Friday.
The pair had started the final round tied for the lead. That putt on 11 was nothing compared to the one Zhang drained on the tough par 3 14 hole. "That had to be around 30 yards," Zhang said with a laugh.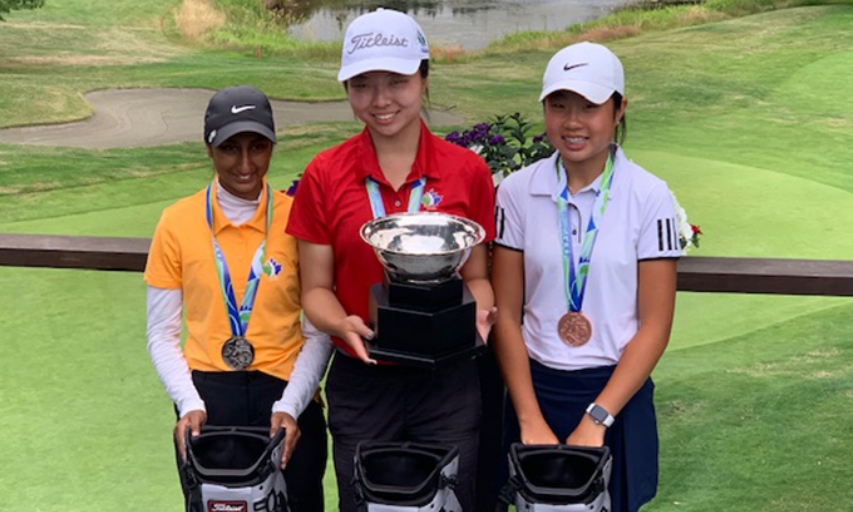 The 2019 British Columbia Junior Girls Inter-Provincial Team: (From Left) Cindy Koira, Angela Zhang, and Erin Lee. (BC Golf/Brad Ziemer)
"After 11, I started seeing the line on everything. It was three tiers up, a triple-breaker and I drained it. It was amazing. Ten feet from the hole I was like, that's right on line, let's get it. I walked it in. It was amazing."
Koira, who just finished Grade 11 at Stelly's Secondary in Saanichton, had a piece of the lead from day one and was disappointed she couldn't finish it off. "It was a good experience," she said. "This is the biggest tournament where I have been in the lead. So I think I learned some things. Angela played really well, though. I was better than yesterday. I was pretty happy with my game except for some putts that didn't go in."
Zhang, Koira and Erin Lee of Langley will represent British Columbia in the inter-provincial teamcompetition at the Canadian Junior Girls Championship, which goes July 30-Aug. 2 in Lethbridge, Alta. "I am really excited about being on the B.C. team," Koira said. "I didn't play very well at the Canadian Juniors last year, so I want to do better this year."
Lee won her spot on the B.C. team by beating Surrey's Angela Arora in a sudden-death playoff. They had finished tied for third with Bonnie Zhai of Surrey at 21-over par. Zhai elected not to participate in the playoff. 
A two-person best-ball competition was held in conjunction with the B.C. Junior Championship. The teams of Zhang and Arora and CoCo Pei of Surrey and Kaitlyn Hill of Whistler both finished at four-under par. Zhang and Arora won the title based on having a better back-nine score Friday.
Click here for complete final scoring.