Richmond's Brycen Ko Overcomes Shaky Start to Win B.C. Junior Boys Championship by Five
Details

Category: Inside Golf
Published: 2019-07-08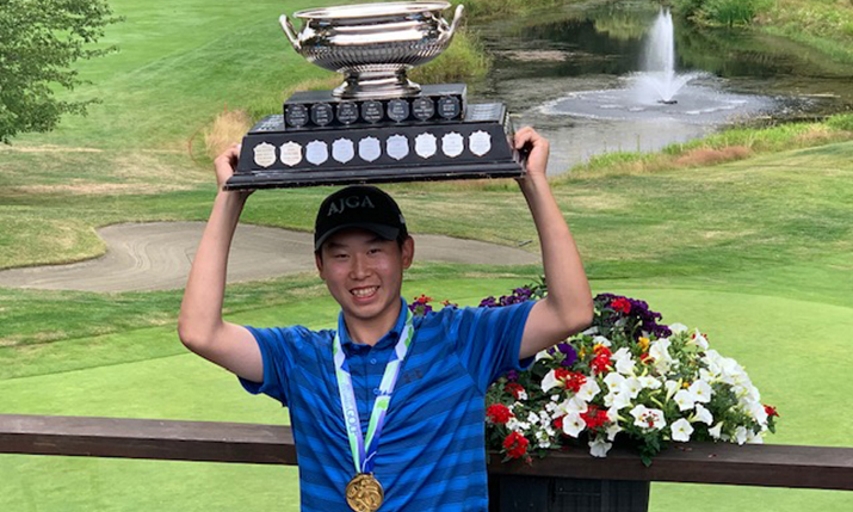 By BRAD ZIEMER, British Columbia Golf
NANOOSE BAY, British Columbia — Brycen Ko couldn't have had a worse start or a better finish. The 15-year-old from Richmond began Friday's final round of the B.C. Junior Boys Championship at Fairwinds Golf Clubwith a four-shot lead. 
Ko hadn't made anything worse than a bogey in his first 54 holes and started his final round with a double-bogey. He added a bogey on the third hole and suddenly his four-shot lead was down to a single shot.
But just when it looked like his young nerves might get the best of him, Ko gathered himself and won the championship in fine style when he chipped in for birdie on the 18th hole.
"Honestly, I was really tense after that first hole.' Ko said. "I wasn't happy about that, but I knew there was lots of golf to go. I knew I just had to try my best to move on from that. And I think I did a good job of doing that."
He sure did. Ko responded with birdies on the fourth and seventh holes that certainly helped settle his nerves. And his closest competitor, fellow Richmond resident Michael Crisologo, could not mount a charge. Ko, who just finished Grade 10 at the Richmond Christian school and recently committed to play his collegiate golf at the University of British Columbia, ended up cruising to a five-shot win.
He closed with a one-over 72 on Friday and finished the 72-hole event at one-under par. "I just tried all day to focus on my next shot," Ko said. "Worrying about my score and the mistakes I made wasn't going to do anything to help me, so I was trying to do my best on my next shot. I happened to get a couple of birdies (on 4 and 7) and that helped me keep it together."
Ko's win completed a double of sorts for Shaughnessy Golf & Country Club. Both Ko and B.C. Junior Girls winner Angela Zhang play out of the private Vancouver course. 
Fairwinds' tight, demanding layout took its toll on many of the province's top juniors this week, but Ko said he enjoyed the challenge and is proud of the fact he stayed patient and avoided many big mistakes. "Golf is fun and we are lucky to have this privilege to be playing and I am just really appreciative of that," he said. 
"It feels great to be a B.C. Junior champion. I am just happy that I was able to do the job and it feels great that all the hard work paid off."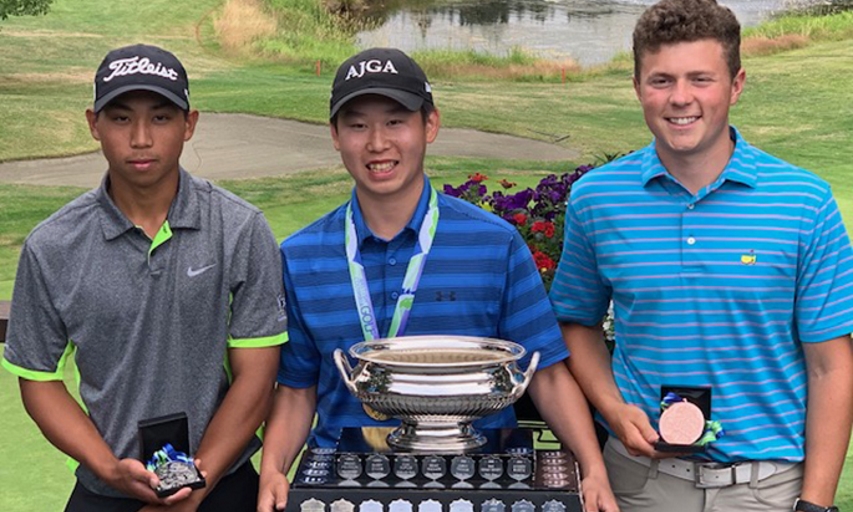 The 2019 British Columbia Junior Boys Inter-Provincial Team: (From Left) Michael Crislologo, Brycen Ko, and Jackson Rothwell. (BC Golf/Brad Ziemer)
Even though he had the tournament won at that point, Ko was delighted to cap off his round by chipping in for birdie on the par 5 18th hole. "I wasn't expecting that," he said. "I just wanted to get it up and down for par. I guess I was kind of lucky. Honestly, the rest of the round was tough. I had to grind. But it felt good to end that way on 18."
Crisologo finished second at the B.C. Junior for the second straight year. He fired a two-over 73 on Friday to finish the event at four-over. Crisologo, who is heading to Simon Fraser University this fall, struggled with his putter all week. "He has has got a really good game and I think the future is bright for him," Crisologo said of Ko.
"I didn't make anything happen. The tournament went on and I stayed stagnant. I still feel like I played okay, but there is room for improvement. The putts just didn't drop for me and sometimes you just get those weeks."
Ko, Crisologo and Jackson Rothwell of Victoria will represent British Columbia in the inter-provincial team event at the Canadian Junior Boys Championship, which goes Aug. 12-15 in Hartland, N.B.
Rothwell earned the third spot on the team by beating Jackson Jacob of Fort Langley in a sudden-death playoff. They had finished tied for third with defending champion Ilirian Zalli of Burnaby at five-over par. Zalli chose not to participate in the playoff.
The tournament also included a two-man best-ball competition. The Kelowna team of Matt Hopley and Justin Towill won with a score of 23-under. That was five shots better than the team of Crisologo and Dylan Bercan of Vancouver. 
Click here for complete final scoring.