Video: Natalie Gulbis Hits The Gym
Details

Category: Inside Golf
Published: 2015-12-30
LPGA star Natalie Gulbis is a pretty talented golfer and has always been a good athlete.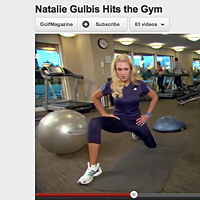 A big part of her regime involves working out regularly.
Image Caption : Natalie Gulbis Stretches Out In The Gym As She Works On Her Fitness Level For Her Golf Game
In this video Gulbis demonstrates her workout and discusses the importance of fitness in her career with Golf.com's Jeff Ritter -- and then whips him in a strength contest.
To his credit Ritter is a willing participant in a 'planking' contest with Natalie, but she soon exposes his inability to hold the position properly or for any length of time.
Then again it doesn't really matter since he isn't trying to help maintain a career as a professional golfer or....swimsuit model....