Highland Pacific Set to Host First Pro-Junior Championship
Details

Category: Inside Golf
Published: 2019-07-22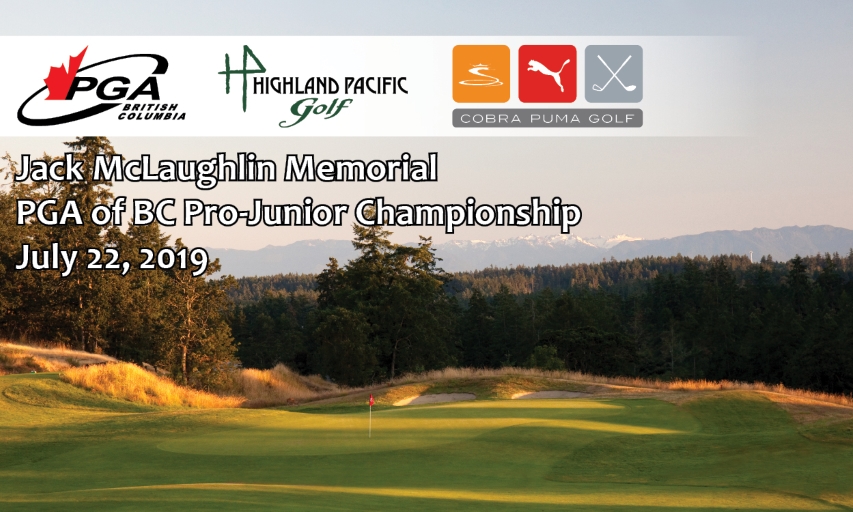 By PGA OF BC
RICHMOND, British Columbia — The Jack McLaughlin Memorial PGA of BC Pro-Junior Championship presented by COBRA PUMA Golf will welcome 75 juniors and 25 Professionals to Victoria for the 28th edition of the annual tournament.
Many of those juniors will be getting their first exposure to tournament golf, and with that in mind, the host venue of Highland Pacific Golf couldn't be more ideal. This year's event, which is set for Monday morning, will mark Highland Pacific's debut as the host of a PGA of BC championship tournament, and Executive Professional Jeff Palmer feels it's the perfect setting to stage the Pro-Junior.
"I'm personally very excited and honoured to host the event and I know our PGA of Canada Professionals are all really stoked," said Palmer.
The Pro-Junior Championship features PGA of BC Professionals joining up with three juniors from their facility to compete over 18 holes in a two-net best-ball format against teams from across the province. The tournament is welcoming to players of all ages and ability levels, as the net-scoring format allows all competitors to make contributions to their team's success, regardless of whether they are a high-handicapper experiencing tournament golf for the first time or a seasoned competitor.
And for those players new to competition, Palmer said Highland Pacific will be very accommodating.
"It's challenging, it's scenic, but it's also a length that is suitable for juniors," he said. "I think it gives people a good feel for what Vancouver Island golf is all about, too. We really epitomize Island golf, with trees, views of the Olympic Mountains and rock that are all really characteristic of the area."
The host club's team will be led by Professional Callum Ashby and include junior competitors Trista Stevens, Tanner Pemberton and Kieran Dunning.
"He's vibrating," Palmer said of Ashby. "Probably the most excited guy on the property."
Twenty-five teams in total will be participating in this year's tournament, including the foursome from Nanaimo Golf Club that won last year's event at Shaughnessy Golf & Country Club: Professional Chris Martens and juniors Eli Greene, Kirit Lalh and Sasha Farenholtz. The team earned a two-stroke victory at 22-under-par in 2018, and Martens said the group is eager to defend its title.
"We're looking forward to it," said Martens, noting the squad has fond memories of last summer's win. "Just having the opportunity to play at Shaughnessy was such an incredible experience for all of us.
"(Winning) was kind of a shock for us, just with the nature of our handicaps, we didn't think we had a great shot. But everybody played really well and Kirit played out of his mind that day."
Martens said the team is relishing the chance to hoist the trophy again this year, this time a little closer to home. He added that all three of his juniors have shown improvements in their games and continued to play well in competition – Greene and Lalh both showed well at this year's BC Junior Boys' Championship and were involved in the BC Men's Amateur.
Martens' charges have been teammates outside of the Pro-Junior as well, competing together on Dover Bay Secondary School's golf team, helping the team to second- and sixth-place finishes at the past two BC AAA provincial championships.
"They've all grown a lot," said Martens. "I think just being able to play again together will be great because I don't think they've had the opportunity lately to do that."
Teams will tee off in an 8:30 a.m. shotgun on Monday. All junior competitors will be taking home great prizes regardless of their team's finishing position, while the cash purse for Professionals will be divided up amongst the competing PGA of BC members based upon the number of birdies and eagles recorded by each. Each competitor will be assigned to a set of tees relative to their handicap factor and gender.
Visit our Pro-Junior tournament page for full event info and a list of confirmed competitors.
PRO-JUNIOR FAST FACTS
The Pro-Junior Championship was named in honour of Jack McLaughlin and held for the first time in 1992, the year after his untimely passing. McLaughlin was one of Canada's biggest advocates for junior golf and well known as a longtime Head Professional at Shaughnessy. The former PGA of BC President developed the Junior-Junior instruction program for youth aged 11 and under, which introduced thousands of Canadian youth to the sport. The Association's Junior Golf Leader of the Year Award is also named in memory of McLaughlin at the provincial and national levels, and he is one of just nine individuals to be honoured with a PGA of BC Lifetime Achievement Award.
No Professional has ever won the Pro-Junior title more than once, though a few will have an opportunity to become the first two-time winner on Monday. In addition to Martens, Mike Heenan (The Vancouver Golf Club) and Colin Lavers (Seymour Golf & Country Club) are also past champions looking to lead their teams to victory for a second time.
Shaughnessy, Seymour, Mayfair Lakes Golf & Country Club, Westwood Plateau Golf Academy and Morgan Creek Golf Course are the only facilities to have won the event more than once, each with two victories. Shaughnessy will have two teams led by first-year Professionals Michelle Waters and Jackson Redmond on Monday, while Lavers is back with Seymour's team and Mayfair Lakes will also gun for a third title with a squad captained by Professional Chris Karmal.
Doug Morgan (Richmond Country Club), one of the PGA of BC's all-time most decorated champions, can achieve a unique distinction. Excluding the Women's Championship, Morgan has claimed victory in every active PGA of BC championship tournament except for the Pro-Junior, and will look to complete the full set of titles on Monday.
The lowest Pro-Junior score on record came in 2006 at Kings Links by the Sea, when the winning Mayfair Lakes team reached a 26-under-par total of 118.
---
ABOUT COBRA PUMA GOLF
COBRA PUMA GOLF is a corporate division of PUMA and combines two strong brands that provide a full range of offerings to the golf industry. COBRA PUMA GOLF is an inclusive company for golfers of all abilities, attitudes and styles who enjoy the game. The portfolio includes COBRA Golf's high performance drivers, fairways, hybrids and irons, as well as PUMA Golf's SportLifestyle and SportLux footwear, apparel and accessories to help golfers Look Better. Feel Better. Play Better. Fusing performance and style, COBRA PUMA GOLF brings a focus on innovation, technology, compelling design and superior performance with an edge to the global golf marketplace. COBRA PUMA GOLF is a part of PUMA SE, one of the world's leading lifestyle companies that designs and develops footwear, apparel and accessories. For more information, visit cobragolf.ca and cobragolf.ca/pumagolf.
ABOUT THE PGA OF BC
The Professional Golfers' Association of British Columbia is an association comprised of nearly 700 golf professionals who work at and operate golf courses, driving ranges and other facilities across the province. Its mandate is to promote and advance the game of golf, serving the needs of both its membership and the golf public through professional and junior golf development programs and high-calibre competitive events. The Zone office is located in Richmond, BC.