Glacier Greens Team Captures Pro-Junior Championship
Details

Category: Inside Golf
Published: 2019-07-25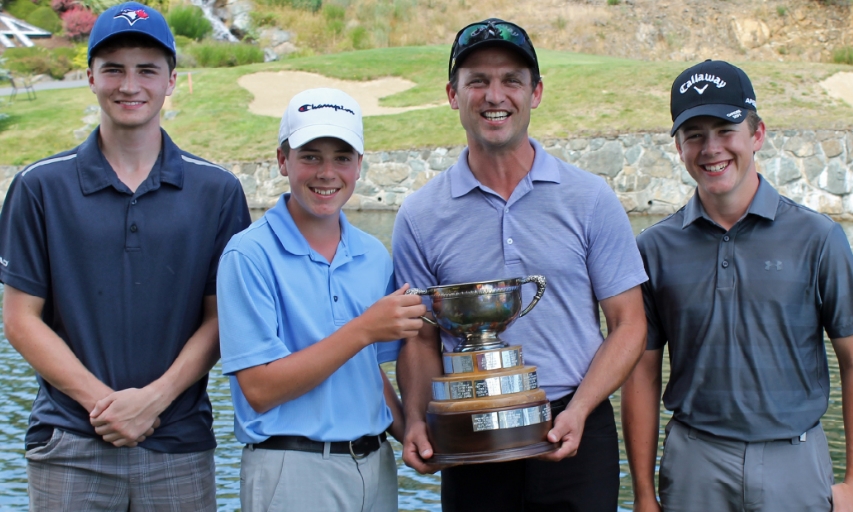 By PGA OF BC
VICTORIA, British Columbia — The team representing Glacier Greens Golf Coursewas victorious Monday in the Jack McLaughlin Memorial PGA of BC Pro-Junior Championship presented by COBRA PUMA Golf, holding off a challenge from the defending champs during a fantastic event at Highland Pacific Golf.
Professional Brian Wise and junior competitors Nolan Phoenix, Ryan Stoltz and Ethan MacLean finished with a 16-under-par total, beating out 25 other teams for the title and earning their facility its first Pro-Junior Championship win.
"It was great out there, it was a lot of fun," said Wise, who credited his junior teammates for the win. "I didn't hit a fairway today. Nolan was our long-ball hitter and never missed a fairway all day. Ethan is trustworthy and became the best putter halfway through the round. Ryan is the straightest hitter and an unbelievable golfer."
The Pro-Junior Championship is a longstanding tradition in which a PGA of BC Professional teams up with three juniors from their facility to compete over 18 holes of two-net best-ball play. The unique format allows for girls and boys of all ages and ability levels to make meaningful contributions to their team's success – Monday's tournament featured junior players ranging in age from 6 to 18, and a mixture of both experienced competitors and those competing in their very first golf tournament.
The event also allows the PGA of BC to annually honour the late Jack McLaughlin, a past Association president and a Canadian Golf Hall of Fame inductee known for his extensive work to promote junior golf during his career.  
The 2018 winners from Nanaimo Golf Club – Professional Chris Martens and juniors Kirit Lalh, Eli Greene and Sasha Farenholtz – were looking to become the first-ever foursome to repeat as champions, but had to settle for runner-up honours this year, finishing alone in second place at 14-under.
Osoyoos Golf Club's entry of Professional Todd Tweedy, Alex Brunner, Armaan Deol and Tyler Seminoff placed third at 13-under. Two teams tied at 12-under – Vancouver Island Golf Academy (Professional Jim Goddard, Chelsea Truong, Lana Rummel and Rebecca Kim) and Mountain View Golf Club (Professional Vince Trama, Aimery Barrault, Kyle Bierlmeier and Ethan Candow) – to round out the top five.
Click here for final results.
Wise managed to assemble a Glacier Greens team that quickly formed a comfortable partnership on course, thanks in large part to their easygoing nature as a group.
"Humour was a big part of it," said Stoltz. "We're all getting to be really good friends and (rib) each other quite a bit, and we're pretty tight-knit now."
Highland Pacific, which was hosting a PGA of BC championship event for the first time, proved to be a challenging but exciting venue for the 104 competing players.
"The course was very well maintained," said Glacier Greens' MacLean. "It was really nice and had great views."
Each junior on the winning team was awarded a COBRA KING F9 fairway wood as the top prize. They stood to take home one extra prize courtesy of their Golf Professional, too.
"I promised them all Dairy Queen," said Wise.
Pro-Junior Championship presenting sponsor COBRA PUMA Golf helped furnish prizing for all competing juniors, including a PUMA Soundchuck Bluetooth speaker.
Monday's tournament also included cash prizing for Professionals based on the number of birdies or better made by each. The 26 PGA of BC members in the field combined for 60 birdies and an eagle, with each stroke under par worth $51.
---
About COBRA PUMA Golf
COBRA PUMA GOLF is a corporate division of PUMA and combines two strong brands that provide a full range of offerings to the golf industry. COBRA PUMA GOLF is an inclusive company for golfers of all abilities, attitudes and styles who enjoy the game. The portfolio includes COBRA Golf's high performance drivers, fairways, hybrids and irons, as well as PUMA Golf's SportLifestyle and SportLux footwear, apparel and accessories to help golfers Look Better. Feel Better. Play Better. Fusing performance and style, COBRA PUMA GOLF brings a focus on innovation, technology, compelling design and superior performance with an edge to the global golf marketplace. COBRA PUMA GOLF is a part of PUMA SE, one of the world's leading lifestyle companies that designs and develops footwear, apparel and accessories. For more information, visit cobragolf.ca and cobragolf.ca/pumagolf.
About the PGA of BC
The Professional Golfers' Association of British Columbia is an association comprised of nearly 700 golf professionals who work at and operate golf courses, driving ranges and other facilities across the province. Its mandate is to promote and advance the game of golf, serving the needs of both its membership and the golf public through professional and junior golf development programs and high-calibre competitive events. The Zone office is located in Richmond, BC.