Complete Golf Performance: A Great Golf Warm-Up
Details

Category: Inside Golf
Published: 2015-12-30
Sure it's winter and for many golfers, the start of the season is two or three months away. However, now is the time to create great habits. One of the best habits to get into and create is that of a good warm up prior to practice and playing.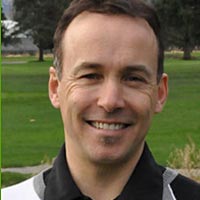 A proper golf warm-up is much more than what we usually witness from golfers at the golf course. Showing up 5 minutes before tee off, hurrying to the first tee box and taking a few practice swings is NOT a warm-up.
Even if you do hit a few balls at the driving range, you are likely only just beginning to get your joints and muscles loose.
Image Caption : Dave Longmore, Golf Conditioning Specialist (PTS, CGFI, TPI 3D)
Follow this routine before every round/practice and you will set yourself up for a more enjoyable, relaxed, and successful game.
Preparing for a round of golf starts an hour or more before tee off, and begins by properly fuelling your body.
In my studies of sports nutrition, I have leaned to teach golfers how to begin their warm-up with the right choice of fuel. Knocking back a coffee and a Danish pastry while on deck simply won't cut it. A whole wheat bagel with peanut-butter, some fruit, and a healthy dose of water is a way better choice that can be found at most golf courses. Just make sure you eat it at least an hour before your tee time.
Now that you're fuelled to go, hit the driving range, but don't hit just yet. You need to warm-up the joints, tendons, and muscles before you ask them to help you hit the shots you want.
Start your warm up with some dynamic range of motion movements including large arm swings, shoulder rolls, and wrist and ankle rolls. Include trunk twists and leg swings, but remember to do all movements with control and concentration. Next, do some sort of aerobic movement; skipping in place, running in place and jumping jacks should do it. Do this for five intervals of 30-60 seconds and you're ready for the next portion of your warm-up.
Golf, as you know, is a mental game too. When you are at the driving range warming up for a round, this is the time to start getting your head into the game. Hit EVERY ball on the range like you do on the course. Pre-shot set up, pre-shot routine, visualisation and practice swings; you do these during your round, so they should be done when you warm up as well.
To review, eat well, warm up your body, and hit balls with purpose. Don't forget to breathe properly and relax....it's only a game.
Dave Longmore is the Conditioning Program Director of Complete Golf Performance and founding partnes of The Players' Academy. He is level 2 TPI Golf Fitness Instructor and is certified with The American Council on Exercise as a Golf Conditioning Specialist. This email address is being protected from spambots. You need JavaScript enabled to view it.  
For more about Complete Golf Performance, visit www.completegolf.ca