Zero Friction Debuts New DistancePro GPS Glove Commercial On The Golf Channel Featuring Johnny Miller
Details

Category: Inside Golf
Published: 2017-07-10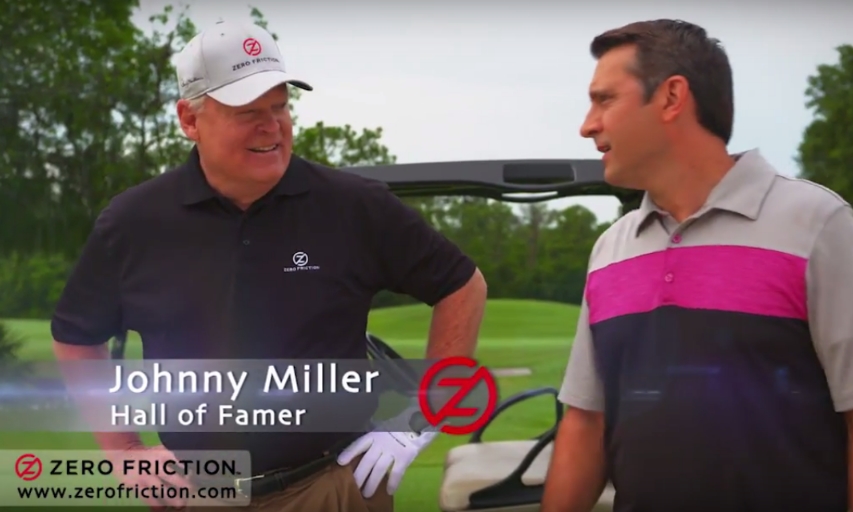 Zero Friction, maker of technologically advanced performance golf products, launched a new commercial on Golf Channel featuring Zero Friction spokesperson Johnny Miller on the golf course using the DistancePro™ GPS glove.
The new 60-second commercial -- which can be viewed HERE -- was produced by The Golf Channel and filmed in Orlando earlier this month. The commercial highlights the benefits of the DistancePro GPS glove and offers buyers a free dozen ZF Tour Spin Golf Balls with each purchased glove.
"We could not be more pleased with the new commercial," stated John Iacono, President of Zero Friction. "The Golf Channel did a great job producing the new Zero Friction spot and we look forward to introducing our DistancePro GPS Glove to a larger audience."
The Zero Friction DistancePro GPS Glove is one of a kind. It offers the ultimate in accuracy and convenience. Powered by Bluetooth, the groundbreaking device sits conveniently on the glove flap and weighs less than half an ounce. The readout gives distances to the front, center and back of the green on over 36,000 golf courses programmed worldwide. The DistancePro GPS battery provides over 400 hours of golf, and the GPS device is transferrable to replacement Zero Friction gloves.
"When I studied this company, I loved the technology that was involved," said World Golf Hall of Famer Johnny Miller took stake in the company in 2015. "Not only did I want to endorse the company, I decided I wanted to have a stake in this company."
Zero Friction first entered the golf glove market in 2015 and has continued to evolve. Zero Friction has retained the 5th position in market share for golf gloves with both on course and off course retailers in the U.S. for the past two years according to Golf Datatech.
For more information, visit zerofriction.com, or call 847-436-4262.
---
About Zero Friction
Zero Friction™ was founded in 2001 by John Iacono, originally under the name of Excel Golf Products, Inc. Based in Oak Terrace, Il, Zero Friction provides high-quality, technologically advanced products for golfers worldwide, including gloves, performance golf tees, grips, balls and accessories. Hall of Famer Johnny Miller was so impressed when introduced to Zero Friction in 2015 that he took a stake in the company. In 2017, Zero Friction was named the official golf tee and glove of the World Long Drive Association (WLDA). To view the entire line of Zero Friction golf products, visit ZeroFriction.com.