Six MJT Winners Crowned at Selkirk; Kuntz's 71-70 Low Overall
Details

Category: Inside Golf
Published: 2019-07-30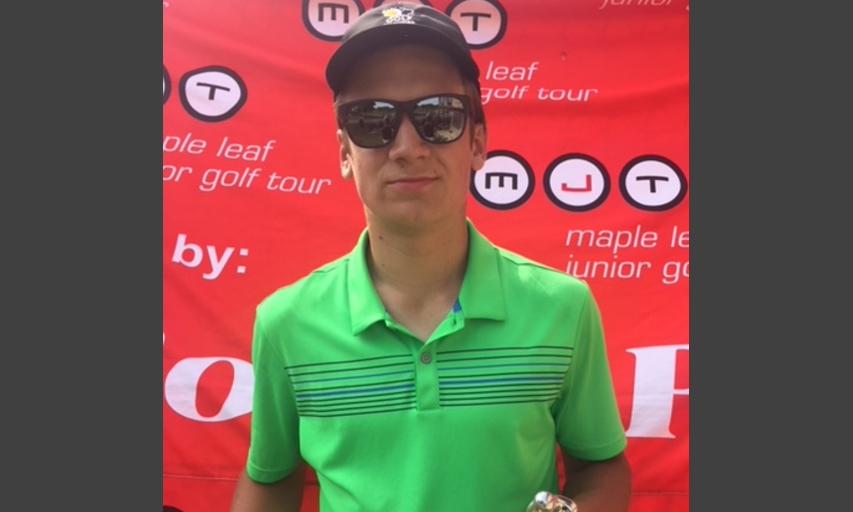 By MAPLE LEAF JUNIOR GOLF TOUR
SELKIRK, Manitoba — The Boston Pizza-presented Maple Leaf Junior Golf Tour made its fourth stop on the MJT Manitoba circuit on July 22 and 23 at Selkirk Golf Club in Selkirk, just north of Winnipeg. Six winners were crowned with MJT veteran,  Braxton Kuntz, headlining the scoring to claim Low Overall with his Juvenile Division's Hoselton trophy.
The 15-year old Kuntz, from Winnipeg, MB, finished as the only player to best par on the difficult Selkirk track. Kuntz's two-day total of 71-70=141 (-1)  finished five shots clear of  his nearest competitor Noah Fiks, 15, also of Winnipeg, who ended the weekend with scores of 71-75 (146). Speaking of his hard-fought victory, Kuntz said he was 'proud that I played well and came out on top.'  Finishing in third place was Carter Johnson, 16, of Winnipeg (70-78=148).
Neel Soni, 17, of Winnipeg, continued his solid play in 2019 firing 75-77 (152) to claim the Junior Boys Division title. Soni reflected on the weekend by saying that 'there are more important things than golf and sometimes it is easy to forget how fortunate we are having all the support around us.'  Soni was three shots better than Lachlan Allerton, 17, of Winnipeg, who carded 82-73, followed by Easton Donohoe, 18, of Petersfield, MB, at 156 (74-82).
The Boys Bantam (13-14 ) Division winner was Jack Taylor, 14, of Winnipeg, who shot 155 (75-80) and said that it 'felt great to win - I love Selkirk so every year I look forward to playing here and competing alongside my friends.'  Finishing as runner-up was 13 year-old Hayden Delaloye of Neepawa, MB, with scores of 80-80 (160). Jack Rudick, 14, of Winnipeg, rounded out the top three shooting 86-77 (163). 
Spence Mott, 12, of Brandon, MB, won the MJT Peewee Boys title after firing consistent rounds of 77-81 (158) to beat Terence Rafferty, 12, of Winnipeg (83-79), by four shots. Finishing in a tie for third place was Brayden Boge, 11, of Winnipeg, and Cashe McNabb, 12, of East St. Paul, MB.
Local Mikyla Albert, 17, of Selkirk, was crowned MJT Overall Girls and 15-18 Division Champion. Albert, who finished with a two-day total of 161 (82-79) said, "This is amazing considering this is my hometown."  Second place went to Sarah Farmer, 16, of Winnipeg.
The MJT Girls U15 title went to Crystal Zamzow, 13, of Swan River, MB. Zamzow carded back-to-back rounds of 90 (180) and said she was 'glad that she played consistently.'  Second place was secured by Winnipeg native Armaan Dhillon, 14, who finished at 193, followed by Addison Kartusch, 12, of Winnipeg, in third.
Full results including PLYR Closest-to-the-Pin competition winners are posted on the MJT website here. Winners of qualifying spots on MJT Team Canada to Australia and Team Prairies to the MJT National Team Challenge in Niagara Falls will be finalized once qualifying completes.
The final Maple Leaf Junior Golf Tour stop in the province for 2019 is the MJT Bieber Classic-PGA of Manitoba Junior Championship at Breezy Bend Country Club in Winnipeg on August 26-27. For more information or to register, please visit www.maplejt.com or call 1-877-859-4653.
---
About the MJT
The non-profit Maple Leaf Junior Golf Tour presented by Boston Pizza is Canada's number one-played Junior Golf Tour as well as the only national junior tour run exclusively by PGA of Canada Professionals and the 'Road to College Golf' in Canada. The organization is presented nationally by Boston Pizza and supported by valued Premier, Tournament and Product Partners. The MJT hosts close to 80 events across Canada, including free Ford Go Golf Junior Clinics, the MJT Mini Tour for 12 and under, the Collegiate Tour for 19-23 year olds, and multi-day events for competitive players aged 11 to 18 which are also qualifiers for international competitions. The program offers annual awards, scholarships, and frequent player incentives to help reward player's performance and participation throughout each season. MJT alumni include many Professional Tour players and PGA of Canada Professionals, as well as Canadian Amateur, National and Provincial Junior Champions. The MJT aims to develop champions, in golf and in life, promoting the game from grassroots through to provincial, national, university and professional level. See www.maplejt.com.