O'Grady Makes 10 Birdies, Shoots 68, 69 for Low Score at MJT's Dakota Dunes Stop
Details

Category: Inside Golf
Published: 2019-07-30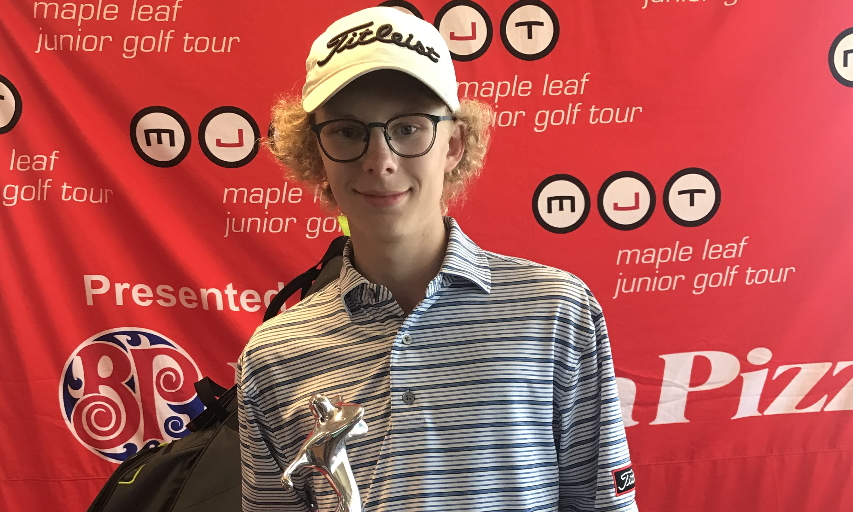 By MAPLE LEAF JUNIOR GOLF TOUR
SASKATOON, Saskatchewan — Maple Leaf Junior Golf Tour's two-day MJT PGA of Canada - Saskatchewan Zone Junior Championship presented by Ilta Grain at Dakota Dunes Golf Links ran July 22 and 23 in Saskatoon, offering up titles in six divisions, major point rankings by MJT, Golf Canada and more, and selection to Team Prairies in the MJT National Team Challenge in Niagara Falls, ON, later this season.
Players from all over Alberta and Saskatchewan took part, and headlining some great results was Braden O'Grady, 16, of Edmonton, AB, who fired red-hot rounds of 68, 69 (137) to win Low Overall and the title of MJT-PGA of Canada Saskatchewan Zone Juvenile Boys Champion. "I feel pretty happy as I played great – I made 10 birdies," he said. Runner-up was Cort Tunall, 15, of Kindersley, SK, who closed with the low round for the tournament (72, 67=139).
MJT veteran on the podium, Josh Nagy, 17, of Saskatoon, SK, continued his star play and shot 71, 69 (140) to win the title of over Cole Jenkins, 17, of Prince Albert, SK (73, 74=147). "The highlight for me was watching Colby make a two on hole 13," said Nagy afterwards. "But this win feels good, especially with the Am and Juniors coming up in a bit."
MJT-PGA of Canada Saskatchewan Zone Bantam Boys Champion was Bradin Stahl, 14, of Priddis, AB, after he fired 68, 75 (143) to hold off Thomas Danielson, 14, of  Saskatoon (69, 80=149). "My putting inside 12 feet and my wedge play helped me shoot a 68," said Stahl. "I feel great about winning my division title." 
Brett Jones, 12, of Calgary, AB, was the champion in the MJT Peewee Boys division, claiming the Hoselton trophy with fine scores of 71, 76 (147). He stated, "I feel good about winning the tournament because there was a big field and good players. Making eagle from a fairway bunker was the highlight for me." Runner-up was 11 year-old Dane Giesbrecht of Warman, SK, who carded back-to-back rounds of 78 (156 total).                 
Continuing her strong play on the MJT was Autumn Neiszner, 15, of Regina, SK, who shot 81, 78 (159) to win the title of MJT-PGA of Canada Saskatchewan Zone Junior Girls Champion by three strokes over Sarah Grieve, 16, of Saskatoon (83, 79=162). Neiszner said afterwards, "It feels awesome to play two pretty consistent rounds at this course. I had some really tough shots but managed to pull them off. "
And finally, in the Collegiate Division, the Hoselton trophy went to Mitchell Desjarlais, 19, of Sherwood Park, AB, after he carded 80, 77 (157) to beat    Logan Crawford of Red Deer, AB, for the title. "It feels awesome! It's my first time winning on the Maple Leaf Junior Tour," Desjarlais said. "I think MJT held a great tournament."       
For PLYR Long Drive, PLYR Closest-to-the-Pin and the MJT Booster Juice Comeback Award winners, please visit the highlights page for the tournament here. Selections for the team to Niagara will be announced once qualifying has completed.
The final Maple Leaf Junior Golf Tour stop in Saskatchewan this season is the MJT-Golf Saskatchewan OOM Championship at The Legends Golf Club in Warman on August 24 and 25. For more information or to register, please visit www.maplejt.com or call 1-877-859-4653.
---
About ILTA Grain
ILTA Grain is a leading exporter of quality grains throughout the world.   We specialize in pulses (lentils, peas, beans and chickpeas), grains/oilseeds and other special crops. We have extensive experience in procuring and trading various grains, and our experienced team understands global trade and logistics. We proudly support North American farmers – all of our products are grown in Western Canada. With six locations in Saskatchewan - Swift Current, Cutknife, North Battleford (two plants), Saskatoon and Belle Plaine, ILTA handles all types and varieties of pulses and oilseeds. We source directly from the growers, process and clean the products at our locations, and ship our products worldwide. We have control throughout the entire process, from the farm gate to the end customer – allowing us to keep to our high standards during every step of the way. See www.iltagrain.com.
About the MJT
The non-profit Maple Leaf Junior Golf Tour presented by Boston Pizza is Canada's number one-played Junior Golf Tour as well as the only national junior tour run exclusively by PGA of Canada Professionals and the 'Road to College Golf' in Canada. The organization is presented nationally by Boston Pizza and supported by valued Premier, Tournament and Product Partners. The MJT hosts close to 80 events across Canada, including free Ford Go Golf Junior Clinics, the MJT Mini Tour for 7 to 12 year olds, the Collegiate Tour for 19 to 23 year olds, and multi-day events for competitive players aged 11 to 18 which are also qualifiers for international competitions. The program offers annual awards, scholarships, and frequent player incentives to help reward player's performance and participation throughout each season. MJT alumni include many Professional Tour players and PGA of Canada Professionals, as well as Canadian Amateur, National and Provincial Junior Champions. The MJT aims to develop champions, in golf and in life, promoting the game from grassroots through to provincial, national, university and professional level. For more information, see www.maplejt.com.