Hot Scores and Playoff Highlight MJT's PLYR Golf Event at Predator Ridge
Details

Category: Inside Golf
Published: 2019-07-30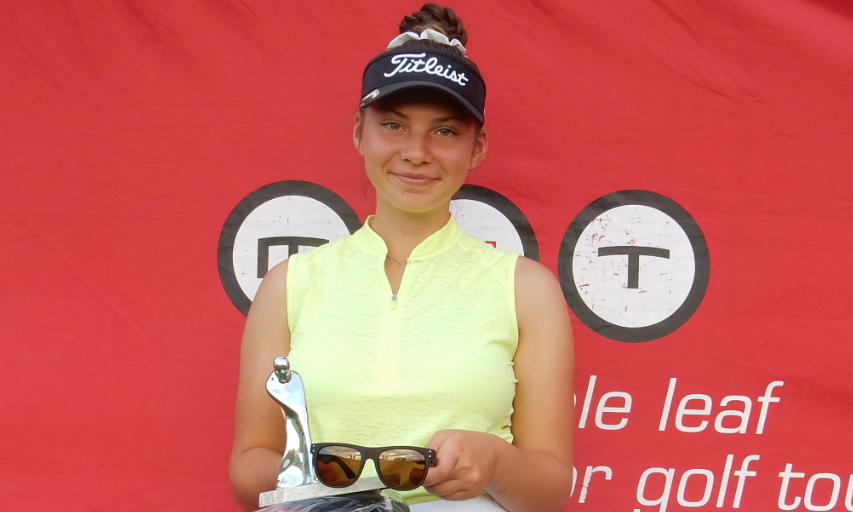 BY MAPLE LEAF JUNIOR GOLF TOUR
VERNON, British Columbia — The Boston Pizza-presented Maple Leaf Junior Golf Tour's BC series headed to Vernon this past week for the MJT's PLYR Golf-presented tournament at a swelteringly hot Predator Ridge Golf Resort. Amazing scores were posted out of a talented field of 83 players from all over western Canada, who had gathered at one of Canada's finest golf resorts to compete for titles in seven divisions as well spots on Team West at the MJT National Team Challenge presented by Freedom 55 Financial at Royal Niagara Golf Club later this summer.
In the MJT Peewee Boys Division, Surrey, BC-resident Tristan Jackman, 12, and Edmonton, AB-resident, Tate Bruggeman, 12, battled it out over a riveting 36 holes plus two extra playoff holes on the Predator course. Bruggeman (70, 75 - 145), who carried a three-shot lead over Jackman (73, 72 - 145) going into the final round, struggled towards the end of his second round opening the door for Jackman to come back and force a playoff. With both players finishing the first playoff hole still tied, a par by Bruggeman on the second playoff hole secured his fourth consecutive 2019 MJT Hoselton trophy. "The highlight of the tournament was winning in that playoff," said Bruggeman. "I just tried to stay focused on my game and not worry about anyone else was doing."
Vernon-local, Ryan Vest, 13, after a second place finish at the recent MJT Ford Series at Okanagan Golf Club, pushed through to win the MJT Bantam Boys Division at his home club, Predator Ridge. Vest made nine birdies on his way to shooting great rounds of 70 and 69 (139). Attributing his win his iron play, Vest commented, "I hit a lot of approach shots close to the hole which allowed me to make those birdies." Finishing in a tie for second were Langley, BC-player, Caleb Davies, 14, and Surrey-player, Noah Karlgren, 14, who both shot rounds of 75 and 73 (148).
West Vancouver, BC-resident, Tony Bin, completed the comeback in the MJT Juvenile Boys Division carding scores of 70 and 73 (143) to win by two shots. Bin, who was down by one shot going into the final day, played his last eight holes of the tournament at a steady even par to climb to the top. "I really feel like I improved my game and took a step closer to my dream with this tournament," said Bin, after receiving his Hoselton trophy. Jeremy Laverdiere, 16, of Kelowna, BC, fired scores of 69 and 76 (145) to finish second.
Summerland, BC-native, Declan Riddle, held onto a five-shot lead after the first day to capture the MJT Junior Boys title. The 18-year-old, Predator Ridge product shot rounds of 72 and 69 (141) to acquire his first career MJT tournament victory. "I felt very energetic walking off with a great round today," said Riddle. "To shoot in the 60s and win this tournament felt great!" John Paul Kahlert, 17, of Maple Ridge, BC, finished second with scores of 77 and 69 (146).
The MJT Collegiate Division was won by Penticton, BC-player, Jackson Coates, 19, with two rounds of 75 (150). In both rounds, Coates came back with better back nine scores after slower starts. "The highlight of the tournament was the people I was playing with which made it so much more enjoyable," said Coates who walked off the 18th hole with a big smile on his face. "Hopefully more collegiate golfers will come to compete on the junior tour because MJT runs a very smooth, fun, and well-prepared tournament with great staff." Trevor Card, 20, of Langley, BC, shot rounds of 77 and 78 (155) to finish second in  the division.
Annalise Stolzenberg, 13, of Langley, BC, defended her 2018 title at Predator Ridge, winning the MJT Girls U15 Division once again this year with scores of 83 and 74, which included a new personal best. "The highlight of the tournament was my putting on the second day," said Stolzenberg, who struggled on the greens on day one. "This [tournament] was one of the most enjoyable events I have ever played in." Stolzenberg won both the Hoselton trophy and the Low Overall Girls score for the tournament. Coming in second place with scores of 91 and 83 (174) was Seungwoo Noh, 14, of Surrey, BC.
Winning the MJT Girls 15-18 title by a narrow one-shot margin with rounds of 83 and 75 (158) was Prince George, BC-star, Natasha Kozlowski, 17. Kozlowski, who struggled towards the end of her first round, was down by six shots to Vernon-local, Kendra Jones-Munk, 17. Getting off to a hot start with four birdies on the front nine in round two, Kozlowski quickly erased the deficit and went on to win her third Hoselton trophy of the 2019 season. "I feel really good because I didn't have a very good first day and it was nice to make a comeback," she commented. Jones-Munk finished with scores of 77 and 82 (159) to settle for second place.
For PLYR Long Drive, PLYR Closest-to-the-Pin and the MJT Booster Juice Comeback Award winners, please visit the highlights page for the tournament here. Selections for the team to Niagara will be announced shortly.
The next Maple Leaf Junior Golf Tour stop in BC is already wait-listed: the MJT Odlum Brown Classic at Northview Golf and Country Club in Surrey, August 6 to 8. Juniors can still register for the event following, which runs at Whistler Golf Club in Whistler on August 26 and 27. For more information, please visit www.maplejt.com or call 1-877-859-4653.
---
About PLYR
Launched in 2015, PLYR Golf is a new and fun apparel and accessories brand. While they tend to target the trends of the younger demographic, PLYR is a lifestyle golf brand made for everyone. To keep up with the new products PLYR offers, please visit www.PLYRgolf.com.
About the MJT
The non-profit Maple Leaf Junior Golf Tour presented by Boston Pizza is Canada's number one-played Junior Golf Tour as well as the only national junior tour run exclusively by PGA of Canada Professionals and the 'Road to College Golf' in Canada. The organization is presented nationally by Boston Pizza and supported by valued Premier, Tournament and Product Partners. The MJT hosts close to 80 events across Canada, including free Ford Go Golf Junior Clinics, the MJT Mini Tour for 7 to 12 year olds, the Collegiate Tour for 19 to 23 year olds, and multi-day events for competitive players aged 11 to 18 which are also qualifiers for international competitions. The program offers annual awards, scholarships, and frequent player incentives to help reward player's performance and participation throughout each season. MJT alumni include many Professional Tour players and PGA of Canada Professionals, as well as Canadian Amateur, National and Provincial Junior Champions. The MJT aims to develop champions, in golf and in life, promoting the game from grassroots through to provincial, national, university and professional level. For more information, see www.maplejt.com.