The Legend Continues as Doug Roxburgh Wins His Fifth B.C. Senior Men's Title
Details

Category: Inside Golf
Published: 2019-07-30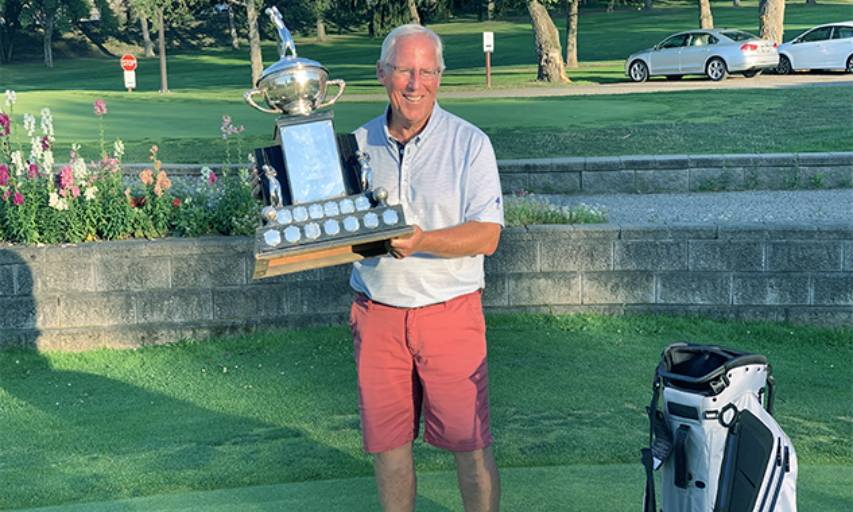 By BRAD ZIEMER, British Columbia Golf
VERNON, British Columbia — This can't last forever, but in a way it seems like it already has. Doug Roxburgh keeps adding to his incredible amateur record that began way back in 1969, when he won both the B.C. Amateur and B.C. Junior Boys Championships as a 17-year-old.
A half-century later, the Marine Drive Golf Club legend is still winning provincial championships. On Thursday evening at Vernon Golf & Country Club, the 67-year-old Roxburgh captured his fifth B.C. Senior Men's title. Roxburgh closed with an even-par 72 to finish the 54-hole event at five-under par, two shots better than Jim Shaw of Sooke.
Roxburgh's five B.C. Senior titles go along with his 13 B.C. Amateur championships, four Canadian Amateur titles and a Canadian Senior championship. He is also a past B.C. Junior and Canadian Junior champion. 
Roxburgh hopes he isn't done winning. "I am not sure how many more years I am going to keep going at it, but hopefully I have got a few more years left in me," he said. Asked to explain his incredible longevity, Roxburgh said he simply loves the game.
"I just like to compete and work on my game. I look forward to the tournaments, I look forward to the people and all that sort of stuff. I work pretty hard at my game, I hit a lot of balls, study the golf swing a bit. I still stay immersed in the game."
Roxburgh was his usual steady self in the final round. He started the day with a two-shot lead on Shaw, stretched it four shots a couple of times and simply would not make any big mistakes to allow anyone to catch him. "I was pretty steady until about four or five holes to go," he said. "I don't know what it was, maybe I got tired and I didn't realize it. I stopped using my legs and hit some really sloppy shots. I was fortunate and got up and down a couple of times."
Shaw, a former Mission resident who recently moved to Vancouver Island, cut the lead to two shots with a nice birdie on the par 3 17th hole. But he knew he wasn't going to catch Roxburgh. "I tell you, I honestly didn't even think about catching Doug," Shaw said. "When I did look at the leaderboard a couple of times, it was more to see if I was on the (B.C.) team or not. Doug is consistent, he is not going to make any huge mistakes."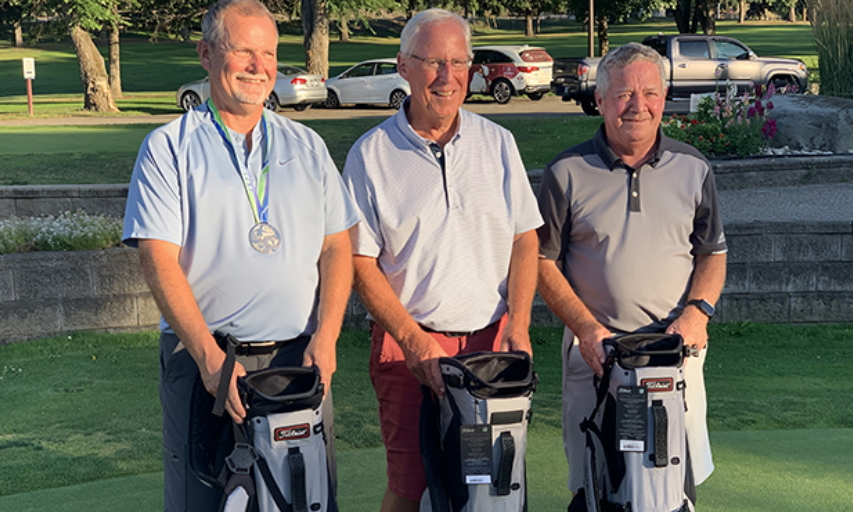 BC's Senior Men's Team For The Canadian Senior Championship From L-R: Jim Shaw, Doug Roxburgh And Sandy Harper. (BC Golf/Brad Ziemer)
Shaw called it a thrill and honour to play alongside Roxburgh. "For all of us that play in the B.C. Seniors, to have Doug Roxburgh play in our tournament just takes it to another level," Shaw said. "For me, personally, to be able to play with Doug Roxburgh on the final day in the final group is incredible. Doug is a Hall of Famer and a gentleman."
Roxburgh and Shaw will be joined on the B.C. team by Nanaimo's Sandy Harper, who finished third at one-under par. They will represent B.C. in an inter-provincial team competition at the Canadian Senior Men's Championship, which goes Sept. 10-13 in Scarborough, Ont.
Harper had to two-putt from long range on the 18th green to avoid a playoff with Norm Bradley of Kelowna for the final B.C. team spot. "If I hadn't got it and my friend Norm got it, I still would have been happy for him, but not quite as happy as for myself," said Harper, a past B.C. Senior Men's champion. "But it was a real nice group, playing today with Doug and Jim. Everyone was cheering each other on."
The fact Roxburgh has won 'only' five B.C. Senior titles likely has something to do with the fact that he waited until he was 60 before he began competing as a senior. "Without question," said Harper. "Let's put it this way. I am glad that the first one he played in 2012, which was my first B.C. Senior, was at Nanaimo — my home course — and I had a distinct advantage over him."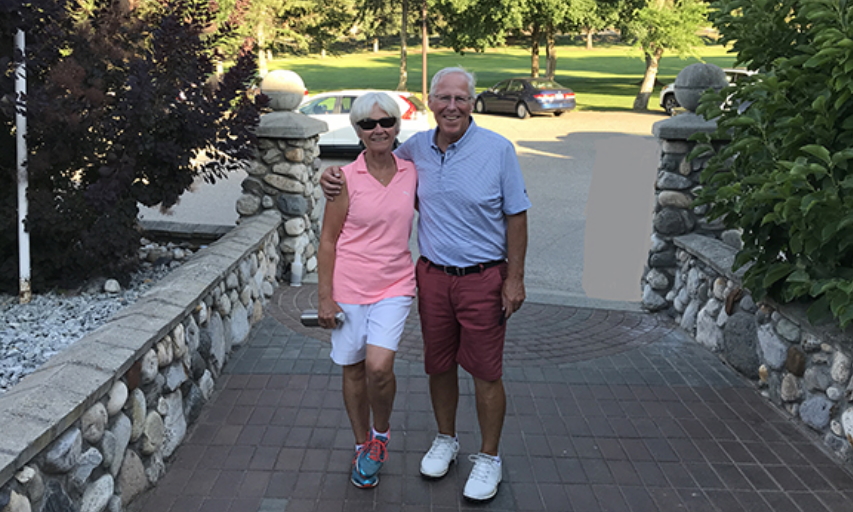 Doug Roxburgh Poses With His Wife And Caddy Lorna After Winning The B.C. Senior & Super-Senior Titles. (BC Golf/Kris Jonasson)
Roxburgh also won the Super-Senior Championship for players 65 and over by 12 shots over Howard Broun of Calgary and Gudmund Lindbjerg of Port Moody. It was Roxburgh's third straight Super-Senior title.
The tournament also included a two-man best-ball competition. Shaw and Greg Bismeyer of Missionwon by three shots with a score of 15-under par.
A 36-hole zone championship concluded with the Zone 5 (southern Vancouver Island) team of Shaw, Neil O'leary, Ray Henry and Timothy Howard winning with a score of eight-over par.
For complete final scoring, please click here.
CHIP SHOTS: Roxburgh, who as always had his wife Lorna caddying for him, is off to Scotland on the weekend to play in the R&A Senior Amateur at North Berwick Golf Club.