PGA TOUR Affiliated Tours Canadian Player Results Week of July 19.07.29
Details

Category: Inside Golf
Published: 2019-08-06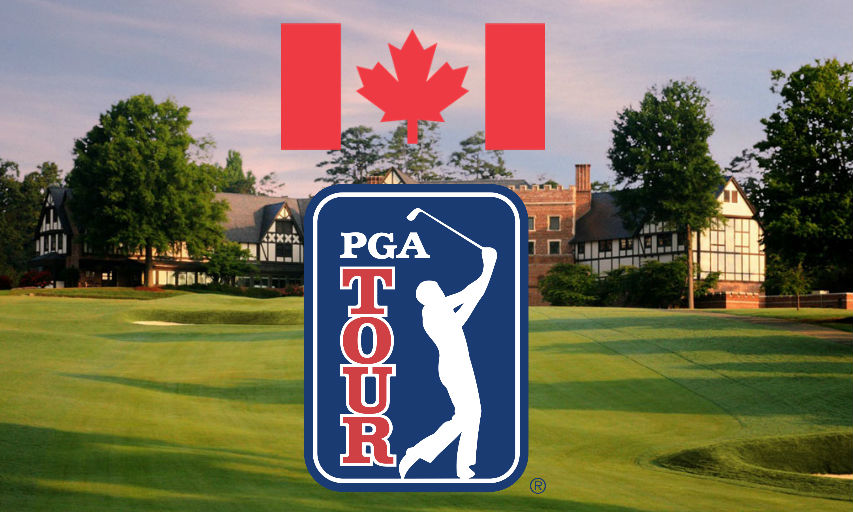 The PGA TOUR and its affiliated Tours boasts a large roster of players from Canada as members...
Here is the recap from this past week's action and their performances.
PGA TOUR
Wyndham Championship
Sedgefield Country Club, Greensboro, North Carolina
Purse: $6,200,000 ($1,116,000 to winner)
Next Tournament: THE NORTHERN TRUST, Liberty National Golf Club, Jersey City, New Jersey, August 8-11
Player--Result--Earnings--FedExCupRanking--Notes
Austin Connelly DNP -- N/A
Corey Conners T22 (-13) $53,044 31
Scored four under-par rounds for the sixth time this season. Dropped two spots on the FedExCup.
Graham DeLaet DNP -- N/A
Adam Hadwin CUT (-2) -- 46
David Hearn DNP -- 174
Mackenzie Hughes T22 (-13) $53,044 96
Shot an impressive 63 on the first day, followed by rounds of 66-69-69. Improved two places on the FedExCup to qualify for the Playoffs.
Drew Nesbitt DNP -- N/A
Ben Silverman CUT (-1) -- 181
Roger Sloan T39 (-10) $22,940 91
Recorded his fifth consecutive top-40 performance and jumped 12 positions on the FedExCup to qualify for The Northern Trust, the first Playoffs event.
Adam Svensson T31 (-12) $36,766 167
In his 11th made cut in 25 starts, fired a 61 on the second day. Fell five spots on the FedExCup. Is eligible to play in the Korn Ferry Tour Playoffs.
Nick Taylor CUT (-3) -- 117
Mike Weir 76th (-2) $11,656 247
Sat at T55 on the third day but settled for 76th after a final-round 74. Fell three placed on the FedExCup and saw his season come to a close.
CHAMPIONS TOUR
No Tournament this Week
Next Tournament: DICK'S Sporting Goods Open, En-Joie Golf Club, Endicott, New York, August 16-18
KORN FERRY TOUR
Ellie Mae Classic at TPC Stonebrae
TPC Stonebrae, Hayward, California
Purse: $600,000 ($108,000 to winner)
Next Tournament: WinCo Foods Portland Open, Pumpkin Ridge Golf Club – Witch Hollow, North Plains, Oregon, August 8-11
Player--Result--Earnings--PointsRanking--Notes
Albin Choi T23 (-9) $5,120 111
Despite sitting at T128 on the first day, followed his opening-round 74 with rounds of 63-65-69. Jumped eight places on the points ranking.
Brad Fritsch CUT (+4) -- 157
Michael Gligic DNP -- 16
Seann Harlingten WD -- 218
Matt Hill DNP -- T248
Matt Kang CUT (+13) -- 268
James Love DNP -- 232
Ryan Yip DNP -- 124
MACKENZIE TOUR CANADA
1932byBateman Open
Edmonton Country Club, Edmonton, Alberta
Purse: $200,000 ($36,000 to winner)
Next Tournament: ATB Financial Classic, Country Hills Golf Club (Talons Course), Calgary, Alberta, August 8-11
Player--Result--Earnings--OrderofMerit--Notes
James Allenby T31 (-5) $1,160 16
In his fourth made cut in eight starts, dropped two spots on the Order of Merit.
Zach Anderson CUT (+7) T142
AJ Armstrong CUT (+4) N/A
Eric Banks CUT (E) 166
Wil Bateman T10 (-11) $4,800 T85
In his first Mackenzie Tour-PGA TOUR Canada appearance of the season after playing on PGA TOUR Latinoamerica, fired four under-par rounds at his hometown event.
Michael Belle CUT (+2) 107
Hugo Bernard CUT (+3) 140
Michael Blair CUT (+7) N/A
Russell Budd DNP 153
Blair Bursey DNP N/A
Matthew Codd CUT (+8) N/A
Aaron Crawford CUT (+3) N/A
Myles Creighton T14 (-10) $3,200 102
This PGA TOUR Series-China player turned in four under-par rounds in his Mackenzie Tour-PGA TOUR Canada debut.
Bradford Curren DNP N/A
a-Gerry Dee DNP N/A
Jared du Toit T42 (-3) $789 58
In his sixth made cut in four starts, fell two places on the Order of Merit.
Andrew J. Funk CUT (+1) N/A
Derek Gillespie DNP N/A
Kaleb Gorbahn CUT (+8) N/A
Evan Holmes DNP 130
Austin James CUT (+7) N/A
Jimmy Jones CUT (-1) 125
Daniel Kim DNP N/A
Joshua Landine DNP N/A
Clark MacPherson DNP 169
John Mlikotic CUT (+2) 154
Patrick Murphy CUT (-2) N/A
Taylor Pendrith WON (-17) $36,000 4
Recorded his first win on Tour and his third consecutive top-three performance. Shot four under-par rounds for the fourth a consecutive week and improved one spot on the Order of Merit. Became the first
Canadian since Adam Cornelson in 2016 to win on the Mackenzie Tour.
David Rose CUT (-1) 155
Jim Rutledge DNP 146
Jamie Sadlowski 60th (+4) $600 122
Sat at T36 after the second day but settled for 60th after disappointing rounds of 79-71. Improved seven places on the Order of Merit.
a-Joey Savoie DNP N/A
Maxwell Sear DNP N/A
Scott Secord CUT (-) T156
Sebastian Szirmak DNP N/A
a-Neil Thomas CUT (-2) N/A
a-Josh Whalen DNP N/A
Riley Wheeldon CUT (-1) 39
PGA TOUR CHINA
No Tournament this Week
Next Tournament: TBD
China, September 9-15
PGA TOUR LATINOAMERICA
No Tournament this Week
Next Tournament: Sao Paulo Golf Club Championship, Sao Paulo GC, Sao Paulo, Brazil, September 19-22