2019 MJT Odlum Brown Classic Champions Crowned at Northview; Minni Fires 69-67-68 for Low Overall
Details

Category: Inside Golf
Published: 2019-08-13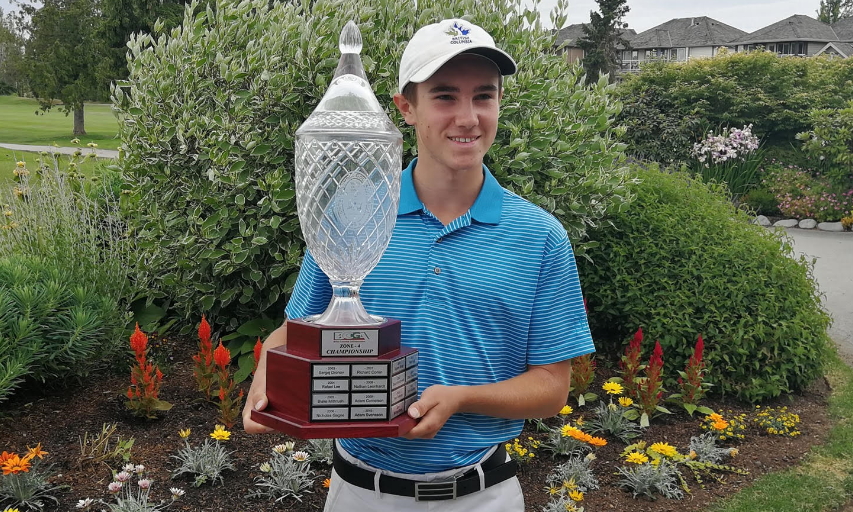 By MAPLE LEAF JUNIOR GOLF TOUR
SURREY, British Columbia — An impressive display of young golfing talent took place at the MJT Odlum Brown Classic at Northview Golf and Country Club in Surrey, BC. The Boston Pizza-presented Maple Leaf Junior Golf Tour hosted an elite, 126 player, wait-listed field, for a three-day event which included a cut to 77 players after two rounds. The tournament featured a shotgun start for the first two rounds on the Canal course at Northview and ended with the final round on the Ridge course.
"This is a marquee event on the MJT calendar," said MJT Tournament Director, Chris Hood. "We always have a big field with the top provincial players and the atmosphere is great."
Firing some of the lowest scores seen this year on the MJT was 17-year-old Jace Minni, of Delta, BC, who blitzed his way around the course with scores of 69, 67, and 68 (204) to post a 12-under par total Low Overall score for the three days. "I played 38 holes bogey-free from day one to day three," said Minni, who recently accepted an offer to play golf at Gonzaga University. He made 14 birdies throughout the tournament to be crowned the MJT Odlum Brown Classic Junior Boys Champion by a narrow one-shot margin after holding off an exceptional charge on the final day from Vancouver, BC-resident, Ilirian Zalli, 17. Zalli, the defending champion, shot 71 and 70 and then an eight-under 64 on the final day to finish at 11-under for the tournament (205), in second place. Finishing in third place was 17-year-old, John Paul Kahlert, of Maple Ridge, BC, who carded scores of 75, 71, and 69 (215).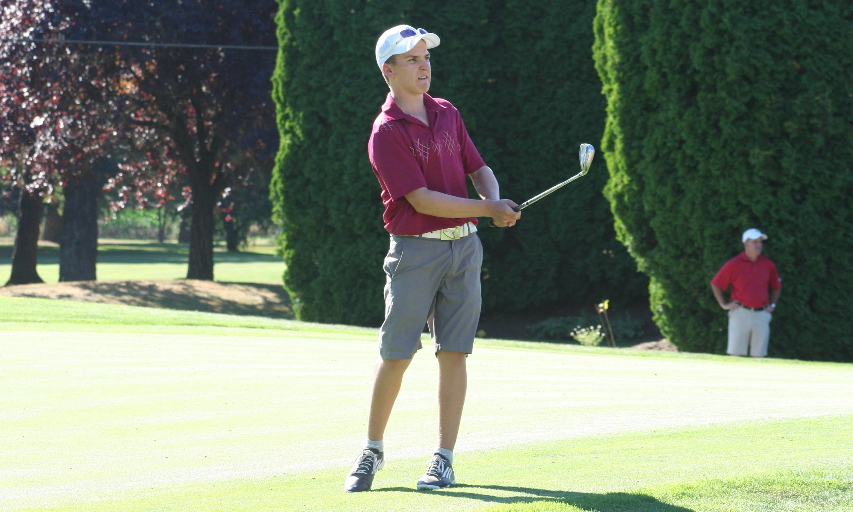 Ilirian Zalli
Triumphing as the MJT Odlum Brown Classic Juvenile Boys Champion was 15-year-old, Danny Im, who fired a triplet of 72s (216). The young, Langley, BC-athlete stayed very consistent all tournament never carding more than two-over on any nine holes. "I was definitely nervous and a little worried, but I stuck to my game and managed to come away with the win," said Im. Finishing tied for second just two strokes behind were Surrey's Bailey Bjornson, 16, who carded rounds of 71, 72, and 75 (218), and Richmond, BC's, Brycen Ko, 16, who made 12 birdies and an eagle during the tournament to finish with scores of 71, 72, and 75 (218) as well.
Justin Bjornson, of Surrey, completed a comeback to capture the MJT Odlum Brown Classic Bantam Boys Championship in a playoff. The 13-year-old MJT veteran-champion played consistently under par all tournament long, shooting scores of 71, 70, and 71 (212) to tie for the lead with Vernon, BC-player, Ryan Vest, 13, who had also fired fantastic scores totaling 212 (66, 69, 77).  Bjornson, who was down by six shots going into the final round, whittled away at the lead and eventually forced a playoff where he chipped-in for birdie to win. "I feel fantastic to win such a prestigious event in front of my friends and family," he said. "I was grinding all day in the third round and it feels amazing to be able to finish it off, especially in such dramatic fashion." Vest, who has been a force on the MJT for some time now, walked away with his third top-two finish in his past three starts in 2019. Coming in a tie for third place was 13-year-old, Luke Metcalf, from Redhill, UK, with scores of 74, 77, and 73 (224) and 14-year-old, Terry (Yutai) Xie, of Surrey, with scores of 68, 78, and 78 (224).
More hot scoring was recorded by the MJT Odlum Brown Classic Peewee Boys Champion, Emil Liddell, 12, of Vancouver, who completed a three-shot comeback on the final day to win in a playoff over fellow-Vancouverite Michael Li, 11, who had also fired a brilliant total of 224 (75, 72, 77). Liddell carded rounds of 74, 76, and 74 (224) and made par on the first playoff hole to capture the division title. "I feel that I did really well because I started with a double bogey on the first hole and ended the round at two-over par," Liddell commented. "Overall, it was a great tournament and I had lots of fun!" Kevin Zhang, 12, of Burnaby, BC, carded rounds of 75, 74, and 76 (225) to finish in third and just one-shot shy of making the playoff.
Erin Lee, 14, of Langley, BC, shot rock-solid scores of 71, 72, and 72 (215) to be crowned MJT Odlum Brown Classic Girls U15 Champion plus win Low Overall for the Girls divisions. Lee, who is not a surprise to the top of the leaderboard, made a total of 12 birdies throughout the tournament. "I'm very proud to win this big of a tournament and to shoot two-under on the back nine of the Ridge course on the third day," she commented. "The field was very strong and I'm happy I was able to pull through on top." Rounding out the division in second place was Coquitlam, BC-player, June Hsiao, 12, who fired 75, 70, and 75 (220) to finish five shots back.
The MJT Odlum Brown Classic Girls 15-18 Champion's title went to Richmond's Tina Jiang, after she fired rounds of 73, 71, and 76 (220) in a tightly contested division. Playing up a division, the 14-year-old athlete had a one-shot lead going into the final round and started the third round with a double bogey. But with a stellar comeback, Jiang managed to pull away with the victory. "The MJT tournaments are always great and it feels awesome to win such a big tournament at Northview," she commented. Emily Zhang, 15, of Vancouver (73, 73, 75), and Abby Chow, 15, of Coquitlam (74, 71, 76), both finished in a tie for second place just one stroke back with final scores of 221.
The event's Collegiate Division's title was won by Kelowna, BC-resident and long-time MJT player, Davide Kaiser. The 20-year-old carded very consistent rounds of 77 all three days of the tournament for a total score of 231. "I enjoyed playing with my competitors and it feels good to make a lot of birdies and finally play some decent golf in a tournament," said Kaiser after accepting his trophy.
For PLYR Long Drive, PLYR Closest-to-the-Pin and the MJT Booster Juice Comeback Award winners, please visit the highlights page for the tournament here.
The next Maple Leaf Junior Golf Tour stop in BC is the MJT Big Max Series at Whistler Golf Club in Whistler on August 26 and 27, the last tournament of the summer. For more information or to register, please visit www.maplejt.com or call 1-877-859-4653.
---
About Odlum Brown Limited
Odlum Brown Limited is an independent, BC-based, full-service investment firm providing disciplined investment advice and objective research with a singular focus on clients. Established in 1923, the firm offers a full range of investment products including equities, fixed income, mutual funds and GIC's; and financial, retirement and estate planning through its wholly-owned subsidiary, Odlum Brown Financial Services Limited. For more information visit www.odlumbrown.com. Member-Canadian Investor Protection Fund.
About the MJT
The non-profit Maple Leaf Junior Golf Tour presented by Boston Pizza is Canada's number one-played Junior Golf Tour as well as the only national junior tour run exclusively by PGA of Canada Professionals and the 'Road to College Golf' in Canada. The organization is presented nationally by Boston Pizza and supported by valued Premier, Tournament and Product Partners. The MJT hosts close to 80 events across Canada, including free Ford Go Golf Junior Clinics, the MJT Mini Tour for 7 to 12 year olds, the Collegiate Tour for 19 to 23 year olds, and multi-day events for competitive players aged 11 to 18 which are also qualifiers for international competitions. The program offers annual awards, scholarships, and frequent player incentives to help reward player's performance and participation throughout each season. MJT alumni include many Professional Tour players and PGA of Canada Professionals, as well as Canadian Amateur, National and Provincial Junior Champions. The MJT aims to develop champions, in golf and in life, promoting the game from grassroots through to provincial, national, university and professional level. For more information, see www.maplejt.com.