Rossland's Xander Bankes, Langley's Erin Lee Come from Behind to Win B.C. Bantam Championships
Details

Category: Inside Golf
Published: 2019-08-22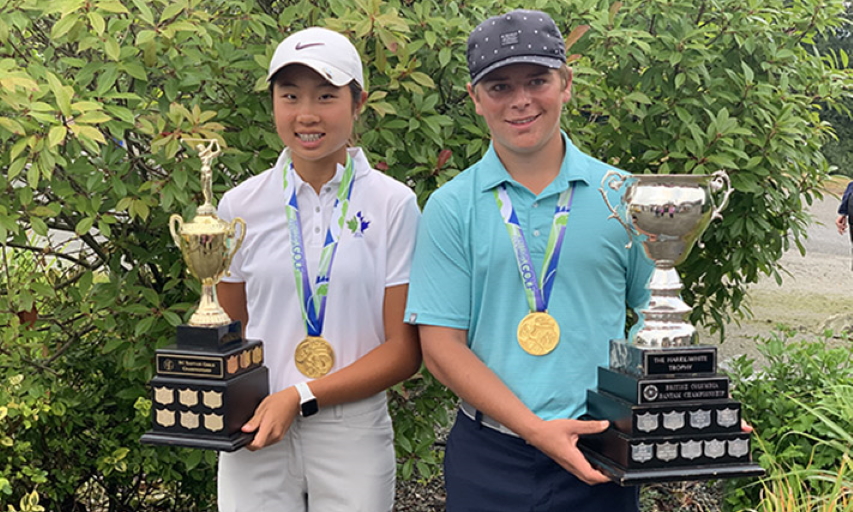 By BRAD ZIEMER, British Columbia Golf
They both shot 68 and, not surprisingly, they both won. Xander Bankes of Rossland and Erin Lee of Langley played clutch final rounds in less than ideal conditions Wednesday afternoon to win the B.C. Bantam Boys and Girls Championships at Belmont Golf Course in Langley.
The two 14-year-olds both overcame three-shot deficits heading into the final round to win the 36-hole competition. Lee's win achieved a rather lofty goal she set for herself earlier this summer. "This year I really wanted to win at least one provincial championship," Lee said. "I didn't play my best at Juveniles, so I am happy I played well today."
The Bantam Championships were open to players 14 and younger and followed the B.C. Juvenile (for players 16 and under) and B.C. Junior Championships (for players 18 and under) earlier this summer. 
Lee, who is heading into Grade 9 at Walnut Grove Secondary and plays out of The Redwoods in Langley, had an impressive third-place finish at the B.C. Juniors at Fairwinds Golf Course in Nanoose Bay and was sixth at the B.C. Juveniles at The Meadows at Pemberton.
She finished the two-day Bantam tourney at even-par and recorded five birdies in Wednesday's final round, which was played in soggy conditions. "I think my putting today was a lot better than yesterday and my short game was also pretty good today," she said. June Hsiao of Coquitlam was second at four-over par. Ye Ji Kwon of Port Coquitlam was third at five-over.
Belmont was set up as a par 71 for the Bantam girls and as a par 70 for the boys. Bankes also had five birdies in his round Wednesday. He came to the Bantam tourney highly motivated after missing the cut at the B.C. Juveniles. "I didn't play very well at Juveniles," Bankes said. "That motivated me. This is more my age group, so I knew I had a better chance here."
His two-under 68 matched his best ever competitive round. "After day one I was in fourth, so I knew I had to have a good round to win," he said. "So I tried to have a good round and it worked." He finished the tournament at two-under par, two shots better than runner-up Ryan Vest of Vernon. Aaron Huangof Vancouver, Shunkichi Yamamoto of Victoria, Adam Hyde-Lee of Shawinigan Lake and Daniel Bennett of Victoria shared third place at one-over par.
As much as he loves to golf -- Bankes usually plays five times a week in the summer at Redstone Golf Club -- his first love is freestyle skiing. Bankes finished fourth at a North American championship freestyle skiing event this past winter at Kicking Horse Mountain Resort in Golden. "I will definitely keep competing in golf, said Bankes, who is heading into Grade 9 at Rossland Secondary. "I love to play, but skiing is definitely my favourite."
A Stableford scoring competition was held for Novice players at Belmont. Manny Lalh of Nanaimo won the Boys' competition with 91 points. Austin Krahn and his brother David Krahn of Christina Lakefinished second and third with 89 and 88 points.
Grace Yao of West Vancouver won the Girls' competition with 85 points. Sarah Kim of Victoria was second with 84 points and Ella Scabar of Surrey placed third with 76 points. A two-person best-ball competition was won by the team of Caleb Davies of Langley and Jacob Yui of Vancouver with a score of 25-under.
Click HERE for complete final scoring.