Barjon Wins Order Of Merit And Player Of The Year Award
Details

Category: Inside Golf
Published: 2019-09-20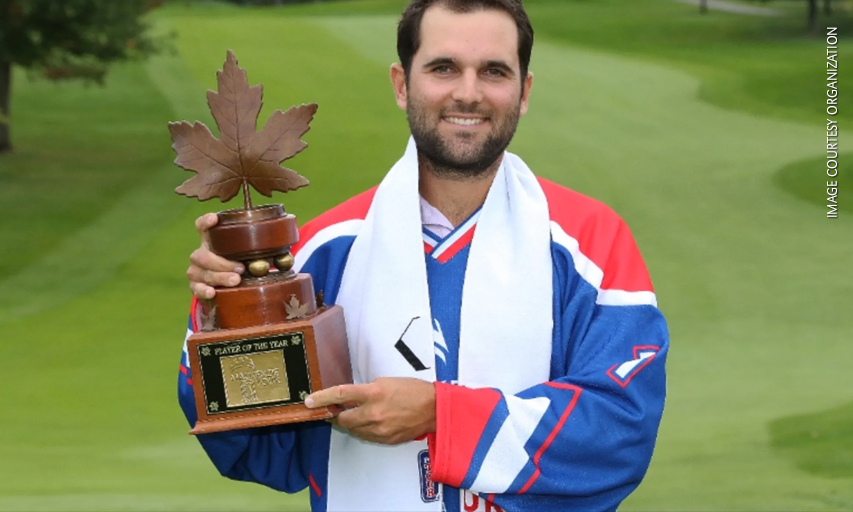 By BRENDAN STASIEWICH, Mackenzie Tour – PGA TOUR Canada
From start to finish, Paul Barjon was the top player on the 2019 Mackenzie Tour – PGA TOUR Canada, and it showed in the final Order of Merit standings as Barjon finished atop the earnings' chart as the season came to a close. With his tie-for-27th finish at the season-ending Canada Life Championship, Barjon, who entered the week in the No. 1 spot, held on to edge Canadian Taylor Pendrith by $2,746 to win the Player of the Year Award that goes to the Order of Merit winner. Barjon pocketed $127,336 in his 12 starts to Pendrith's $124,590. With the No. 1 final position secured, Barjon becomes fully exempt on the 2020 Korn Ferry Tour, while Pendrith will be conditionally exempt next season as he remained No. 2 in the standings by tying for 11th this week.
Barjon, a native of Dumbea, New Caldenoia, who graduated from Texas Christian University in Fort Worth, Texas, completed his third full Mackenzie Tour season by enjoying his best campaign as a professional. Barjon also played the Tour 2016 and 2018, and the Canada Life Championship tournament was his 36th career start.
"Finishing No. 1 was obviously the target at the beginning of the year. Whether I could do it or not was definitely a question mark. You always want to be the first guy, but it's hard to put that into your mind that you can do it," said Barjon after receiving his Player of the Year trophy. "I wish I had played better this week, but it was a great experience to play as No. 1 throughout the week and still a great accomplishment to finish first and get full Korn Ferry Tour status for next year."
Click here for the full story...