Berget Bests Cold, Defending Champ, To Capture ACAC Title
Details

Category: Inside Golf
Published: 2019-10-07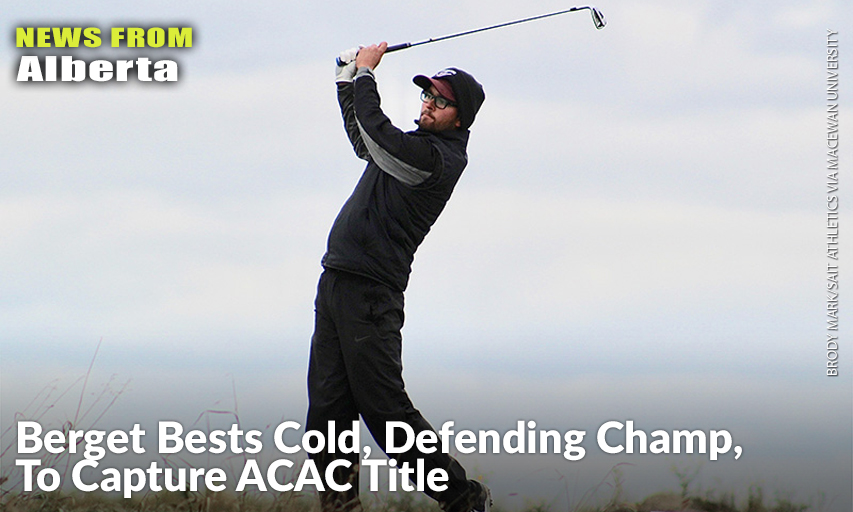 By GORD MONTGOMERY, Inside Golf
With a sweet swing and a solid game plan, plus some good winter-wear clothing and the right cold-weather attitude, Spruce Grove's Justin Berget became the men's golf champion of the Alberta College Athletic Conference's 2019 season. But it was far from easy.
Besides his personal title, Berget, a student at Edmonton's Grant MacEwan University, carried the Griffins to a second-place finish in the tournament that featured college teams from across Alberta.
While many consider golf a warm weather endeavour, it was anything but warm for those teeing it up at the host venue, the demanding Coal Creek Golf Resort. Temperatures hovered barely above zero with a mix of rain and snow paired with strong winds over the relatively unprotected links-style layout, meaning players not only had to be physically ready to play but mentally prepared as well.
Berget, who plays and works out of the Stony Plain Golf Course said his coaches had he, and his teammates, ready for what was to come at them at the three-day event.
"I was confident going in," coming off his Northern Regional win two weeks earlier, "but I wasn't too sure how I was going to deal with the conditions. I was confident, but knew it wasn't going to be easy," especially with Michael Harrison, the defending champ from the UAlberta-Augustana, back to defend his title and was playing on his home course, Berget explained.
As for the nasty weather conditions, the winner noted, "Our coaches did a good job of driving home that you had to embrace it or you were done. I just got it into my head that it was going to be a battle and embraced that."
Of the weather, and the course conditions given the wind and temperatures, the course's head professional, Jerry Lukasewich said nothing was softened up in order to make things somewhat easier on the players.
"It certainly didn't make for good scoring conditions," he began, "but even still, there were some good scores out there."
"We didn't soften the course up too much. It played to just over 6,500 yards which I think is about average for an ACAC event. And really, the course didn't play much more difficult because of the conditions."
In picking up his win, Berget put his coach's wisdom to work by embracing the cold and finishing the 54-hole event at minus-2, winning by an incredible nine shot margin. Berger used his strength off the tee to set the standard from the opening round on his way to his biggest-ever win.
"I was able to stay somewhat aggressive by letting the driver kind of penetrate the wind. I hit driver more often than not. My plan was, if I was going to be in the fescue," which protects much of this immaculate layout, "I may as well be closer to the green," than playing an iron or hybrid off the tee and ending up in the same spot but further from the green.
Holding the lead by five headed into the final round, Berget said he battled another foe — uncertainty and nervousness.
"After the second day, that was kind of when it got a little tough to deal with. Saturday night, when you hold a five-shot lead, there's a lot of pressure to maintain it. I've never gone wire-to-wire before so I kind of didn't know how to prepare, how to deal with that. I was a little nervous but as soon as I got going and got into the round I was OK. But, my first shot went into the fes-cue and I went, "Oh, no!" and I didn't know what was going to happen. But after five or six holes, I was super comfortable."
"I'd heard that you're not supposed to protect a lead, not be too passive, or bad things start to happen. So I had the mindset, "Well, there's a reason I have a five-shot lead," and I stuck to my game plan. Keep using driver. Stick with what got me there," which in the end added up to the big win.
With the win Berget received a gold medal, a plaque as ACAC male Golfer of the Year, and he will be named a CCAA All-Canadian at nationals in Montreal where he will compete alongside his teammates in that event after they placed as runners-up to the winning team from Medicine Hat.
The winner said for now he's going to cherish his first win since his junior days, especially since the future appears uncertain for the golf team at MacEwan University. And he'll likely cherish this memory in front of a fireplace as he looks to warm up from what was a brutally cold and miserable weekend, tempered by the fact he's the provincial college champion for 2019.
---
About the Writer
Gord Montgomery is a member in good standing of the Golf Journalists Association of Canada. He is now in his 10th year of writing for Inside Golf. He can be reached at This email address is being protected from spambots. You need JavaScript enabled to view it.. He's also on Twitter at @gordinsidegolf and on Instagram at gordinsidegolf2.