Players Battle Tough Weather Conditions In Final MJT Ford Series At Mayfair Lakes
Details

Category: Inside Golf
Published: 2019-10-17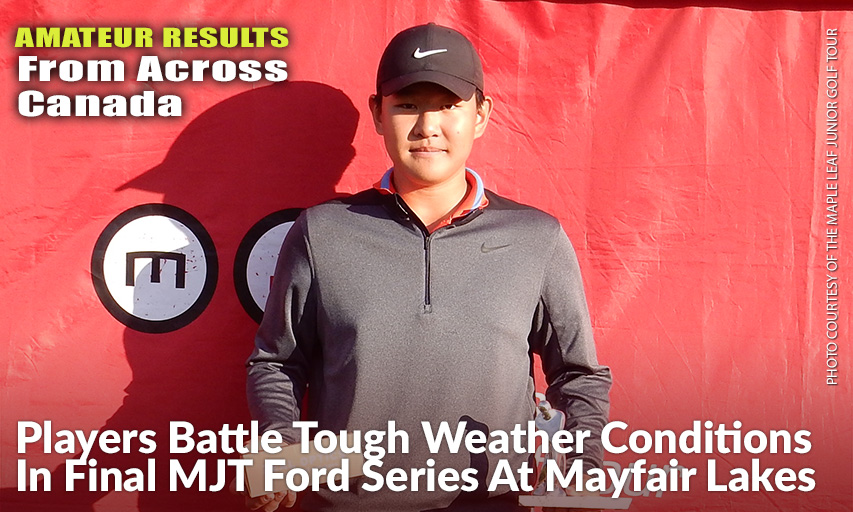 By MAPLE LEAF JUNIOR GOLF TOUR
RICHMOND, British Columbia — With the 2019 golf season ending, the Boston Pizza-presented Maple Leaf Junior Golf Tour held its final 2019 MJT Ford Series event of the year on October 12 and 13 at Mayfair Lakes Golf and Country Club in Richmond, BC. Over 120 youth came out to participate over the weekend as it featured both a two-day Ford Series Tournament for competitive players and a one-day Cam Clark Ford Go Golf Junior Clinic, offering a free introduction to the game. Competitors in the tournament were vying for titles in seven divisions while also getting the opportunity to win a new Ford vehicle on the fourth hole during round two with the Ford Hole-in-One contest.
Winning his third consecutive MJT tournament of the season in the Juvenile Boys division was Langley, BC's Danny Im. The 15-year-old golfer, who plays out of Redwoods Golf Course, made three birdies in his first round and an impressive 17 pars on the second day on his way to a 76 and 73 (149). "I didn't know that I had won until the last putt," commented Im. "I knew I had to beat two strong competitors and I was happy to get the win." Im also took home the Low Overall Boys score for the tournament. Finishing runner-up in the division was 16-year-old, Bryan Chan. The Port Coquitlam, BC-golfer fired scores of 76 and 77 (153).
The MJT Bantam Boys division saw returning MJT star, Jay Xu, continuing his winning ways. Playing up a division, the 12-year-old golfer carded rounds of 74 and 78 (152) to win by six shots. "I made some long putts and adjusted to the greens," remarked Xu after the tournament. "I was trying really hard to not go into the water." Leo Huang, 14, of Vancouver, BC, came in second place with scores of 80 and 78 (158).
MJT Mini Tour National Champion, Michael Li, 11, took home his first junior tour win of the 2019 season at Mayfair Lakes in the Peewee Boys division. The Vancouver golfer fired consistent scores of 75 and 76 (151) over the two days. "I thought I played well given how cold and windy the conditions were," mentioned Li. "I want to thank MJT for organizing another great tournament." Taking home second place was 12-year-old, Eric Joo, of Coquitlam, who recorded rounds of 75 and 79 (154).
No stranger to the top of the leaderboard was 14-year-old, Erin Lee, who took home her sixth Hoselton trophy of the 2019 season. The Langley golfer, who also plays out of the Redwoods Golf Course, fired scores of 73 and 74 (147) to win the MJT Girls 15-18 division by 11 shots and grab hold of the Low Overall Girls score. "The best part about my game was my driving," commented Lee. "I did a great job of keeping my tee shots in the fairway which allowed me to score." Lee, who was the MJT Boston Pizza National Champion last year, will be heading down to Reunion Resort in Florida to defend her title in three weeks. Sonja Tang, 17, of Vancouver, finished the division in second place with a pair of 79s (158).
In the MJT Girls U15 division, West Vancouver player, Jessica Zhao,14, held on to her round one lead to win after an exciting push from behind from Burnaby, BC-golfer, Shelly Li, 13. Feeling the presence of Li, Zhao commented, "I knew Shelley was playing well, but I tried to focus on my own game." Zhao shot scores of 77 and 81 (158) to win her division by five shots. Li improved her round two score by seven shots recording an 85 and 78 (163) to finish runner-up.
The MJT Junior Boys division was won by 17-year-old, Mackenzie Bickell, of Richmond. Bickell, who recently won the MJT Big Max Series at Whistler Golf Club, returned to the MJT to play his third tournament on his home golf course and made a remarkable comeback to claim the Hoselton trophy. Bickell recorded scores of 81 and 73 (154) to win the division by two shots after being down five shots after the first day. "I tried my best to stay in there on Saturday," remarked Bickell. "My plan was to just stay patient hit the right golf shots on the second day." Also climbing the leaderboard after the first day was 17-year-old, Hayden Prive, of Prince George, BC, who shot 79 and 77 (156) to finish in second place.
The MJT Collegiate division was captured by Ryan Austin, 20. The Surrey golfer carded scores of 90 and 85 (175) for his second MJT win of the season and third of his junior career. "I did a good job controlling my ball flight in the wind," mentioned Austin. "My strategy going in was to position myself well off the tee and I did that even in those conditions."
For PLYR Long Drive, PLYR Closest-to-the-Pin and the MJT Booster Juice Comeback Award winners, please visit the highlights page for the tournament here.
This tournament marks the end of the 2019 MJT regular season. The MJT Boston Pizza National Championship presented by TaylorMade and adidas golf will take place at the Reunion Resort in Florida from November 7 to 10. To follow along or for more information, please visit www.maplejt.com.
---
About Ford
Ford of Canada employs over 23,000 talented individuals in the fields of finance, sales and marketing, information technology, manufacturing and engineering, and human resources. This diverse workforce is responsible for the manufacturing and assembly operations that bring 320,000 vehicles and 425,000 engines to market. At Ford we are proud to be Canada's longest-established automaker and remain committed to building a strong future in Canada. www.ford.ca.
About the MJT
The non-profit Maple Leaf Junior Golf Tour presented by Boston Pizza is Canada's number one-played Junior Golf Tour as well as the only national junior tour run exclusively by PGA of Canada Professionals and the 'Road to College Golf' in Canada. The organization is presented nationally by Boston Pizza and supported by valued Premier, Tournament and Product Partners. The MJT hosts close to 80 events across Canada, including free Ford Go Golf Junior Clinics, the MJT Mini Tour for 7 to 12 year olds, the Collegiate Tour for 19 to 23 year olds, and multi-day events for competitive players aged 11 to 18 which are also qualifiers for international competitions. The program offers annual awards, scholarships, and frequent player incentives to help reward player's performance and participation throughout each season. MJT alumni include many Professional Tour players and PGA of Canada Professionals, as well as Canadian Amateur, National and Provincial Junior Champions. The MJT aims to develop champions, in golf and in life, promoting the game from grassroots through to provincial, national, university and professional level. For more information, see www.maplejt.com.