Dustin Johnson In Position To Become The King Of Pebble Beach
Details

Category: News
Published: 2018-02-11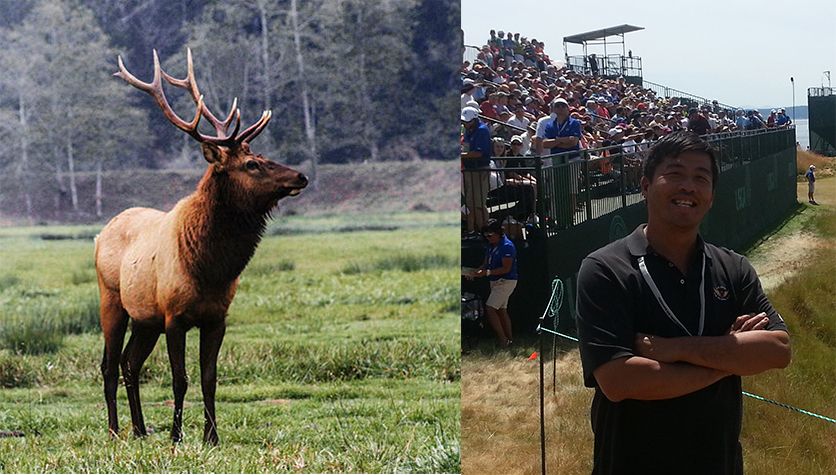 Little Did Alfie Lau Realize That He Was Being Sized Up By A Rogue Buck While Lau Was Covering The Marquee Group Of Dustin Johnson, Jordan Spieth, Jake Owen And Wayne Gretzky - Image Credit Unknown
By Alfie Lau
Dustin Johnson looks set to be the story of the 2018 AT&T Pebble Beach Pro-Am so when I went out to see him play, I expected golfing greatness. Instead, I found something unique.
It would have been the most amusing obituary ever written and it would go something like this:
Golf reporter Alfie Lau died Friday afternoon near the fourth green of the Shore Course at Monterey Peninsula Golf Club after a charging buck took out Lau and two Monterey County sheriffs who were guarding the marquee group of Dustin Johnson, Jordan Spieth, Jake Owen and Wayne Gretzky.
As Johnson lined up his birdie putt, the enraged buck came rushing down from halfway down the par-4 fairway, past Gretzky and into the reporter clad in a lime green shirt and the two sheriffs who had been checking their phones when the calamity occurred.
Perhaps the buck saw a doe in need of some love on the fifth fairway but with its wild eyes and a zigzagging weave of a run, there was nowhere for Lau and sheriffs to hide as the buck gored all three of them with his impressive horns.
Bystanders said Lau's last words were "Thank God I got in to get some seafood chowder and salmon. It was the best last meal ever."

No, this is not a made-up story and other than the part that I wasn't hit by the buck and have survived to write this amusing tale tells you that this indeed happened on Friday.
Nobody knows why the buck was coming at warp speed down the fairway, but we could all see him coming and every one of us, from Gretzky to myself to the sheriffs, decided the best course of action was to not move and hope the buck sidestepped us instead of us moving into the onrushing buck's path.
Gretzky, cool as a cucumber, just laughed it off, while Johnson stepped up and canned his long birdie putt. The sheriffs got a good laugh while I wondered exactly what my travel insurance health care covered in case of a Lau v. Buck incident.
I'll just chalk it up as another inside-the-ropes incident you can't ever think is going to happen, yet it does.
There was the time at the WGC Match Play in Marana, AZ when I was one of the first media members on the scene when Lee Westwood hit his drive into the back of a women's shirt. Investigative journalist that I be, I had to make sure no body parts were injured in the course of that wayward drive.
And then there was the time Tiger Woods and Phil Mickelson played the final round of the AT&T Pebble Beach Pro-Am in 2012 and Mickelson dusted Woods by 11 strokes en route to a runaway victory. With a 25-minute wait on the 18th tee box, Mickelson pulled out his best comedy routine, regaling anybody and everybody with every story and joke he could think of.
A sulking Woods sat forlornly on a water cooler, with only caddy Joe La Cava for company. Poor Joey probably wanted to laugh at some of Mickelson's stories but he knows who butters his toast. I listened and laughed, with the added benefit of having walked all 18 holes with Candice Crawford Romo, Tony Romo's wife and Woods' amateur partner for the week.
And it's not just on the course where the unexpected happens. At the 2016 PGA Championship at Baltusrol, I was one of a half dozen media members trapped in the bathroom when the foundation shifted, lowering the bathrooms just enough that the doors couldn't open out.
For the three men trapped, it was only 10 minutes of inconvenience, as a jack lifted the bathrooms enough for us to sneak out. For the three ladies trapped, it was more than an hour of the sights, smells and magnificence of a portable bathroom before their door could be opened.

Ah, the glamorous life of covering golf tournaments.
But back to the AT&T Pebble Beach Pro-Am, Dustin Johnson is showing the golf world that he can drive it long and straight and if not for socks and stairs at a rental home in Augusta last April, he might already have more than one Major in his possession.
Finishing the day at (-14) and tied with Ted Potter Jr., the lefty who had a chance to shoot 59 at Monterey Peninsula only to finish bogey-bogey for a (-9) round of 62, Johnson has to be the man to beat on Sunday.
On Saturday, Johnson got his day going with an eagle on the par-5 2nd and looked to take apart the course as his entourage of Paulina and Wayne Gretzky watched. Even with a bogey on the par-4 3rd, DJ was (-4) after his first seven holes, opening up a four-stroke lead.
But as the wind picked up, three bogeys derailed Johnson's round until a closing birdie gave Johnson the confidence that on Sunday, he will be lifting the crystal winner's trophy at Pebble once again. "All in all, the game's pretty sharp," said Johnson. "I feel like it's in really good form going into tomorrow."
Lurking just two strokes behind Johnson is Jason Day, winner of the Farmers Insurance in San Diego just two weeks ago.
DJ certainly has his supporters, but it's his amateur partner that really has fans excited. Wayne Gretzky is not only hockey royalty, he's becoming golf royalty because of how he helped DJ turn his life around. And with his life in good harmony, DJ's golf game is stunning in its simplicity: Hit ball far. Sink some putts. Repeat.
The third round of the AT&T Pebble Beach Pro-Am is always an interesting day because the play of the celebrities is highlighted. Watch model Kelly Rohrbach drive the ball. See Larry the Cable Guy hit an approach shot. And you can't forget seeing Bill Murray's histrionics as he continues the victory tour after winning the Amateur title in 2011 alongside D.A. Points.
Saturday is also when the cut is made, with the top 60 pros and the top 20 Pro-Am teams making Sunday. Even if the professional is going to miss the cut, if his amateur team is in the hunt, they get to play Sunday, in a back door, mulligan, repechage type of way.
That's how Mike Weir and George Roberts get their Sunday tee time, as all six Canadian professionals missed the cut.
Weir finished at (-2) for the tournament, including sub-70 rounds on Friday and Saturday, but Roberts, playing to a 7 handicap, was good for 19 strokes and the team's (-21) total.
Abbotsford's Nick Taylor got to within one stroke of the cutline before back-to-back bogeys doomed his Sunday round at Pebble Beach. Taylor finished at (+1) while further back, at (+3) was Corey Conners and Ben Silverman; Mac Hughes finished at (+4) and David Hearn at (+5).
About The Writer:
Alfie Lau has been a contributor to Inside Golf for several years and is making his annual pilgrimage down the coast for the PGA TOUR's West Coast Swing. He can be reached at www.twitter.com/AlfieLau