B.C. Golf Notes: Svensson Posts Career-Best Finish In Dominican Republic; Hadwin Returns To Action
Details

Category: News
Published: 2017-05-11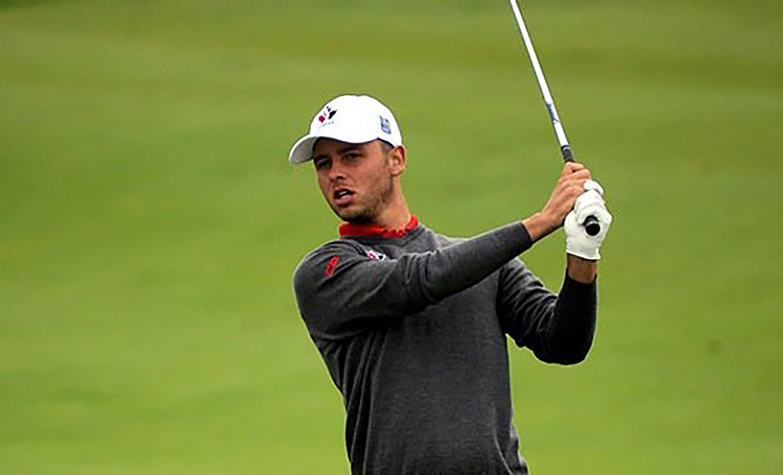 Surrey's Adam Svensson Had His Best Finish On The Web.com Tour In The Dominican Republic This Weekend - Image Courtesy SporBox Entertainment Group
By Brad Ziemer, British Columbia Golf
A tie for sixth place at the Web.com Tour's Corales Puntacana Resort and Club Championship was a career-best finish for Surrey's Adam Svensson.
Svensson strung together rounds of 67, 65, 69 and 70 in the Dominican Republic to finish at 17-under par, three shots behind winner Nate Lashley of Scottsbluff, Neb. Svensson earned $21,719 and moved to 45th from 91st on the Web.com Tour money list. Svensson, who started his year by missing three straight cuts, has finished inside the top 25 in three of his last four starts.
Merritt's Roger Sloan made the cut in the Dominican Republic but struggled on the weekend and finished in 68th place. Sloan fell to 25th from 21st on the Web.com Tour money list. Justin Shin of Maple Ridge and Langley's Adam Cornelson both missed the cut.
The Web.com Tour is taking a two week break and resumes May 18-21 for the BMW Charity Pro-Am in Greer, S.C.
ADAM IN ACTION: Abbotsford's Adam Hadwin returns to action this week after a two-week break. He heads to the Players' Championship having made 13 straight cuts. Hadwin, a winner earlier this spring at the Valspar Championship in Florida, currently sits sixth on the FedEx Cup points list.
This will be Hadwin's third appearance at the Players' Championship. He missed the cut in 2015 and tied for 39th last year. Abbotsford's Nick Taylor, who tied for eighth at the Wells Fargo Championship on Sunday, is not in the Players' field.
He missed qualifying by failing to finish in the top 125 on last year's FedEx Cup points race (he was 129th). Unlike most PGA TOUR events, a top 10 the previous week does not earn you a spot in the Players' Championship.
HOME SWEET HOME: It was a trip home Riley Wheeldon wasn't exactly looking forward to, but the Courtenay native made a visit to Crown Isle Golf Resort worth his while last week. After failing to finish in the top 60 on last year's Mackenzie Tour-PGA Tour Canada money list, Wheeldon had to return to qualifying school. He felt right at home playing at Crown Isle, the course he grew up on. The 26-year-old former B.C. Junior champion finished alone in sixth place with a 72-hole score of 11-under.
That means Wheeldon will be exempt through the first four events of the Mackenzie Tour season, which begins June 1-4 with the $175,000 Freedom 55 Financial Open at Point Grey Golf & Country Club in Vancouver. "It wasn't my best week, but I did what I needed to do," Wheeldon said. "Now my goal is to play as well as I can early and ideally turn those four events into an entire season."
B.C.'s BEST: Golf Digest's latest Best in Canada list is out and six British Columbia courses made the magazine's top 30 list. Capilano in West Vancouver was rated the top B.C. course at No. 7. Shaughnessy in Vancouver was ranked ninth, Victoria Golf Club was rated 16th, Sagebrush near Merritt was ranked 18th, Tobiano in Kamloops was 26th and Royal Colwood in Victoria was 30th. Sagebrush was an interesting selection, given the course has been closed for two years. Cabot Cliffs in Nova Scotia was selected as the top Canadian course.
'BIRDS FLY: The University of British Columbia's men's team earned a berth in the NAIA national championships by defending its Association of Independent Institutions conference championship last week in Chesterton, Ind. UBC finished the 54-hole event at 18-over par, six shots ahead of runner-up University of Victoria.
Four of UBC's five golfers finished in the top 10. UBC's Evan Holmes edged teammate Jack Wood and Victoria's Lawren Rowe by one shot to claim the individual title with a score of two-over 218. The NAIA national tourney goes May 16-19 at the TPC Deere Run in Moline, Ill. Victoria is hoping to earn an at-large invite to the national tourney.
EIGHT STRAIGHT: The UBC women won their eighth straight AII conference championship in convincing style. The Thunderbirds beat the field by 44 shots in the 36-hole event. The University of Victoria placed second. UBC's Kat Kennedy won the individual title for the second straight year with a score of two-over 146. The Thunderbirds advance to the NAIA national championships May 23-26 at PGA National Golf Course in Palm Beach Gardens, Fla.
CHIP SHOTS: Kimberley's Jared du Toit has been named to the All-Pac-12 first team. Du Toit, who is completing his senior year at Arizona State University, will lead the Sun Devils into the next week's NCAA Regionals. The Sun Devils are playing their regional in Austin, Tex. . .Kyle McMurphy of Eaglequest fired a three-under 69 at Royalwood in Chilliwack to win a Srixon PGA of BC Tour event. Matt Palsenberg, Kevin Stinson and Sean Ko tied for second with one-under 70s.