Stony Plain Pair Rolls To BlackWolf Title
Details

Category: Inside Golf
Published: 2019-11-04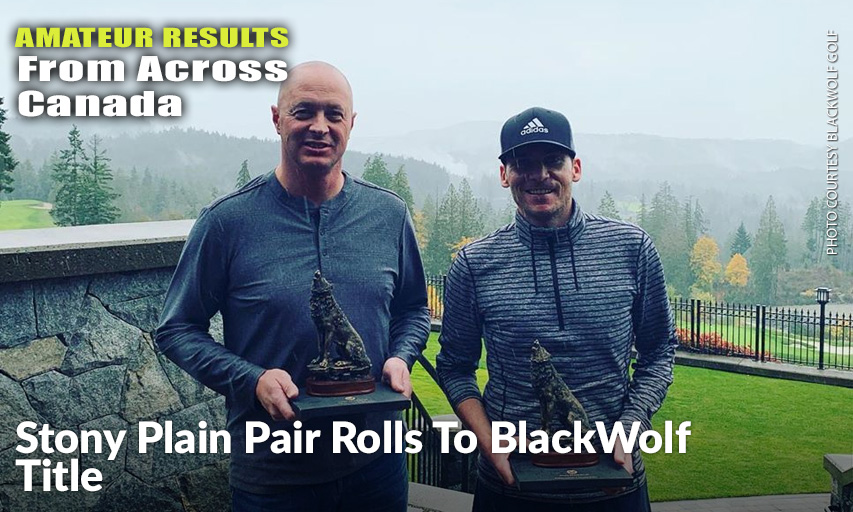 By GORD MONTGOMERY, Inside Golf
VICTORIA, British Columbia — We at Inside Golf aren't exactly sure what was on the breakfast menu for the winning team at Victoria's Bear Mountain Golf Resort, but apparently one of them knew what was cooking.
Blaine Kruger, along with partner Jeff Murdoch, representing the Stony Plain Golf Course, rolled to the 2019 BlackWolf Golf match play championship win with a 7-and-6 victory over the brothers pairing of Nick and Spencer Vandermey, who had a sterling record of 17-1 in such events entering the final two rounds of play.
"We ham and egg'd it really well," said Kruger, not about breakfast but the win itself, which came as redemption for him after he and his original partner were eliminated in the opening round of this popular Alberta event. Kruger, the associate pro at Stony Plain, actually subbed for his boss, Jeff Cuthbertson, who couldn't make the trip west because of business commitments.
"I was kind of on call," Kruger continued about his event mulligan. "A couple of hours before the flight, Jeff was like, "Hey. Go home and pack up."
Neither of the winners had seen the two courses at Bear Mountain before but with the game plan they instituted they excelled. "I'm more of a conservative player and Jeff (Murdoch) is more aggressive. I hit it in play kind of thing; he took on some crazier lines," explained Kruger. "I played it like any golf course I haven't seen, very conservatively."
The winners were 4-up after the opening 18 played on the Valley Course and kept the pressure on from there the next day on the Mountain course. Kruger birdied the opening hole to start the second day and the pair never looked back.
"Jeff played really well the first day and I played well the second day. It worked out pretty good."
For Murdoch, who played as an amateur but is a former club pro who indicated he'd like to get his pro status back in the not-too-distant future, the change-up of partners didn't bother him at all.
"Blaine's a very accomplished player so I wasn't worried about that. I can only control what I can control. I just stayed out of his way and he was a definite asset."
Murdoch turned to technology to aid his pre-tourney preparation. "I used Google Earth a little bit to come up with a game plan. I pre-scouted a few holes, but other than that I had no idea about the elevation changes."
Taking down the Vandermay twins was a huge challenge, said Murdoch, but the game plan he and Kruger used paid off handsomely in the end.
"You can't really control how your opponents play. I always expect your opponent to do the unexpected. You have to assume they're always going to make all their shots."
Although they held a comfortable ead going into day two, Murdoch felt it could have been larger.
"I was a little disappointed we were only four-up. We let our guard down a little on 16 and 17 (the first day). At one time, we had it to six-up and then they got it back to 3-up," before the Stony pair took control of things with a birdie on 18 on the first day to lead by four holes entering the second day.
Winning the event meant big things for both players.
"It's important to me," said Murdoch, noting that he is done with amateur golf and wants to head back to the pro world. "This (win) motivates me. I'm playing with golf professionals and although I'm 45, why can't I compete with the 20-somethings?"
For Kruger, it was all about coming home with the championship trophy, which with a convincing win of 7-and-6, he accomplished.
The BlackWolf Match Play is an annual event played throughout Alberta. For more information, go to @blackwolfgolf.
---
About the Writer
Gord Montgomery is a member in good standing of the Golf Journalists Association of Canada. He is now in his 12th year of writing for Inside Golf.
He can be reached at This email address is being protected from spambots. You need JavaScript enabled to view it.. He's also on Twitter at @gordinsidegolf and on Instagram at gordinsidegolf2.