Record Setting 112 Players Travel To Florida For MJT Boston Pizza National Championship Presented By TaylorMade And adidas Golf
Details

Category: Inside Golf
Published: 2019-11-07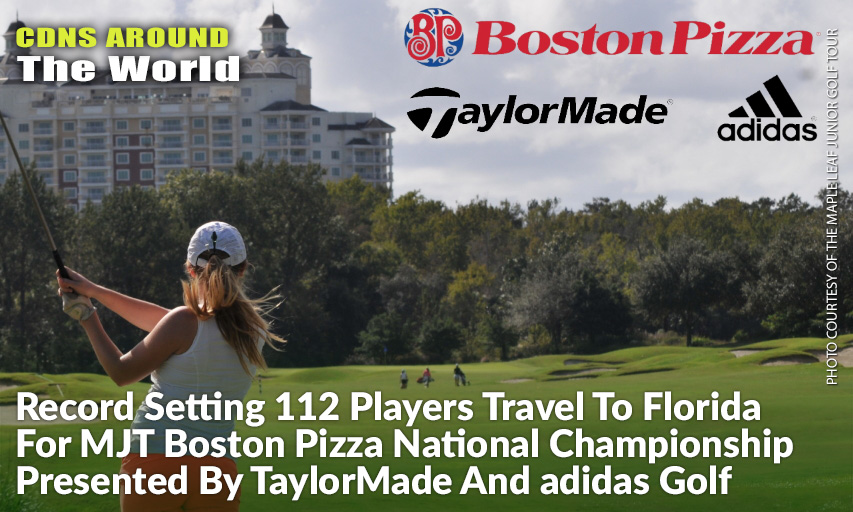 A record-setting number of 112 elite junior golfers have qualified to make their way down to Reunion Resort in Kissimmee, Florida, this week, to compete in the Maple Leaf Junior Golf Tour's highly anticipated MJT Boston Pizza National Championship presented by TaylorMade and adidas Golf, November 7 to 10. "The field attending shows that junior golf is thriving in Canada," said Trent Matson, Director of National Operations. "We are very proud to continue as the number-one played junior tour in the country and look forward to hosting everyone."
The players, who will contest in seven age divisions for their respective National titles over three competitive rounds, received members-only invitations based on performance during the season, and the high caliber field includes 2019 MJT Players of the Year, regional Order of Merit winners, MJT Team Canada members and individual tournament champions.
Notable names to watch in each division during the tournament include MJT Peewee Boys National Order of Merit Winner Peyton Stahl, of Priddis, AB. Stahl will be up against some tough competition coming from players like Emil Liddell, from Vancouver, BC, and Dane Giesbrecht, from Warman, SK.
Flying in from the small town of Vernon, BC, is the MJT Bantam Boys Player of the Year, Ryan Vest. Vest enters the tournament with a scoring average of 70.14 but will face new competition from the likes of Brett Jones, from Calgary, AB, and Ben De Castro, of Toronto, ON. Moving up a division from 2018 is 13-year-old, Andre Zhu of Richmond Hill, ON, who was the 2018 Peewee Boys National Champion. The Bantam Boys title is open for the taking with all boys in the division considered as contenders.
With 32 players, the MJT Juvenile Boys is the largest division of the tournament. With star golfers from across Canada, including Cooper Humphreys, of Kelowna, BC, Tommy McKenzie, of Calgary, AB, Alex Swinnerton, of Saskatoon, SK, and Charlie Cooper, of Caledonia, ON, a close finish is expected, especially with 2018 MJT Bantam Boys National Champion, Braxton Kuntz, of Winnipeg, MB, now playing as a Juvenile. Kuntz looks to build on a great 2019 season which includes one victory and three top-three finishes in Manitoba.
The MJT Junior Boys National Order of Merit winner, Yashin Kapadia, of Brampton, ON, is one of many season-long Champions vying for a National title. Standing in the way are Manitoba Order of Merit Winner, Neel Soni, of Winnipeg, MB, BC Order of Merit Winner, Riley Geiger, of Langley and Sam Bratvold, of Medicine Hat, AB. Other notable title hopefuls are Nicolas-Guy Landry, 17, of Calgary, Kiefer Bulau, 17, of King City, ON and Ryan Hodgins, 17, of Medicine Hat, AB.
The MJT Collegiate Division will feature returning 2018 National Champion Jacob Magee, of Calgary. He will attempt to defend his title against the familiar faces of Dakota Smith, of Edmonton, AB, who is the MJT Collegiate Player of the Year, and Keighton McNab, of Saskatoon. Newcomers to the National Championship, Matthew Medhurst, of North York, ON, and Connor Ackroyd, of St. Albert, AB look to dethrone the defending Champion and Player of the Year.
On the Girls side of the draw, 2018 Girls U15 National Champion, Erin Lee, from Langley, returns to the National Championship stage looking to now take home the title in Girls 15-18 after playing up a division. A MJT standout, Lee rolls into the tournament with the 2019 Girls 15-18 Player of the Year title, the National Order of Merit title, six tournament wins on the BC circuit, and the lowest scoring average in the country at 73.39. She will have to take on the likes of top golfers such as Autumn Neiszner, of Regina, SK, and Alessandra Nagayo, of Toronto, ON, in order to claim the title.
In the Girls U15 division, MJT National Order of Merit Winner, Karolyn Zeng, of Maple, ON, is one of the favourites from Eastern Canada who will face the likes of upcoming stars from Western Canada including MJT Player of the Year, Luna Lu, 12, of Burnaby, BC, who comes in with the lowest national scoring average in the division, as well as BC Order of Merit Winner, Annalise Stolzenberg, of Langley. Other notable competitors include 2019 Drive, Chip and Putt third place finisher, Anna Huang, 11, of Vancouver, BC, and SK Order of Merit Champion Ella Kozak, 13, of Yorkton, SK.
The MJT is excited to confirm that Sean Foley, one of the biggest names in golf instruction who coaches the likes of Justin Rose, Danny Willett, Cameron Champ and was formerly the coach of Tiger Woods, will be in attendance during the opening reception on Thursday, November 7, to speak to the participants.
This prestigious tournament, which culminates a successful 21st season on Canada's most-played junior golf tour, features an 8:00 am shotgun start each day on the Watson Course at Reunion Resort. Groupings for the first round can be found on the MJT website.
---
About Boston Pizza
BPI is Canada's number one casual dining brand with annual gross sales in excess of $1.0 billion serving more than 45 million guests through over 380 mainly franchisee operated restaurants. The Boston Pizza brand has successfully existed for over 50 years since opening its first restaurant in Edmonton, Alberta in 1964.  BPI has been recognized as a Platinum Member of Canada's 50 Best Managed Companies and has been a Franchisees' Choice Designation winner for six consecutive years. For more information, visit www.bostonpizza.com.
About TaylorMade Golf Company
Headquartered in Carlsbad, California, TaylorMade Golf is a leading manufacturer of high-performance golf equipment and golf balls and a major force on the PGA TOUR. With industry-leading innovative products like M1/M2 metalwoods, M1/M2 irons and TP5 golf balls, TaylorMade has one of the strongest athlete portfolios in golf, with six players in the current Top 12 in the world. Key athletes include world Dustin Johnson, Rory McIlroy, Jason Day, Masters champion Sergio Garcia, Olympic champion Justin Rose and Jon Rahm.  Click here for the website.
About the adidas Group
The adidas Group is one of the global leaders within the sporting goods industry, offering a broad range of products around the core brands: adidas, Reebok, TaylorMade and Reebok-CCM Hockey. Headquartered in Herzogenaurach, Germany, the Group has more than 53,000 employees.  Click here for the website.
About the MJT
The non-profit Maple Leaf Junior Golf Tour presented by Boston Pizza is Canada's number one-played Junior Golf Tour as well as the only national junior tour run exclusively by PGA of Canada Professionals and the 'Road to College Golf' in Canada. The organization is presented nationally by Boston Pizza and supported by valued Premier, Tournament and Product Partners. The MJT hosts close to 80 events across Canada, including free Ford Go Golf Junior Clinics, the MJT Mini Tour for 7 to 12 year olds, the Collegiate Tour for 19 to 23 year olds, and multi-day events for competitive players aged 11 to 18 which are also qualifiers for international competitions. The program offers annual awards, scholarships, and frequent player incentives to help reward player's performance and participation throughout each season. MJT alumni include many Professional Tour players and PGA of Canada Professionals, as well as Canadian Amateur, National and Provincial Junior Champions. The MJT aims to develop champions, in golf and in life, promoting the game from grassroots through to provincial, national, university and professional level. For more information, see www.maplejt.com.