PGA of Alberta's Kincade Honoured By Recognition From Peers
Details

Category: Inside Golf
Published: 2019-11-12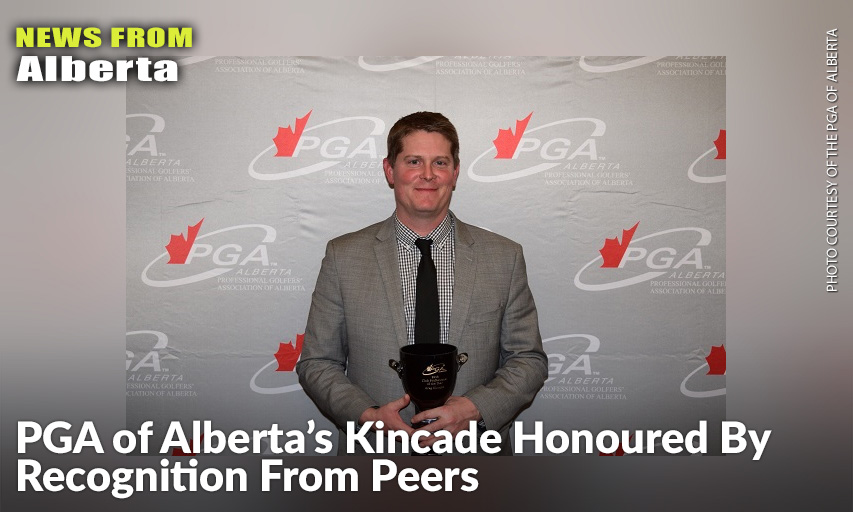 By GORD MONTGOMERY, Inside Golf
CALGARY, Alberta — When your peers acknowledge you for your work ethic and leadership, you know you're doing something right. That's the feeling Greg Kincade was left with after being named the PGA of Alberta's Head Professional of the Year at their recent awards night.
Kincade, who worked his way from the bottom of the ladder in the golf industry as the kid cleaning clubs in the back shop up to his present job as the head of the golf shop at the Edmonton Country Club, said he was honoured to walk away with this award.
"This means a lot. I mean there are so many people that do such great work that to be recognized like that, it's unbelievable," he commented on winning. "It's amazing."
Kincade said he feels one of his strengths in his leadership role is keeping a finger on the pulse of his club and meeting the wants and needs of the members.
"It's probably attention to detail. There's no one overwhelming task. You have to keep track of many different tasks that are asked of you, the many different requests from members, and trying not to lose track of where things are at. It's just being aware of the details and following up on things you say you'll follow up on."
As for his leadership style, Kincade suggests he's not afraid to get his hands dirty even though he could have left that part of the business behind years ago.
"That's where I started in this whole career, was washing golf clubs. I think that's something people appreciate. That I've done these jobs, all the dirty jobs. I'm certainly not afraid to take part if need be, to get in there and get (my) hands dirty. But you have to try and manage your time. You don't want to do all the jobs," he said with a chuckle. "It's probably more my style that I want to get involved as much as I can."
"That's good for morale," he continued about stepping in, and up. "I think it's important for staff to see that all the details matter. If I tell the people that work here it's important to follow up on the details. Nothing is too small. It's really important to lead by example."
Having now copped this award, Kincade said it doesn't mean he'll sit back and relish in the glow. Rather, he'll continue on as he has in his role as the club's head professional — leading by example.
"When I first got nominated four or five years ago I was kind of taken by surprise because I was focused primarily on the job at hand here at the Country Club. It's kind of hard to get my head around as to how other people from around Alberta ... obviously somebody must have noticed that, whether sales reps or other pros. It was very much a surprise to me how many people had an awareness of what I was doing here. Having 50 or 60 people congratulate me on my work, it makes me want to work harder. You want to live up to the award, to the accolades."
While Kincade was honoured singly as the Head Professional of the Year, he noted that his staff shares in this because of their hard work.
---
About the Writer
Gord Montgomery is a member in good standing of the Golf Journalists Association of Canada. He is now in his 12th year of writing for Inside Golf.
He can be reached at This email address is being protected from spambots. You need JavaScript enabled to view it.. He's also on Twitter at @gordinsidegolf and on Instagram at gordinsidegolf2.