McCourt Steps Outside Box To Capture Award
Details

Category: Inside Golf
Published: 2019-11-27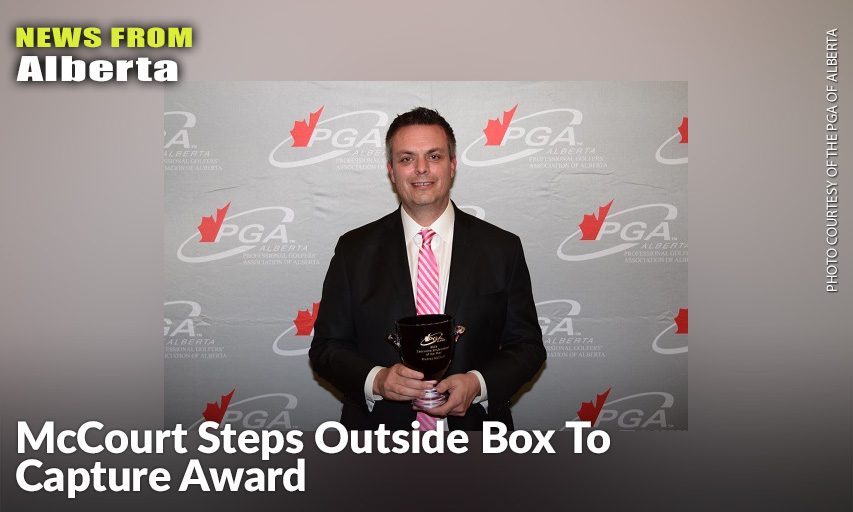 By GORD MONTGOMERY, Inside Golf
CALGARY, Alberta — Murray McCourt knows that to stay on top of the changing times in the world of golf, one has to be on top of his own game. Thus, his ability to step outside the box when it comes to marketing is what sets him apart in the industry.
To that end, McCourt, from The Ranch Golf & Country Club just outside of Edmonton, was nominated for, and received, the 2019 rendition of the Executive Professional of the Year award through the PGA of Alberta and his peers.
Speaking to his approach of bringing different consumer-friendly ideas into his pro shop and golf course, the affable pro noted that today's public players are looking for rewards in return for their hard-earned dollars spent on green fees and equipment. As such, his loyalty program idea has proved to be a huge hit.
"The Ranch has been very fortunate that we've been highly successful over the years even with the downturn in the economy right now. We've been fortunate to battle through that and stay relevant and successful," he began in speaking to his marketing philosophy. "A big part of it, at least on my end, has been to think outside the box and try to do things to keep us relevant and keep us busy. The Ranch loyalty app that we launched three years ago has been incredibly successful for us, and that's certainly maybe part of why I would have got this recognition."
On top of that idea, McCourt also set in motion a promotional products company, Tough Stuff Promotions, allowing them to, as he explained, "Take the corporate sales to a completely different level by branding our own promotional products. Through the winter we offer things like sleigh rides, tobogganing, and bonfires and fireworks shows, things like that that help keep us busy through the winter months by offering unique options," and which in the end, keeps the course's cash registers ringing. "Those are some of the different ideas that we do out there that maybe set us apart from other places."
The importance of stepping away from "just being a golf course" is important, McCourt agreed although that came with somewhat of a caveat.
"I think you can survive on golf alone but it is tough. Being a little bit diverse in what you do is important to a certain degree but even with us, we are a golf course first and foremost and we need to be relevant to the fact we are a golf course. We need to protect that as best we can."
This year's award follows on the heels of being named the PGA of Alberta's Club Professional of the Year in 2017. The thing is, this winning never gets old, he stated.
"It truly is an honour to be recognized by your peers in the way I have been over the past couple of of years. No, it doesn't get old but it just makes you recognize you are making a difference in the industry."
The one interesting point he made here was such honours come from years of work, not just from a 12-month stint of dedicated labour.
"I don't necessarily view either award as something you did that (past) year. It's really a culmination of what you've contributed to the industry as a whole over your career. For me, being recognized for what I contributed to the industry over my career is very special, for sure."
Asked what's left for him to prove in the industry after 14 years at The Ranch, considering the awards he's taken home in the past while, McCourt noted there's always work to be done to stay in a prominent position in a crowded golf marketplace in the Edmonton area.
"As great as awards like this are, the greatest crown for me is The Ranch and the success of The Ranch. That's absolutely my biggest pride and joy outside of my wife and son.
"To keep The Ranch relevant and successful, making decisions and doing things that are going to make us successful long term are very important to me. Seeing as how I own part of The Ranch, I'm always going to want it to be as successful as possible and to always make the best decisions I feel I can moving forward, to make sure we stay on the right track. Even if I never win another PGA award in my life as long as The Ranch is healthy and strong, that's my biggest reward."
---
About the Writer
Gord Montgomery is a member in good standing of the Golf Journalists Association of Canada. He is now in his 12th year of writing for Inside Golf.
He can be reached at This email address is being protected from spambots. You need JavaScript enabled to view it.. He's also on Twitter at @gordinsidegolf and on Instagram at gordinsidegolf2.