The Shaw Charity Classic Once Again Goes Above And Beyond With Donations
Details

Category: Inside Golf
Published: 2019-12-06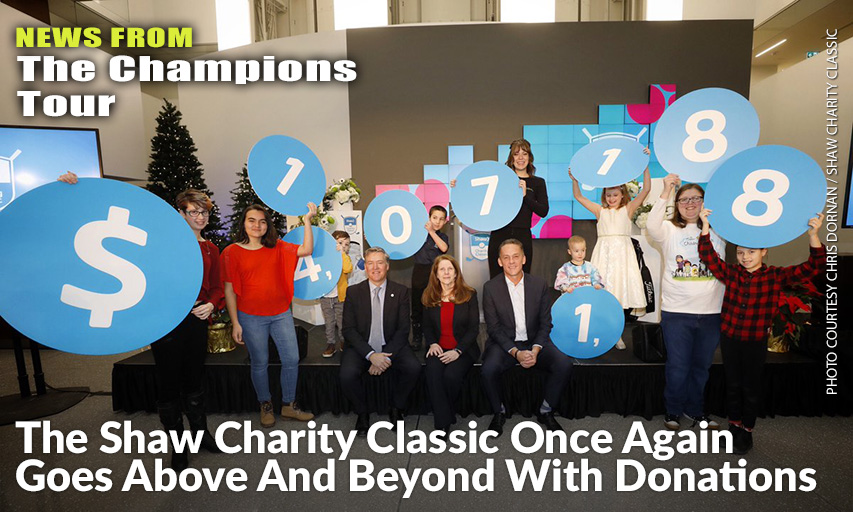 By GORD MONTGOMERY, Inside Golf
CALGARY, Alberta — While Wes Short, Jr. was the tournament winner and walked away from the 2019 Shaw Charity Classic in Calgary with a cheque for $352,500 and a white stetson, the biggest winners were the numerous charitable entities that benefitted in the end.
In all, 200 kids' charitable causes shared in excess of $14 million (CDN) to put toward their white hat causes all across Alberta. This was the seventh straight year the Shaw has topped its own charitable contribution from the year prior. To date, the PGA TOUR Champions Calgary event has funnelled $48 million toward worthwhile causes.
At the official release of the amount raised this year, Jim Riddell who is following in his late father's footsteps of helping others while giving others the chance to see top-rate golf played in their hometown, said, "It is an absolute thrill for me to look back on another record-setting year and realize this spectacular tournament continues to have a tremendous impact on our youth, which was the core goal of bringing this event to Calgary."
Speaking to what this tournament has done during its existence in Calgary, Shaw's VP of External Affairs, Chethan Lakshman took some time out during the tournament's first day to explain to Inside Golf the background of where all these funds go each year.
"There are a number of different things that have happened over the last number of years that have made it really easy to donate to charities that do great work in the province and the city," he began. "We developed this program called the Shaw Birdies for Kids (Presented by AltaLink) that allows charities who work with kids and youth to work with the Shaw Charity Classic to get matching funds. Shaw Communications has committed a million dollars to that this year and last year to make sure the matching pool is plentiful, and available, to these charities."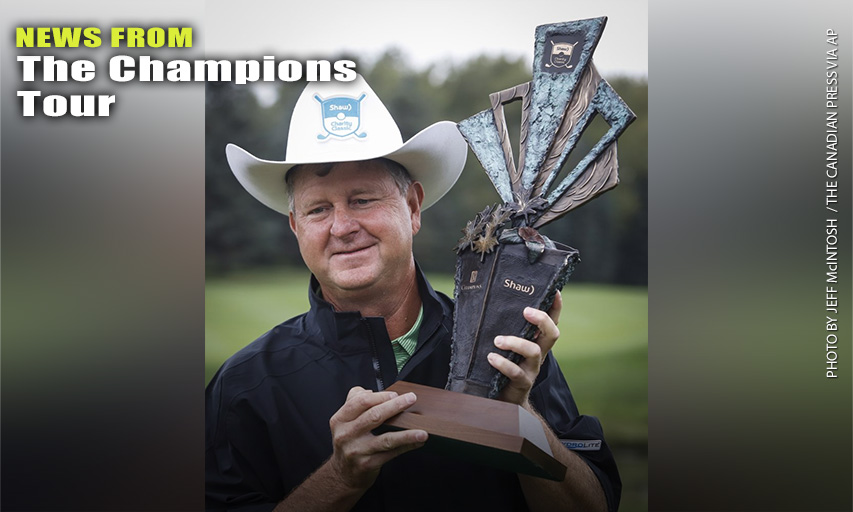 While Wes Short, Jr., Walked Away With The Championship Trophy From The Shaw Charity Classic, The Biggest Winners From The Event Were The 200 Alberta Kids' Charitable Causes That Benefitted Greatly From Monies Raised In A Variety Of Ways.
A big part of the fund-raising is a bonus on the 18th green, a par-5, where $1,000 is tossed into the kitty for each birdie and $5,000 for every eagle made by the players in the tournament. And yes, there are plenty of those each and every year with the total reaching over $100,000 in 2019.
When the kids' charitable groups first surfaced as the beneficiaries of this tournament, Lakshman noted that it was decided the organizers wanted to help more than just a handful of such bodies.
"It's a great way to provide funding for charities that are broad based, grassroots, some are large, some are smaller, some do niche work, some do broader work. Sports, medical care, social assistance, all of that stuff."
This idea originally sprang from a desire by Clay Riddell who broached the subject of "Bringing a world-class event as an opportunity to give back to this city's charities," Lakshman explained. "He negotiated with the PGA TOUR Champions and he backstopped it. He brought on board friends of his who'd help him with the financial responsibility and economic feasibility of the tournament. And then, he appealed to Shaw Communications, J.R. Shaw, Brad Shaw, and asked if we'd become part of it. Stephen Ames (than a Calgary resident) was also an integral part of that conversation. Between them it really came together very, very quickly. That was in 2013, April I think, and the first tournament was in August of that year."
Another large contributing factor to this past year's event was Super Saturday, where a number of high-profile athletes were invited in to compete in a Horse Race competition. As it turned out, Grant Fuhr topped the field and turned over the $15,000 he captured to the Make A Wish Foundation. Karrin Lee-Gartner, the Olympic alpine ski champ, finished second and passed on $7,000 to the Canadian Sports Hall of Fame. Another Olympian, curler Ben Hebert, was third and turned over $5,000 to KidSport.
"We talk about this internally at Shaw that really this is a massive charitable platform that happens to have an international class golf tournament. That's really what it is," ended Lakshman.
With this year's contribution of $14,071,188 the overall total has risen to nearly $50 million in seven short years, a mark that speaks volumes to not only the popularity of the event but to the generosity of fans and corporations that support the only PGA TOUR Champions stop in Canada each year.
The Shaw Charity Classic swings back into action again in 2010 at the Canyon Meadows G&CC from August 24-30 with what will again be another star-studded field of players in the 54-hole, no-cut event.
---
About the Writer
Gord Montgomery is a member in good standing of the Golf Journalists Association of Canada. He is now in his 12th year of writing for Inside Golf.
He can be reached at This email address is being protected from spambots. You need JavaScript enabled to view it.. He's also on Twitter at @gordinsidegolf and on Instagram at gordinsidegolf2.