The Best Present May Be Yet To Come as Collicutt Siding Turns 25
Details

Category: Inside Golf
Published: 2019-12-17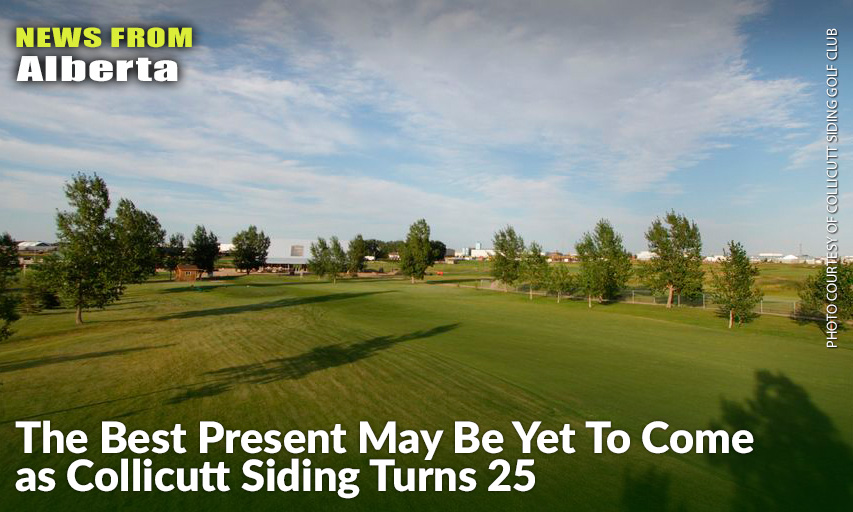 By GORD MONTGOMERY, Inside Golf
CROSSFIELD, Alberta — While there may be some special pricing, as well as a special birthday party tournament, head pro Lyndon King from Collicutt Siding Golf Course in small town Alberta says that's not the biggest present coming for golfers as the course celebrates its 25th year in 2020. Rather, the best thing coming down the line might not even come into play this season. But, it is a gift that will keep on giving.
"We're probably most excited about building the three new holes for kids. We're almost done. Depending on the growing season it might be ready for fall," King explained, the excitement evident in his voice over the phone. "Realistically it will probably be 2021," but with all things falling into place the 3-hole loop could swing into operation in the new year and will be a benefit to the hugely popular junior golf learn-to-play program that runs each year.
As for the upcoming anniversary year itself, King noted it's the right time to go back in time at his club with at least one special event planned.
"We used to hold an annual anniversary tournament but we haven't done it for probably eight years. But we are going to have a 25th. We're just going back and forth trying to find a date for it."
Once that date is set, said King, they'll go hunt down the course's old guard and invite them to come and show off the skills they learned in the 'olden days,' perhaps even when the rural track was only nine holes. "We'll do that, and celebrate it (the special day) for sure."
A special rate has also been putted around by management, but King noted, times in the golf world are tough right now so that's receiving extra consideration. "We might do something like a $25 rate but only for the week of," the special day, he suggested.
Speaking to the early days of Collicutt, before even he arrived in 2009, King outlined what used to be in place at the municipally-owned 18-hole property.
"It used to be nine holes with a trailer for a clubhouse. It was a pretty meagre start for sure. Outhouses out on the course and when I first came here, we used to joke and ask if you had 18 tees for 18 holes, because the tee boxes were hard like the road! Now, our turf quality has really improved with good tees, good drainage, good greens. It's come a long way. We're not the small town, mom-and-pop goat pasture any more," and that shows with over 25,000 rounds having been played there last year.
Another exciting thing happening at Collicutt Siding is that they've signed a long-term lease with the Town of Crossfield, ensuring things will continue to move in the right direction. As well, the Town has purchased a centrifugal force machine which enables the course to use waste water from the town meaning the grounds will never want for water in the future.
"It's a prototype for clean water," explained King. "Their (the manufacturer) target market is Victoria, Vancouver, Montreal," and the little community of Crossfield is the proving ground for this technology.
So while the biggest birthday presents for the golf course may not be in play this year it means good things continue to happen at this small town course as it turns 25 years old.
---
About the Writer
Gord Montgomery is a member in good standing of the Golf Journalists Association of Canada. He is now in his 12th year of writing for Inside Golf.
He can be reached at This email address is being protected from spambots. You need JavaScript enabled to view it.. He's also on Twitter at @gordinsidegolf and on Instagram at gordinsidegolf2.