The Ocean Course At Hokuala... Just One Part Of Kauai's Impressive Timbers Resort
Details

Category: Inside Golf
Published: 2020-01-07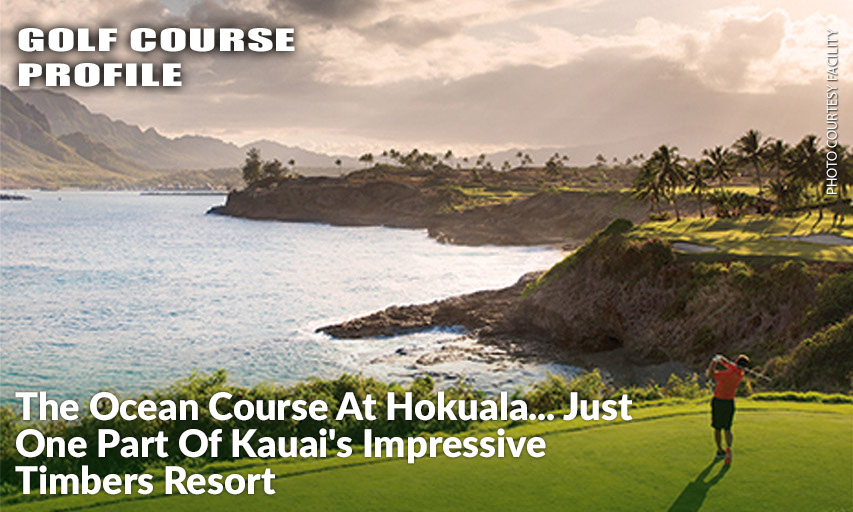 When the Timbers Resort group took over the Hokuala property located in Lihue in 2015, they began a process that ended with the Jack Nicklaus layout getting a refresh that included getting TifEagle greens, silica sand in the bunkers, an and expanded driving range.
But that was just part of the updating.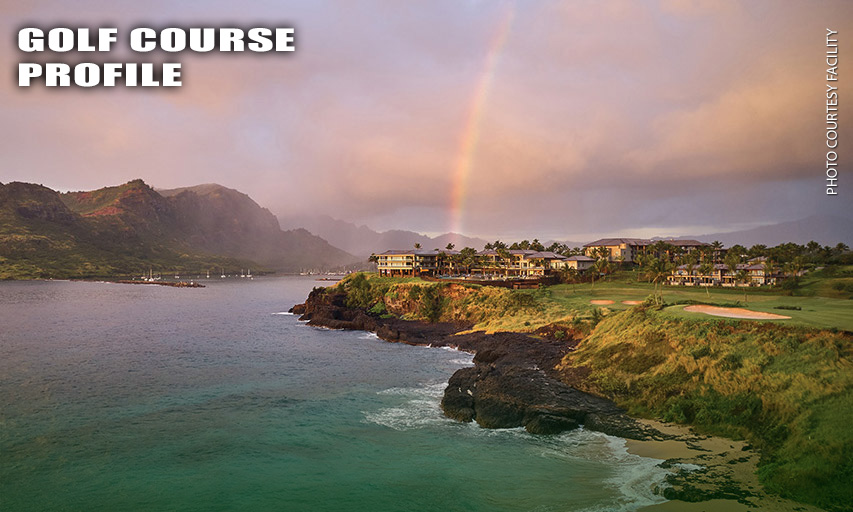 The Ocean Club & Residences Have A Spectacular Setting.
The other big news was the construction of The Ocean Club & Residences on a prime location overlooking the longest string of oceanside holes in the state. Completed in mid-2018, the accommodation complex comprises residences that are available for stay, fractional and full ownership. Also onsite is Hualani's, a restaurant that can boast its own nearby 'Farm at Hōkūala' bringing a new closeness to the term farm-to-table. On Wednesdays, you can enjoy the freshest tacos on Kaua'i that include the farm's seasonal ingredients and every day you can enjoy the best Poke bowls on the island.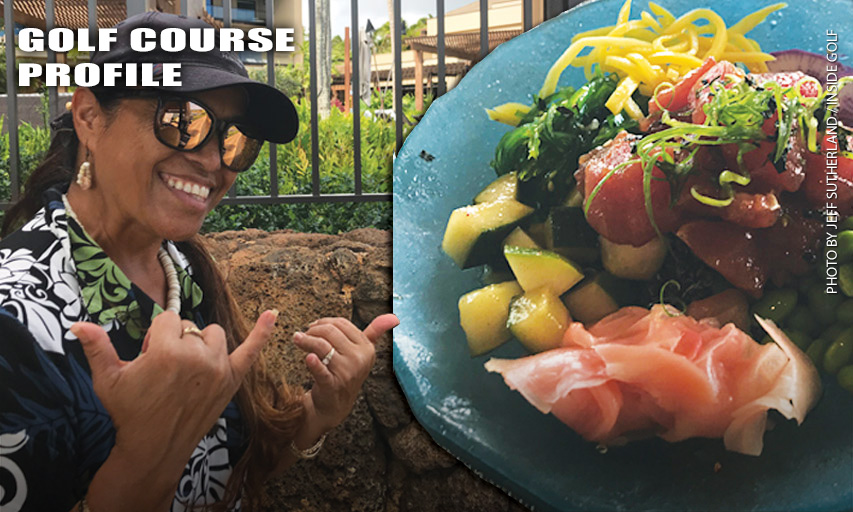 Hualani Duncan Shows Off Her Favourite Dish At The Restaurant That Bears Her Name.
On their website, Managing Director Gary Moore talks about the process.
"We knew from the moment we saw the property in 2014 that it was a very unique place, one that required careful stewardship to match its unrivaled natural surroundings... (To date) we have completed 47 residences that are part of the Timbers Kauai — Ocean Club & Residences, the golf course renovation, a 13-mile community trail system and an organic farm. Timbers Kauai has all the amenities of a five-star resort including Hualani's restaurant—which has been a great addition for the island—two infinity-edge pools, a fitness center and a spa."
The Nicklaus signature designed course here actually has a history that goes back to the late 80's. Originally there were 36 holes but later consolidation saw Nicklaus oversee the best of the holes turned into one spectacular eighteen.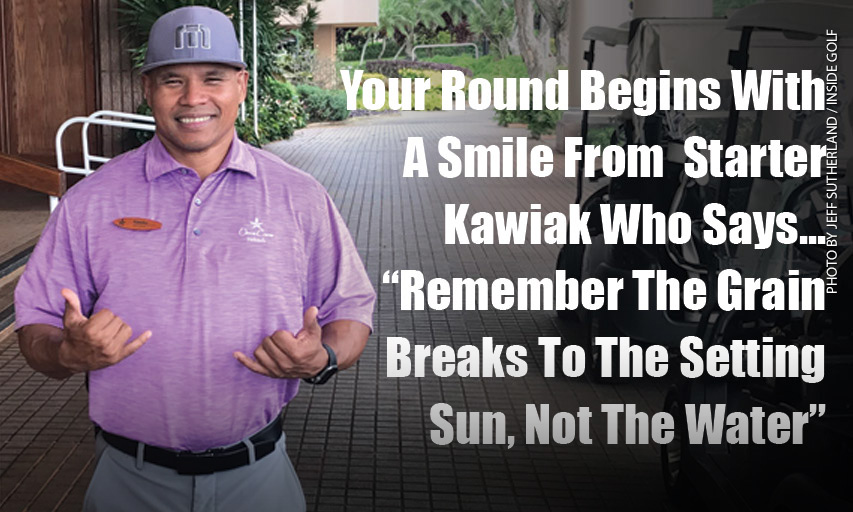 Now the front nine plays entirely inland while the back nine plays nearer and on the ocean. The first nine holes are characterized by undulating terrain with a number of stand out holes. The par-four 436-yard third deserves its #1 handicap and players should be aware that the trees around the green complex can hide the prevailing trade winds. Well known for his intimidating par threes, Jack's uphill 219-yard 5th definitely is the most intimidating of the four on the course.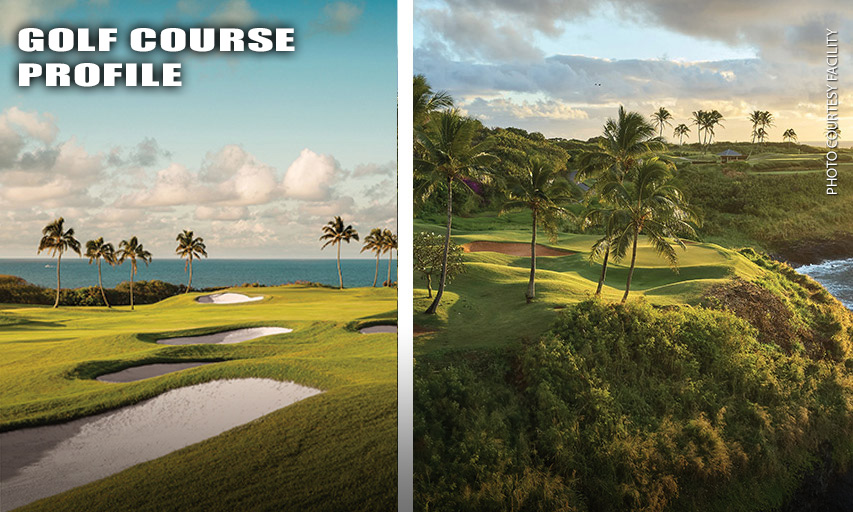 The Ocean Holes Start With A Downhill Par-Four Followed By A Challenging Par-Three.
The back nine is definitely the one that will have players stopping to take photos - a lot of photos. It starts on the 11th where you play alongside the runway for the nearby airport. If you are lucky, you will get to see the air force's F-22s do touch-and-go's.
But that is just a set up for the half-mile of ocean holes that begins with the 474-yard, par-four 13th. Playing downhill and generally downwind, 300-yard drives are not uncommon. This is followed by an all carry 173-yard, par-three, a punishing dogleg left 473-yard, par-four, and a 331-yard drivable par four.
Rare for holes where seaside geography can dictate design, Nicklaus has made four holes that are different, fun and maintain a great rhythm throughout.
And the Billy Casper management team here is not unaware of the draw of these dramatic holes. They actually have a number of packages that include just the back nine.
Explains Golf Sales Manager and Kauai native Hualani Duncan, "We have a couple of great deals. With the Swing and Sail, you start by playing nine holes on the famed Ocean Course. Then, that afternoon, set sail on a different course by voyaging on the Kalapaki Sunset Catamaran Cruise. It's just $175 USD per person includes nine holes of golf, GPS-enabled golf cart and a two-hour ocean cruise.
"Our Turf-n-Surf experience combines the island's world-class golf and watersports. Enjoy a grand sunrise over the Ninini Point Lighthouse, then tee it up for nine holes, and finally switch gears that afternoon with a two-hour stand-up paddleboard rental and 30-minute lesson from the renowned Kauai Beach Boys, who have provided inspiring ocean excursions for over three decades. This goes for $150 per person."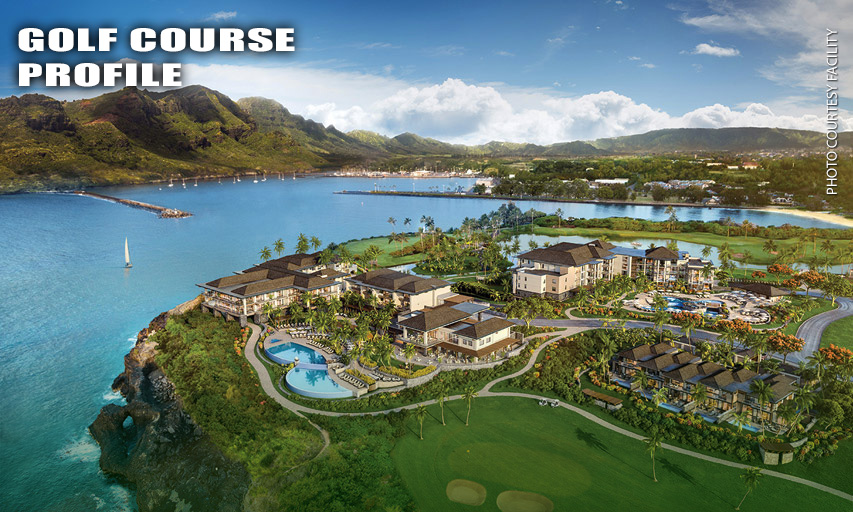 Packages Here Can Include Golf, Spa, and Activities.
They also have a great four day Stay and Play Golf Package. Click here to learn more.
Bottom line, this may be one of Jack's best resort-style layouts... fun and photogenic for the recreational player while still more than a challenge to the lower handicapper.
Calling to find out about tee times is a good idea. There are cruise ships stopping by on a regular basis with more than a few golfers. For more information, contact 808-320-7400 or visit www.timberskauai.com.