Aboriginal Day Provides Option & Opportunity For Kids In Golf
Details

Category: Inside Golf
Published: 2017-07-19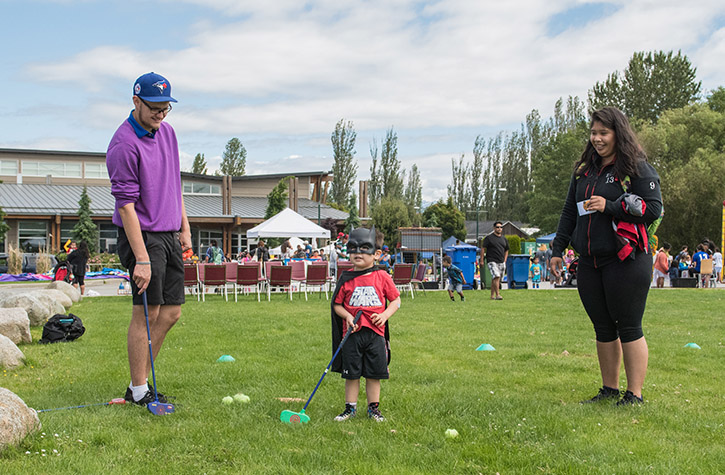 BC Golf Particiaption Manager Tyler McKay (L) Helps Introduce A Young SuperHero To The Game Of Golf At The Aboriginal Day Ceremony At Musqueam Last Month. (JKam Photos/Jurgen Kaminski via British Columbia Golf)
VANCOUVER, British Columbia (Bryan Outram/British Columbia Golf) — During the recent Aboriginal Day festivities held June 21st at Musqueam's Community and Cultural Centres in Vancouver, a team from British Columbia Golf & Future Links, Driven by Acura, set up their SNAG golf display on a beautiful early summer day and saw over 160 youngsters take part in trying their hand at hitting shots toward targets with the specially designed equipment.  
As part of the initiative to inspire everyone to get active and involved in moving the community forward, BC Golf's new Manager of Participation, Tyler McKay, was on hand with a great crew of assistants that included SFU Clan standout Chris Crisologo, UBC T'Bird Women's Golf team member Avril Li, former Team Canada Junior member Matt Kettleson and BC Golf intern Phong Pham.
Between them all they were instrumental in helping interested youngsters, some who had swung a golf club before and many who had not, have some fun in hitting the velcro-style balls at nearby targets.
In a fun, friendly and non-threatening environment, groups of young boys and girls took turns aiming for the special targets and it was tremendous to see how quickly all of them showed improvement in just a few swings with the assistance of the BC Golf team.
And every one of them seemed to enjoy the experience, with several parents smiling broadly upon witnessing the fun the kids were having at the same time.
The involvement of British Columbia Golf along with Future Links is a culmination of talks started a couple of years ago between self-described 'golf junkie' Nolan Charles, a council member for the Musqueam Band and British Columbia Golf Chief Executive Officer Kris Jonasson, which was then taken further by Tyler McKay's predecessor Matthew Steinbach, who has since moved on to take the role of head golf coach at Simon Fraser University. 
As Charles stated, "We have to give credit where credit is due. We started with Matt Steinbach and travelled to places like Osoyoos and Kamloops and met with the Aboriginal leaders and got things going from there."
What started as simple involvement through hole sponsorship at some early events has evolved to a much greater program of awareness and opportunity for Aboriginal Youth to become involved at the grass roots level in golf. As Charles pointed out, "The majority of our kids play soccer, what we're trying to do is, for those kids that don't play soccer, we're trying to provide them with an option."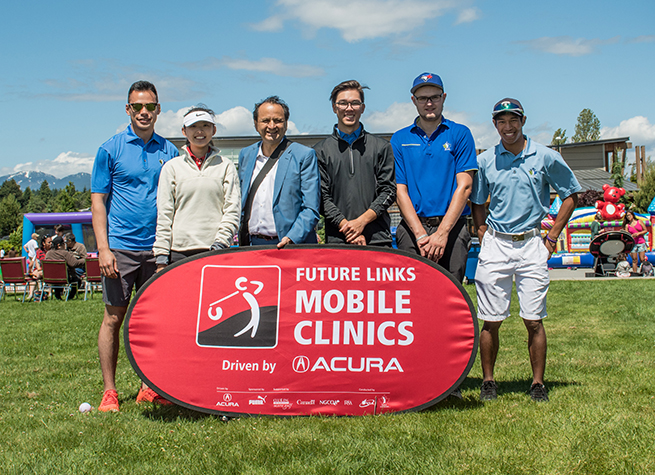 The BC Golf - Future Links Team Flank Musqueam Council Member Nolan Charles (3rd From Left)
(From Left) Phong Pham, Avril Li, Nolan Charles, Matt Kettleson, Tyler McKay, and Chris Crisologo. (JKam Photos/Jurgen Kaminski via British Columbia Golf)
He went on to explain that, "This August we've got lined up another sponsorship of some holes for an event at the BCAFN (British Columbia Assembly of First Nations) and that way we can branch out and reach out to more communities and say, 'if you've got facilities or in your adjacent communities if you can work something out'… we've got a vested interest in doing so."
Asked whether it was too soon to tell if there had been any effect with the young kids being introduced to the game of golf in these communities, Charles was very quick to say, "Oh ,no…it's had an immediate effect. We started with the BCGA and then SOAR (Sharing Our Activities and Resources) developed and now we need to reconnect with SOAR (the SOAR group is made up of British Columbia Golf, Curl BC and Tennis BC) and say, 'hey, how do we get SOAR involved in the communities as well?' "
Charles also points out the importance of Golf Canada's involvement relating how a golf foursome 3 years ago that included himself, BC Golf's Jonasson and former CEO of Golf Canada Scott Simmons, was the inception that laid the groundwork of 'let's talk.' That just created the idea of the awareness being there and now it's time to take it to the next level.
Charles has some good things to say about the Golf Canada Future Links program as well. "I really admire the Future Links program because what they want to do at the end of the day is create - can we call it - a mentorship program within the Aboriginal communities, where there are people within the community that actually teach the sport, members of the community teaching their own kids," said Charles, before adding, "And the social aspect of golf. That's the great thing about golf, it teaches social etiquette."
So whereas it looks like the involvement of BC Golf and Future Links in BC's Aboriginal communities appears to be having some early positive reactions, Charles is not content to leave it at that.
"I look forward to not just expanding it in B.C., but across the nation," he said. "Because I've already talked to the Chiefs across the nation that participate in the assembly of First Nations. So there are people out there that are aware, it's just a matter of when can we get there."
Charles also has a personal goal saying that he'd like to see the game well-entrenched in Aboriginal communities in BC within 5 years and in 10 years, to see that success nationwide, "At the end of the day it's just introducing," said Charles, "let's get our kids involved in golf. It's a great sport."
To see an album of photos taken at Aboriginal Day, click here.